This year we've had the pleasure of welcoming a new artist in residence, Jack Snelling into the King & McGaw studio. With a freedom to develop his practice and make the studio his own, Jack has been hard at work. Playing with cartoon forms and crude textures, Jack aims to evoke an emotional response from simply rendered symbolic images and a clear primary palette. He says: "my comic illustration work is informed by newspaper adventure strips, flattened perspectives and graphic symbols to convey structured narratives that dip into magic realism and noir." Get to know Jack in our exclusive interview.
1. Describe your art in three words!
Colourful building blocks.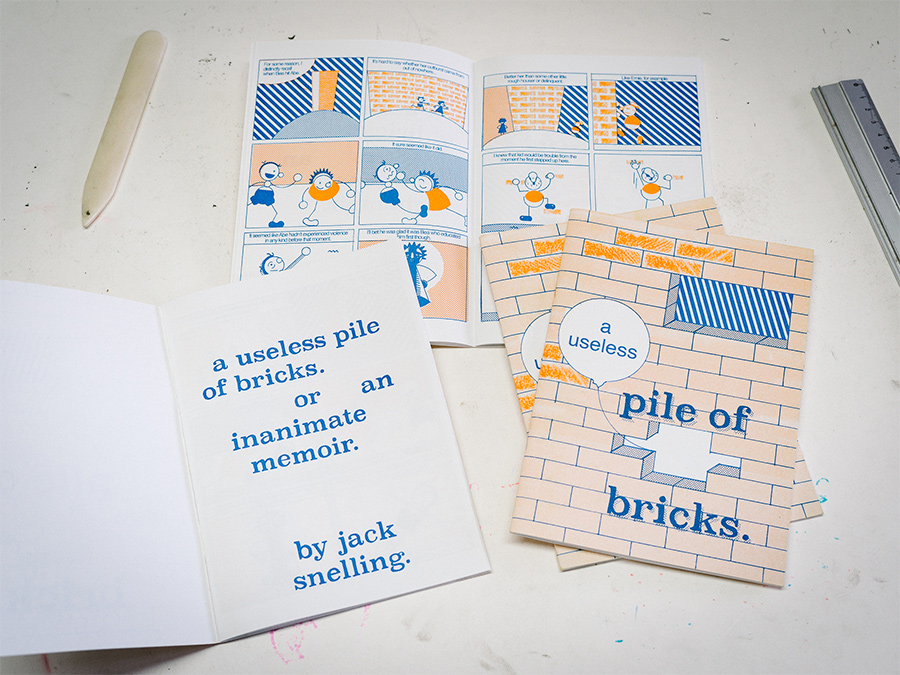 Jack loves the nature of self-published magazines
2. Who are your favourite artists?
Clay Hickson and Michael Deforge sit high at the top of my list. They are both artists who seem to work with an aspect of social engagement in mind, and also produce books, comics and zines at an alarming rate. It's really inspiring and I'm trying to keep up!
3. What inspires you?
I look at lots of old wooden toys, ones specifically made of multiple parts. So if it's a bunch of wooden spheres tied together to make a doll for instance, I always try and approach my work in a similar fashion by taking basic shapes and putting them together until it resembles something figurative.
I'm a big collector of zines and self-published comics. The scrappy, DIY nature of them is something I feel very close to and it's a good platform to distribute your work.
I'm lucky to have Crit Club, a peer review illustration studio I started with my friends Laurie Avon and Olivia Waller. We can critique each other's work, set each other projects and generally keep up to date with what we are doing. It's always inspiring to see the work created by your friends develop and change over time.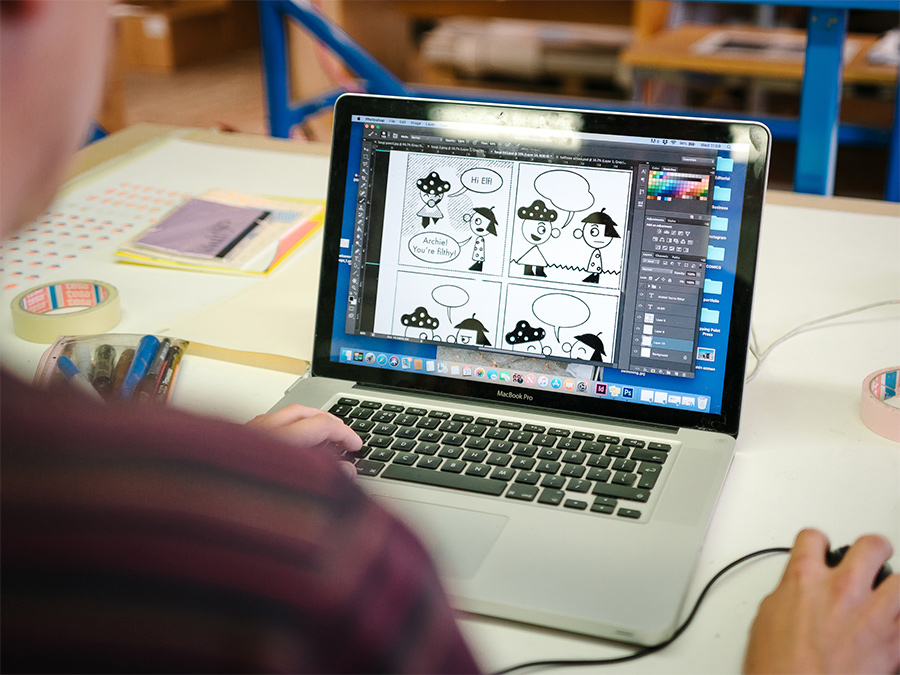 Jack doing what he does best
4. Do you have any rituals or methods when it comes to sitting down to create?
I tend to work on lots of different projects at the same time. I'll start with coffee and work on either my personal comics or my environmental magazine first thing then break with some emails or reading. I then move onto another project that's a commission or a task set by Crit Club. I have to force myself to get up whenever I start to feel tired or my focus is wavering and walk around the studio.
When it comes to music, I'll listen to Muzik for Insomniaks by Mark Mothersbaugh because there's no words and barely any melodies to grab onto; it just propels me forward and keeps me calm. Otherwise, if I can't think of anything to listen to (I used to waste a lot of time deciding what I want to to listen to), I'll put on the Henry Rollins radio show as I prefer having music dictated to me.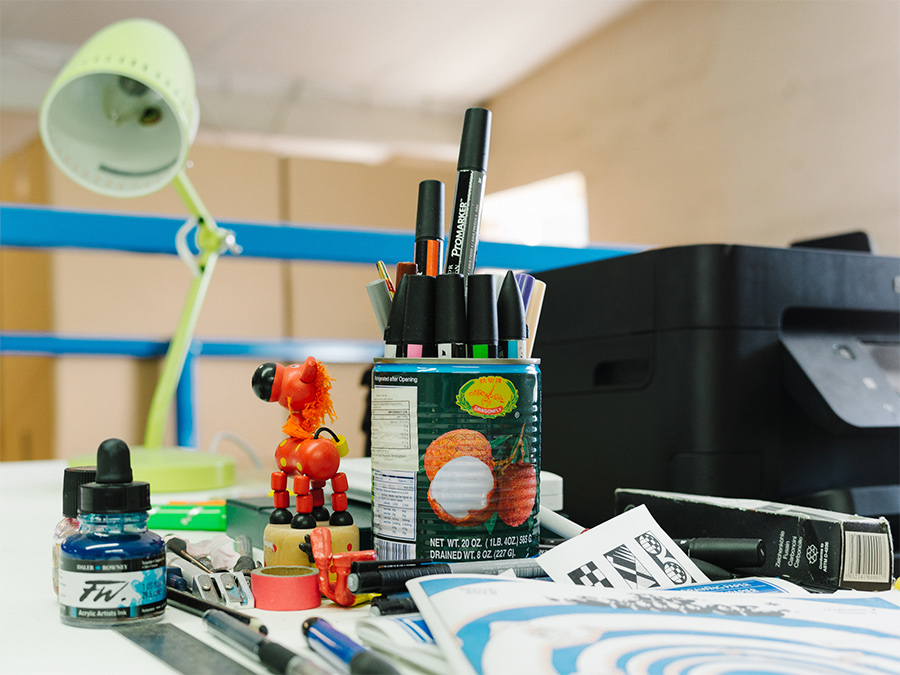 A view of Jack's work bench
5. What advice would you give to a young person who wants to be an artist?
You just have to keep making for the sake of no-one else but yourself. If you make the work you want to see over and over again, eventually you will find others who appreciate what you do. Reach out to people who are interested in creative pursuits as well. There's always more energy, even if you're not working directly together, you can just talk to each other and get fired up. 
6. What's the best project you've worked on so far?
Making Seed Magazeen with my best pal Lizzie Lomax. It's a kids environmentalist magazine that we recently launched with a series of workshops. It's great to work with someone as encouraging and supportive as Lizzie, and also build our own platform for ourselves and others going forward. It's also a subject that we are both really engaged with (as everyone should be by now), so just continuing to read and research the subjects and themes we want to write about...it doesn't seem like work. It feels exciting. Also working with Crit Club is amazing. We've just finished a book and exhibition reflecting on our first nine months which I got to edit and introduce.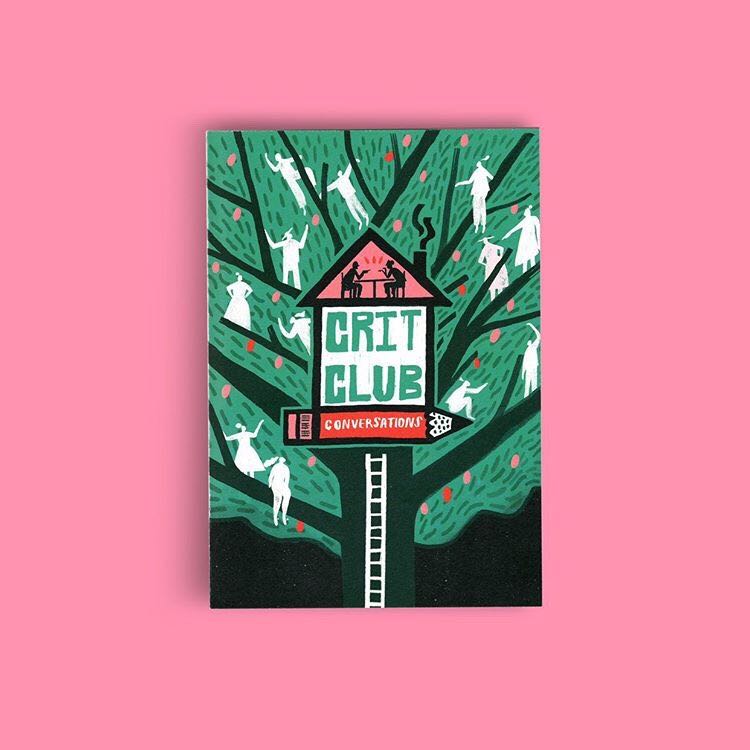 Crit Club's book - a reflection on their fledgling year.
7. Describe the King & McGaw studio space and how it suits you?
So it's a mezzanine directly above a room full of large format inkjet printers, constantly churning out prints of astounding work. I love it. I love being in a factory where there is constant activity but I'm also at a good distance to not get distracted. Everyone is working really hard from the moment they clock-in to the moment they clock-out so you can't really sit and watch YouTube all day when that kind of work ethic is around you. Also, I'm surrounded by amazing work. I literally look over my shoulder and can see this huge Matisse print sat in the corner, willing me on.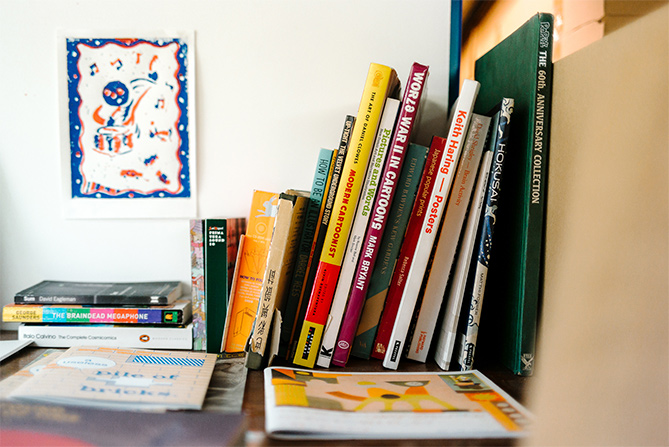 10. What are your favourite King & McGaw prints and posters?