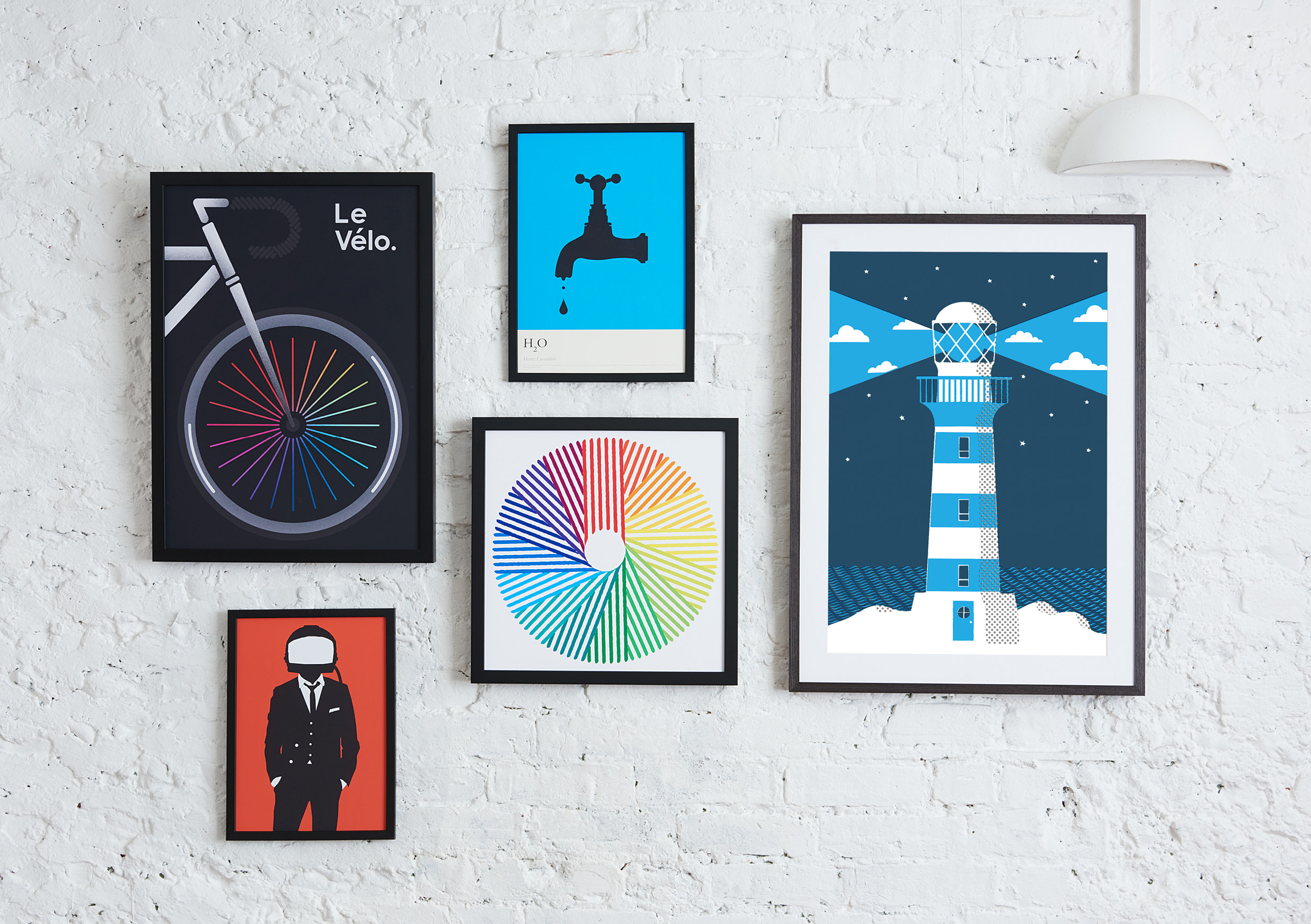 Le Velo Noir – Jeremy Harnell | H20, Spectral 1 & Spacesuit by Simon C Page | Daylighthouse – Anthony Peters
1. Choose your art prints
First things first, the art. When it comes to a gallery wall, just about anything goes, but deciding on an overarching theme or style is a good place to start. Browse our curated edits or the ideas section of our blog for inspiration. The edits feature ready-to-hang prints, designed by our stylists and matched to key interior trends. Whether you prefer an Urban Loft look or a Scandi Monochrome vibe, we've got an edit to suit your gallery wall style.
If there's an artist, movement or collection you absolutely love, search artists and collections pages to find your favourites. Try putting together a selection of iconic photos from our Hollywood Photo Archive for a vintage-inspired gallery wall..
Top tip:  Click the little heart ♥ under 'ADD TO CART' to create a gallery of your favourite prints – this way you can play around with a selection of art prints, share it with your husband/ housemate/ cat, until you're happy!
2. Select the size
With your chosen style in mind, you can decide whether you are going to keep it orderly with a tidy grid structure, or mix it up with an array of different sizes. Prints by the same artist work well in matching sizes and frames. Try a gallery wall of Warhol's iconic Stockholm posters in the same size for a bold, unified sequence. For a more casual gallery wall look, opt for an eclectic selection of artworks in a mix of different sizes and frames. Our prints come in many sizes, so you'll be able to change the sizes of your prints to suit your gallery wall style. Use the drop down menu to pick from our smallest size (usually around 30cm tall) up to our XXL statement prints.
3. Pick your frames
Don't be afraid to mix and match light and dark frames for an eclectic feel. Try our hand-finished frames in Tate Grey, White or Natural Ash for a natural finish to your gallery wall. Next to each print on our website you'll find out expert's pick of the best frames to complement your chosen art.
4. Decide on the layout
So your prints have arrived. Yippee! Now, before you start banging nails in the wall, lay your prints out on the floor to arrange and rearrange the order until you're happy. Pick a layout that suits your prints, your space and the look you want to create. Check out our top layouts below, or explore our Pinterest board for more inspiration.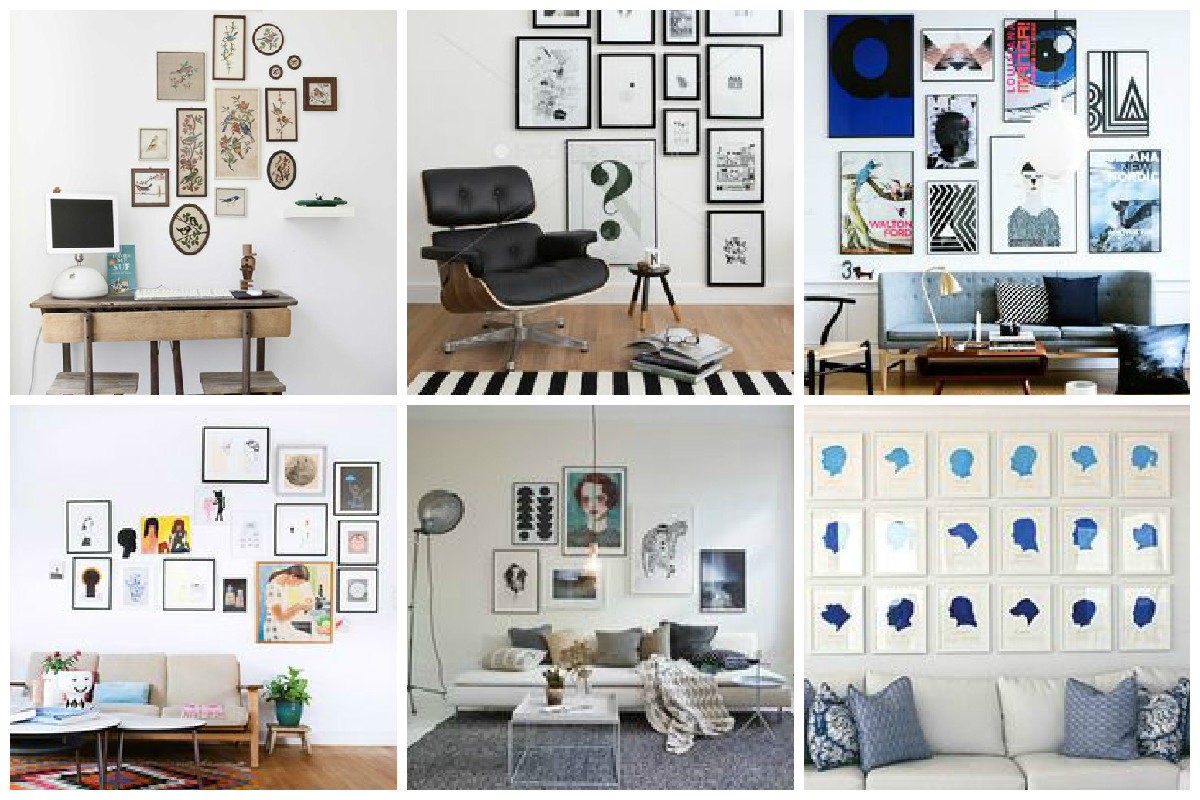 via Pinterest
5. Arrange paper cut-outs
Create paper cut-outs (newspaper will do) in the sizes of your prints, and use these to recreate the layout you had in mind on your wall using blu-tack. This will help you visualise the end result. To be certain to get the prints in the right place, mark the paper to show where you want your nail to be (the centre of the string when held taut).
6. Hang your prints
When all the cut-outs are in the right place and you're happy with the layout, you can now hammer in the nails using your marking as a guide. Once you have done this, tear away the paper, hang your art prints and voilà – the perfect gallery wall!