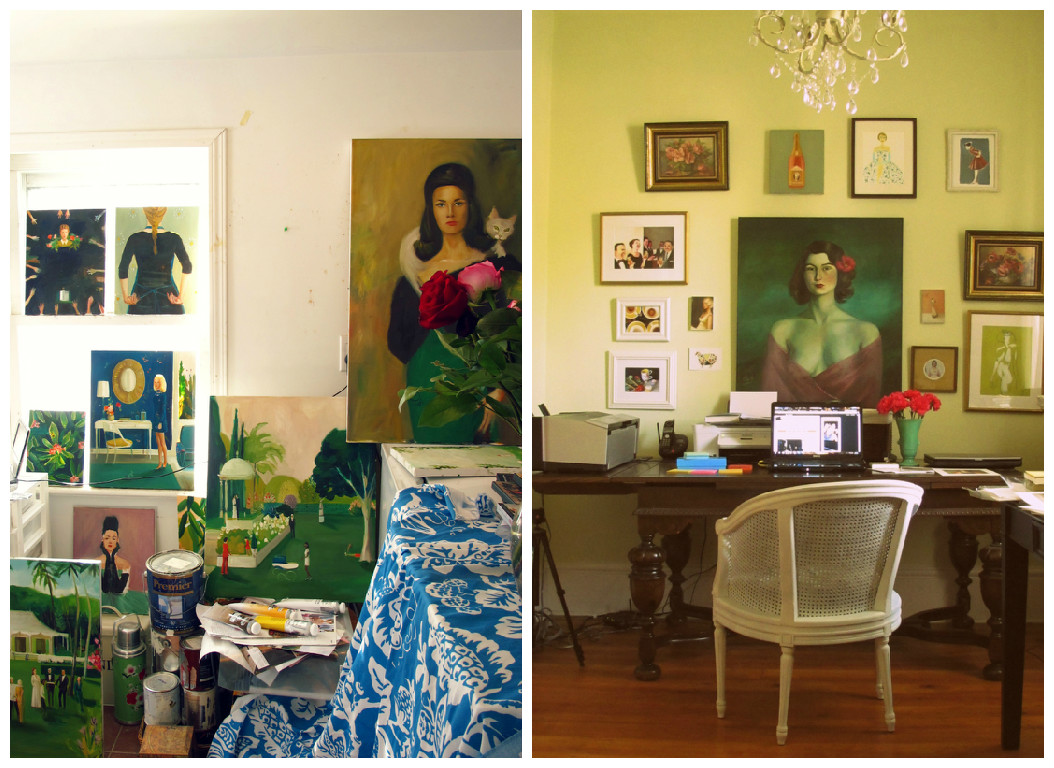 Tucked away in a little studio, in a cute-as-a-button Victorian cottage, in Stratford on the Avon River in Canada, you'll find the artist Janet Hill. A critically acclaimed painter – not to be confused with the house-decorating sort (it happens, she says!) – Hill creates whimsical canvases, which are made to tell a tale:
"I love telling stories through paintings. I have a number of series but I also like to paint individual pictures that leave the viewer feeling as if they've just walked into the middle of something."
Hill's distinctive style of painting evokes a sense of nostalgia, mystery and comfort. With a hazy-hued treatment, her art's retro quality casts her subjects into a time that could have been. But where does Hill escape to herself? "Usually my imagination, but I like anywhere by the ocean."
But there's inspiration to be found closer to home too, "I'm currently watching old James Bond movies. I've just finished On Her Majesty's Secret Service and was blindsided by the spectacular photography!'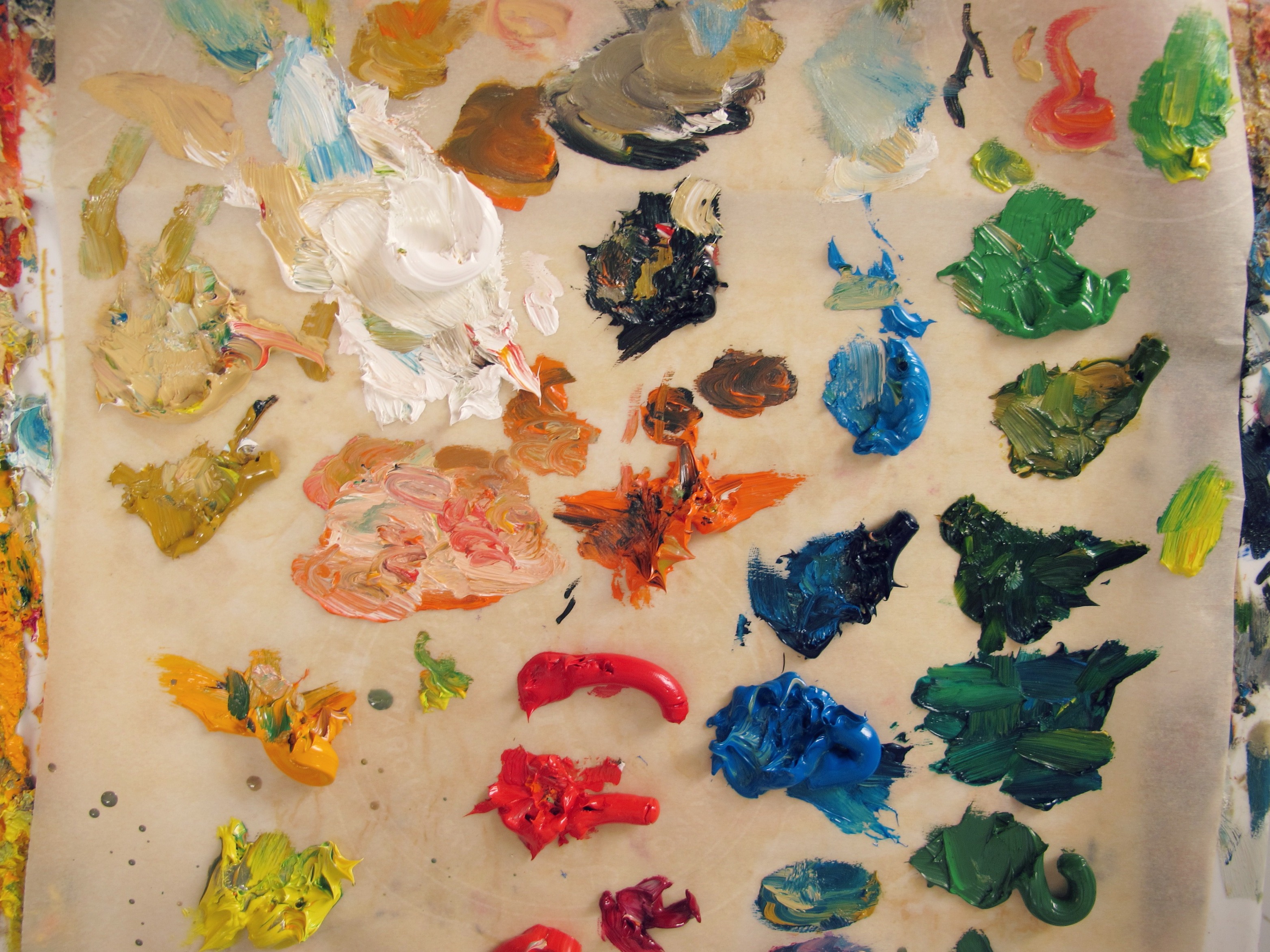 Growing up on Madeline books, Hill has put her own stamp on illustrated children's books, publishing a charming French language tale Miss Moon – a story of a dog governess and her twenty lessons for dogs.
But if you think illustrated stories are just for kids, think again. Hill is currently working on Lucy Crisp and the Vanishing House – a story of a young romance novelist who moves to a mysterious old house where chaos ensues: "It's sweet and spooky- in the style of Nancy Drew, but darker."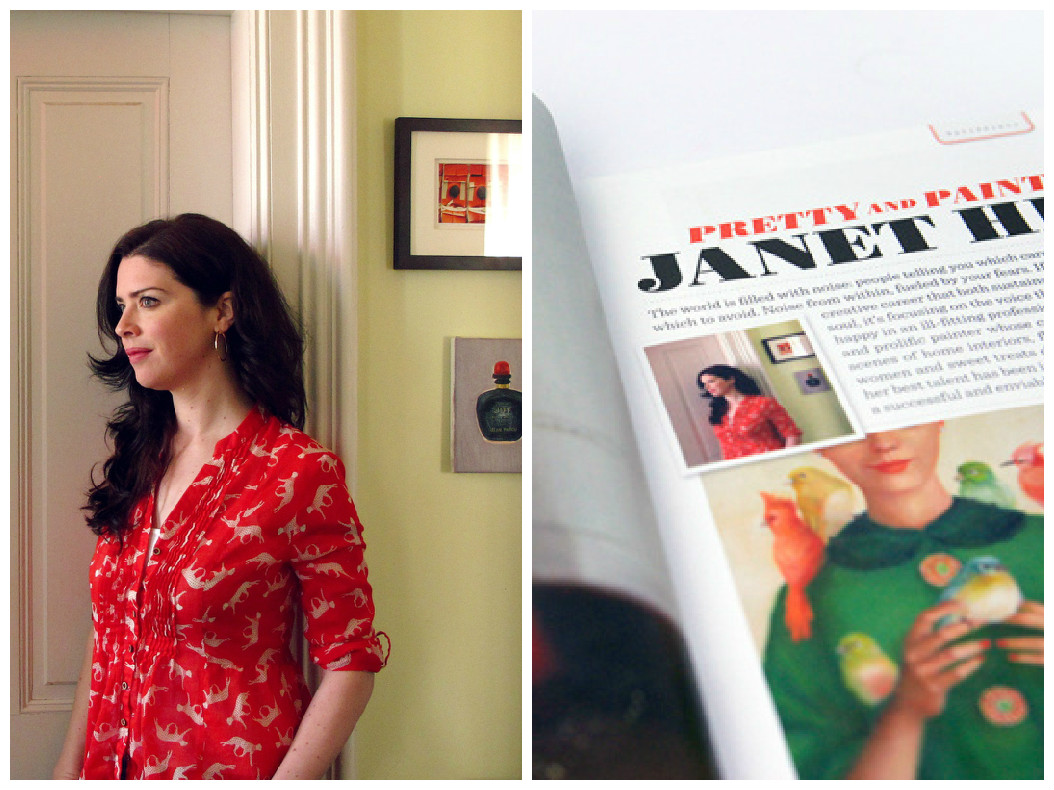 So what's next for Hill? Well, a new studio to start: "My current studio is sad and ridiculous. It's situated in the back hall beside the washer and dryer. Fortunately we're building an addition to the cottage this spring and I will have a decent studio, finally!"
As the adventures of Lucy Crisp continue, Hill is developing another series as well – The Kidnapping of Edward Pink, which tells the story of a man who is kidnapped by a jet-setting young woman and dragged around the world. "It owes a little to Slim Aarons' photographs and Hitchcock movies."
We can't wait to see what the next chapter for Janet Hill entails. One thing's for sure – adventure awaits.