Before spearheading the Pop Art movement in the 1960s, Andy Warhol made a name for himself creating illustrations for some of New York's most prestigious magazines. The route to his success was not easy though. A homosexual artist living in a sprawling city largely dominated by the hyper-masculinity of Abstract Expressionism, his effeminate illustrations initially placed him on the periphery of the fine art world. Luckily, he found creative comrades in commercial projects – magazine editors and socialites who admired his ability to appropriate the world around him and turn it into a unique, whimsical visual vocabulary.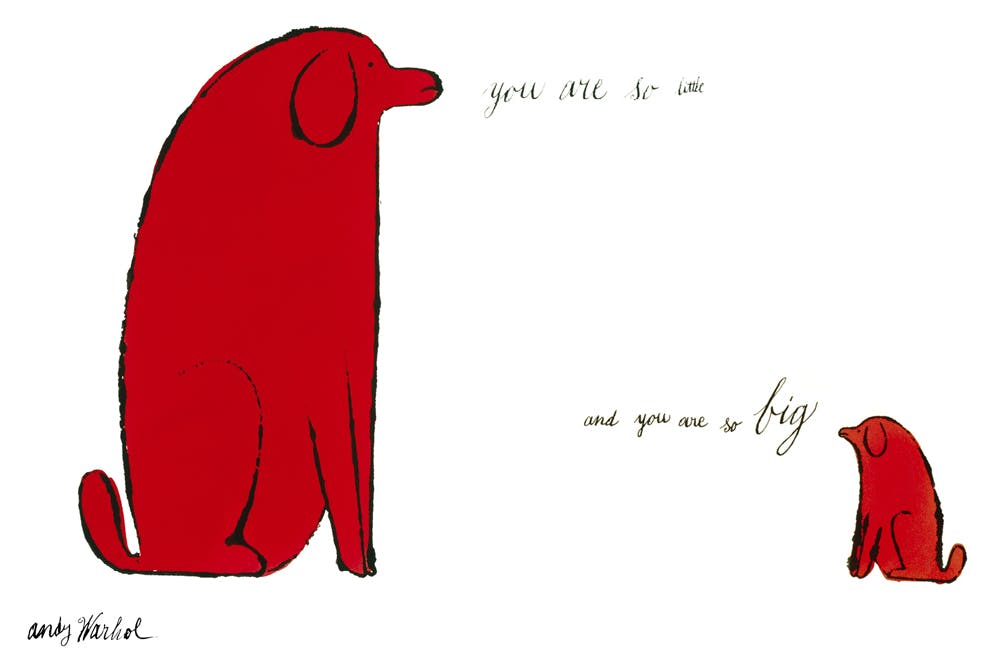 You Are So Little And You Are So Big, c.1958, by Andy Warhol, ©/®/™ The Andy Warhol Foundation for the Visual Arts, Inc.
Andy Warhol grew up in a Rusyn ghetto in Pittsburgh. The youngest of three brothers, his artistic career began when his father, recognising his son's talent, saved up to pay for him to study pictorial design at Carnegie Institute of Technology. A sanctuary away from the noisy steel mills and factories of the city, the college helped him explore a wide range of creative interests. He attended an all-female Modern Dance Club, and joined the Beaux Arts Society. He also edited the student publication Cano, and regularly designed imaginative magazine covers. Determined to prove himself as a serious artist, he went on to win the Martin B. Leisser Prize for self-motivated summer art activities.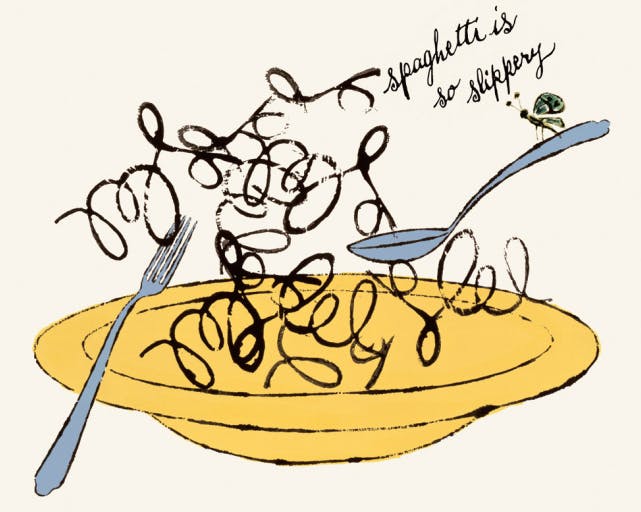 Spaghetti is So Slippery, c.1958, by Andy Warhol, ©/®/™ The Andy Warhol Foundation for the Visual Arts, Inc.
After graduating in 1949, Warhol took a leap of faith, hopped on a greyhound bus, and moved to New York to follow his dreams of becoming a professional illustrator. Early projects included a sweet Children's book, quirky Christmas cards, and record covers for Columbia and RCA Records. Light hearted and filled with wit, his drawings were often fantastical, including depictions of fairies, elves, and playful putti.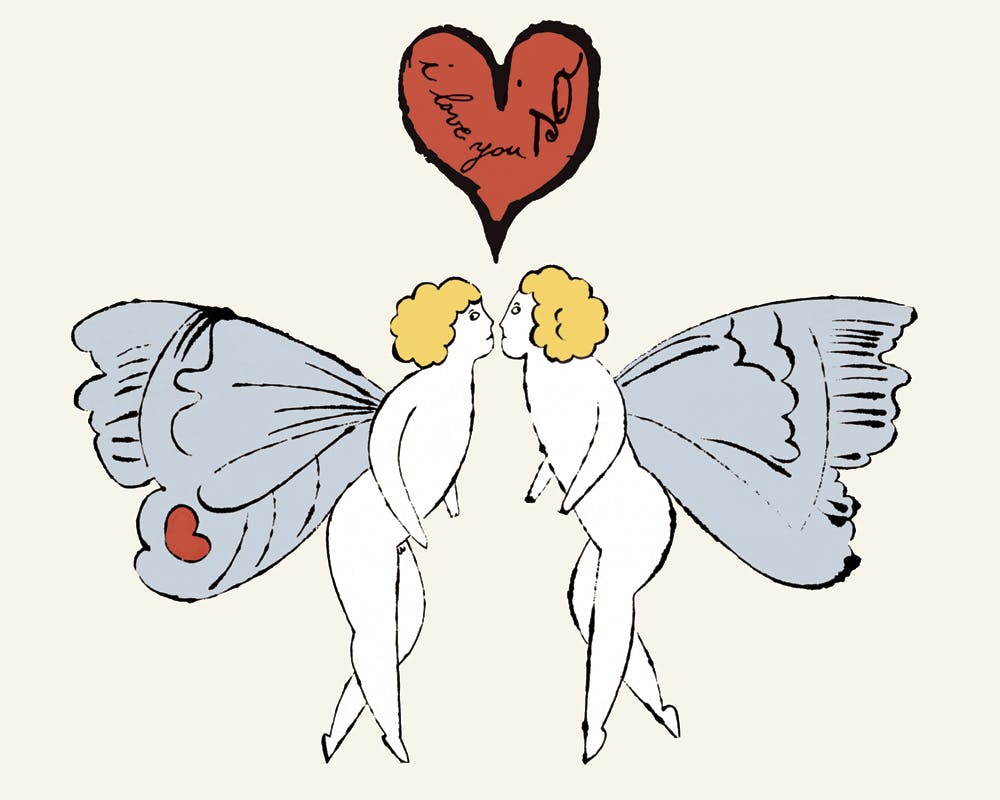 I Love You So, c.1958, by Andy Warhol, ©/®/™ The Andy Warhol Foundation for the Visual Arts, Inc.
The blotted-line technique
Rapidly establishing himself within New York's elite creative circles, Warhol kept up with demand by mastering the 'blotted line' technique. A rudimentary form of printmaking he had learned at Carnegie Institute of Technology, the technique involved drawing or tracing images onto a folded piece of transparent paper, applying ink or watercolour to the outlines, and then 'blotting' the ink while it was still wet to create a mirror image.
Fascinated by the speed the process afforded, Warhol used the same master drawing over and over again to create uniquely delicate, dappled lines of repeated images. Each image was similar but never identical. Rather than discarding imperfect prints, Warhol embraced the possibility of errors. After all, his ability to rapidly produce repeated images would go on to influence his subsequent signature style: transforming Campbell's humble soup cans and photographs of Marilyn Monroe into mass produced silkscreen printed artworks.
Red & Black Car, by Andy Warhol, ©/®/™ The Andy Warhol Foundation for the Visual Arts, Inc.