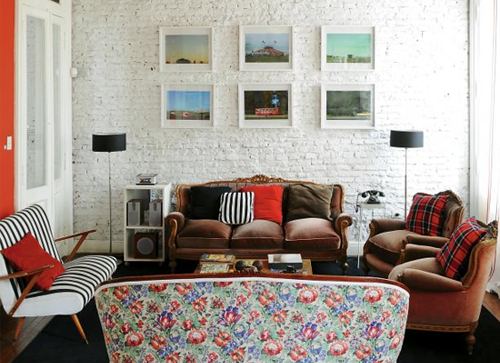 Group several images together on the wall in the same frame to get a varied, but cohesive look.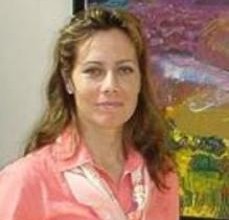 Designer Francoise Murat wears many hats, including interior designer, landscape and architect designer, and writer. In addition to her own blog, she writes for Country Life and contributes to a blog for a property website. We had a chat with Francoise to talk about what inspires her and how art factors into interior design.
Q: Do you feel that selecting art can be a daunting prospect in a new interior scheme? A: I think it can. But remember, you need to like and love what you are putting up.  After all you are going to see it every day!  Then remember that there is no right or wrong way to hang art. However, I can share a few tips that have worked for me.
Crowding a wall with lots and lots of pictures can look great, and using the same frames for all the pictures will unite the wall. It works particularly well for photography (see main image).  It makes for a cohesive and intriguing art work as people often come up close and spend time looking at each one.
Q: How important a role does art play in your designs/recommendations to clients? A: Art is a very important aspect of any interior design scheme, whether commercial or residential. Sometimes clients have never considered art for their home. Whether it is because they always thought it was beyond their reach or because they had never thought about it – my job is to introduce something new into their life.  Art does not have to be for multi-millionaires, it is accessible to all and for all types of budgets. Including art in an interior scheme completes the story but can also be the start of a new one!
Q: Do you feel that art is very personal? If so, does that make it difficult to select? A: Yes and no. Art should be very personal if it is for your home, it should elicit an emotion – it makes you feel relaxed by looking at it or happy.As you will be seeing it every day, art that is bought for the home should ALWAYS be something you want to see time and time again. I adore Edward Hopper, Rothko and David Hockney, so these would be perfect for my home!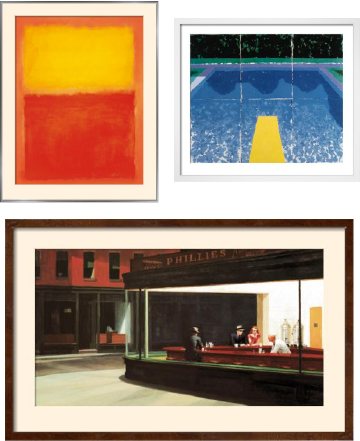 "Orange and Yellow", Mark Rothko (Top Left); "Day Pool with 3 Blues", David Hockney (Top Right); "Nighthawks", Edward Hopper (Bottom)
Art for the office should reflect the ethos of the company, the industry they are in and stimulate the staff and visitors.
Q: You have a very diverse portfolio– how does diversity play into your work?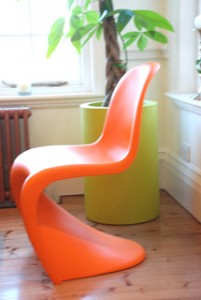 Panton chair by Verner Panton
A: Yes I do work on very different projects – after all I design for my clients. I love mixing old and new.
My eclectic approach always starts with what I can recycle; such as salvage materials to re-interpret as contemporary furnishings. Then I always introduce original mid-century iconic pieces in a scheme such as a Barcelona Chair by Mies van der Rohe or the Panton chair by Verner Pantone as seen here. The trick is to mix old textures with newer materials– for example, reclaimed flooring with contemporary colours. Lastly I always add art! I love introducing art into a scheme especially if the client has never owned art before.