Tell us about your working day
I like to get up early and whiz into the studio first thing. Cup of tea, headphones on and get into my zone. I look at what's working and move paintings around. My work is constantly evolving. It is like trying to find yourself in the marks you make, and the colours you use as if you are holding a mirror up to yourself. That being said, the emotions I try and portray in my work are universal, and that is what I hope other people respond to. I'm always on a mission to make authentic paintings. It's a beautiful obsession.
When is your most productive time?
My favourite time is early morning when it's quiet. The studio is a old, large, open-plan dairy building with high ceilings and gorgeous light. When it's peaceful and quiet it is an inspiring and productive place.
Living in Brighton means in the summer I can go to the beach first thing for a dip in the sea before work. I am a truly terrible swimmer but it's such a wonderful experience to have that shock of cold water and the peace and calm when no-one else is around. I can taste the salt on my lips for the rest of the day.
Describe your working environment - do you prefer music or silence?
I find listening to music and podcasts an essential part of my working practice. I love "WTF" with Marc Maron and "How to Fail" with Elizabeth Day is also excellent. It's mainly conversations with creative people. I like the truth of honest, vulnerable conversations and connections.
I also love any music with good flow like Joanna Newsome, Radiohead, Beyonce & James Blake. Guess what? I even find a Disney soundtrack helps if I'm feeling anxious and on a tight deadline!
Somehow having something to take you out of yourself, and get your rhythms flowing is when exciting things can be expressed. It makes me less self-conscious of what I'm doing and able to make decisions on an intuitive, emotional level.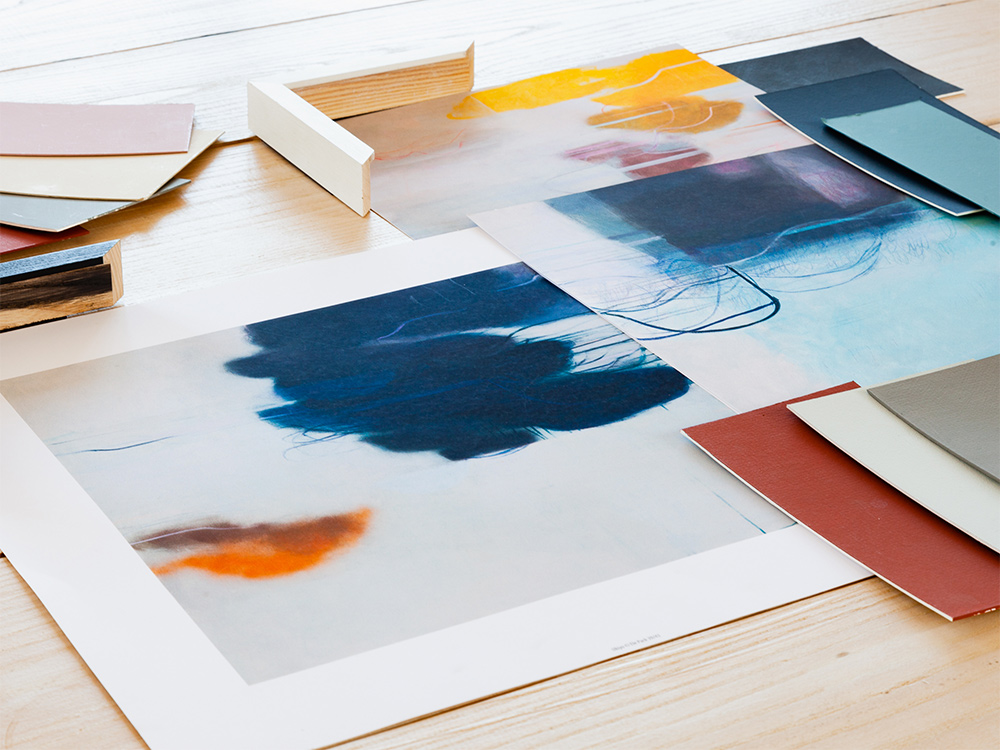 Do you have a favourite painting outfit?
For a while I tried to dress very practically for the studio but then found that this was affecting my mood which makes sense as my job is all about the visual. So now I try to wear something that lifts me; silver shoes, leopard print or my favourite yellow blouse all bring me joy. I also wear two fabulous rings designed by the jeweller Tanja Ufer which are repurposed from my mum's engagement ring. They are things of beauty with a strong emotional connection and make me feel uplifted and inspired.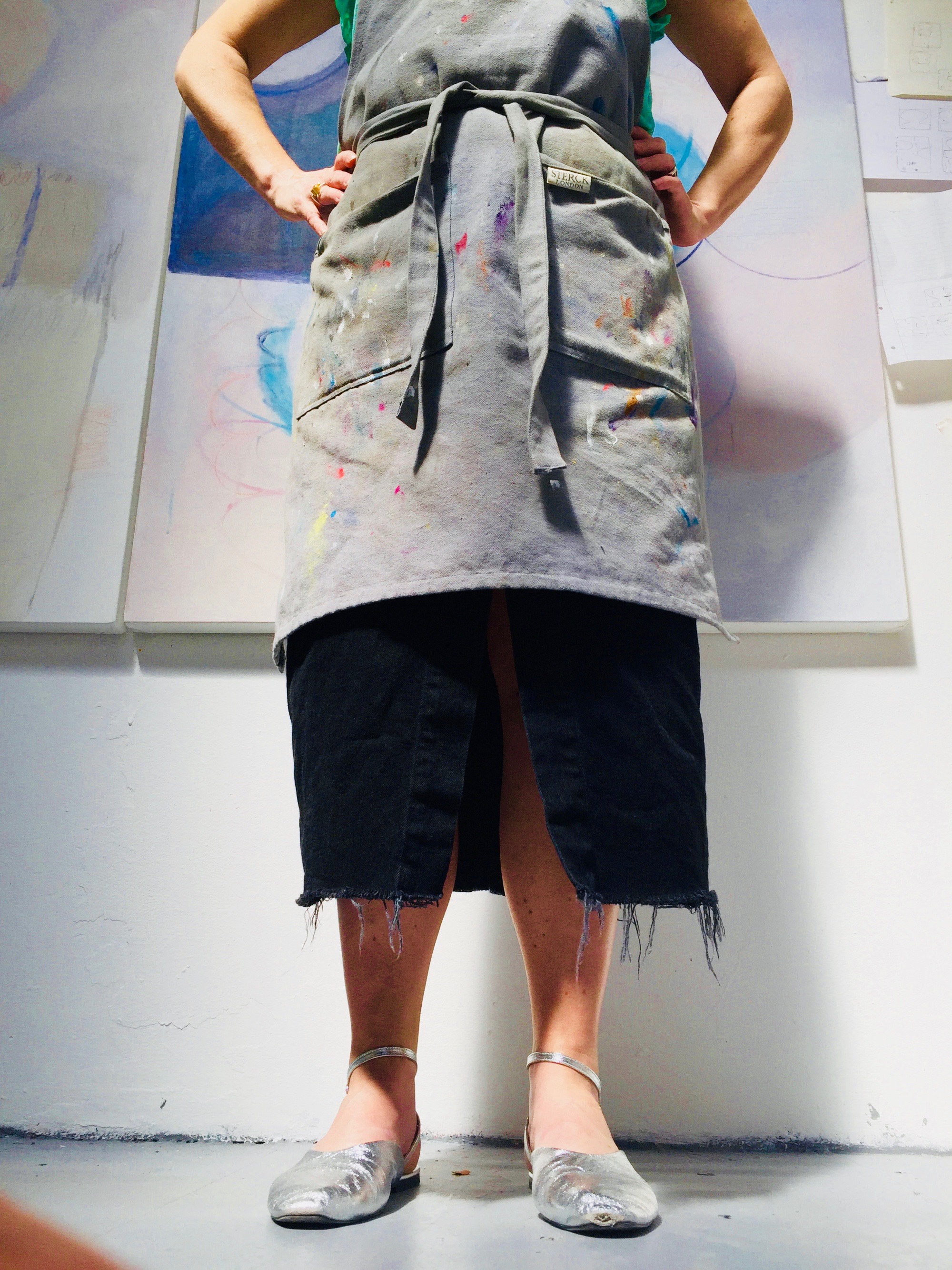 Ele's special silver shoes
Who is your greatest inspiration?
My painting life is a response to my awesome mum, who was a major influence in my life and in many ways is why I do what I do. Here is a beautiful picture of her looking like a French movie star...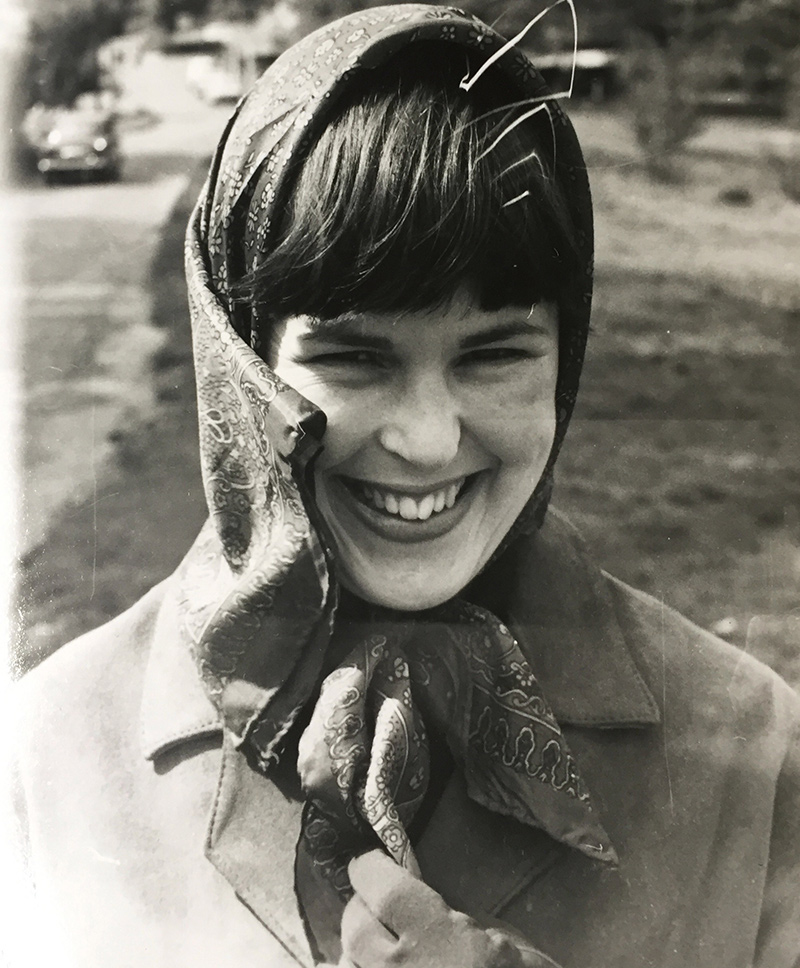 What materials do you mainly use to create your work?
I mainly use acrylic paints. This enables me to paint quickly, and put many layers over each other to create a richly nuanced painting. I also use crayons and water resistant pencils to create finely drawn marks. I like to use gold and silver as it really enlightens your work with a powerful charge. Recently I've got an urge to sew on top of my paintings- it's like an extra layer of drawing.
What are the main themes to your work? Do you draw on personal experiences?
Emotional connection. Creating my own sensibility and personal language within a visual form. Everything you are, you see and you experience feeds into your work.
Where do you see yourself in 5 years time? 
Bigger studio. Bigger paintings. Still developing my personal language and creating more beautiful and authentic paintings. 
As I sell a lot of paintings in the States, I would love to show a solid body of work there. I am currently looking into getting representation with an American gallery.
What has been your favourite project to work on?
Too many to choose! I was honoured to create twelve bespoke paintings for the beautiful Cadogan Hotel in Sloane Street London last year. Then again I also painted an enormous 2.5 metre painting for a client in New York. But I also love working individually for my private clients across Europe, the States, and Japan.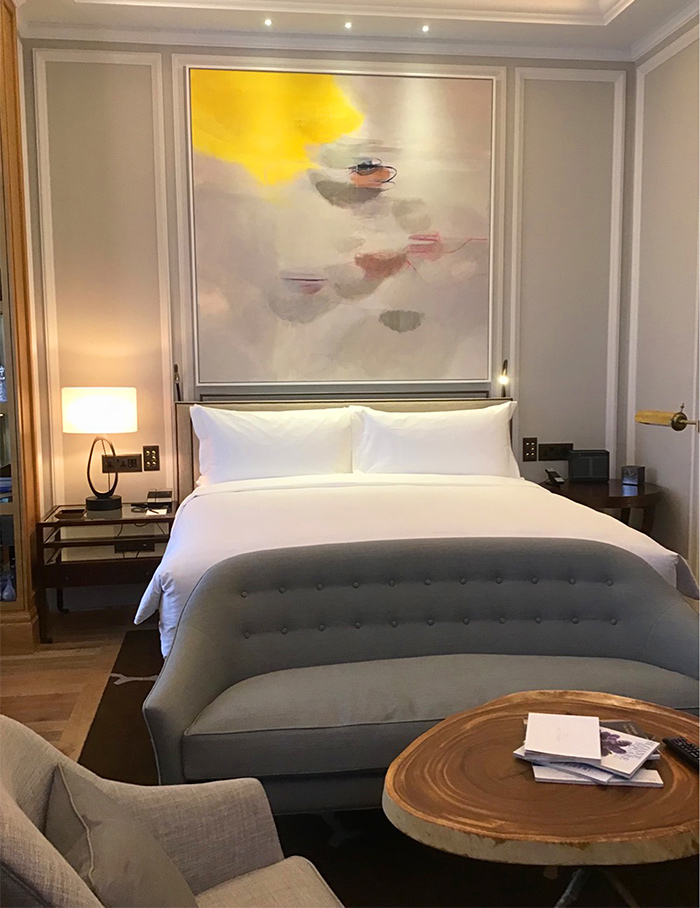 Ele's painting in Belmond Cadogan Hotel
How would you describe the life of an artist in less than 5 words?
Beautiful. Unpredictable. Cathartic. Essential. Life-saving.
What is your opinion of social media?
Instagram- LOVE it. Constant inspiration from all over the world and Pinterest also feeds my soul on a daily basis.