What other artists inspire you? 
I love the works by Conor Harrington and Lita Cabellut. They use photographs and rework these with all sorts of mixed media effects - really inspiring.
What was the last art exhibition you went to see?
I went to see Ali Banisadr's  work in Den Bosch recently, it was very colourful and playful with hints of figures taken from other paintings. The works were massive in size, that's something that appeals to me. The work becomes much more interesting when it's big, you can get sucked into the details. Another artist I recently went to see was the photographer Tim Walker. Also huge prints and beautifully framed. All works were inspired by the art of Heironymus Bosch.
Where do you see yourself in 5 years time? 
I hope to come up with a new creative twist so I can extend my body of work but stay recognisable within my signature style. I'm steadily growing in my craft and want to maintain momentum. In 5 years time I hope to do more exhibitions abroad. 
Any ambitions you still have on your to-do list?
I'd like to make some bigger works within a themed series. 
What are your highlights from interesting projects you've worked on?
I'm currently working on a project with a company that makes tailor made shoes. My work is printed on the leather of gentlemen's shoes. My artworks will also be displayed in some shops in cities here in Holland so that's something I look forward too.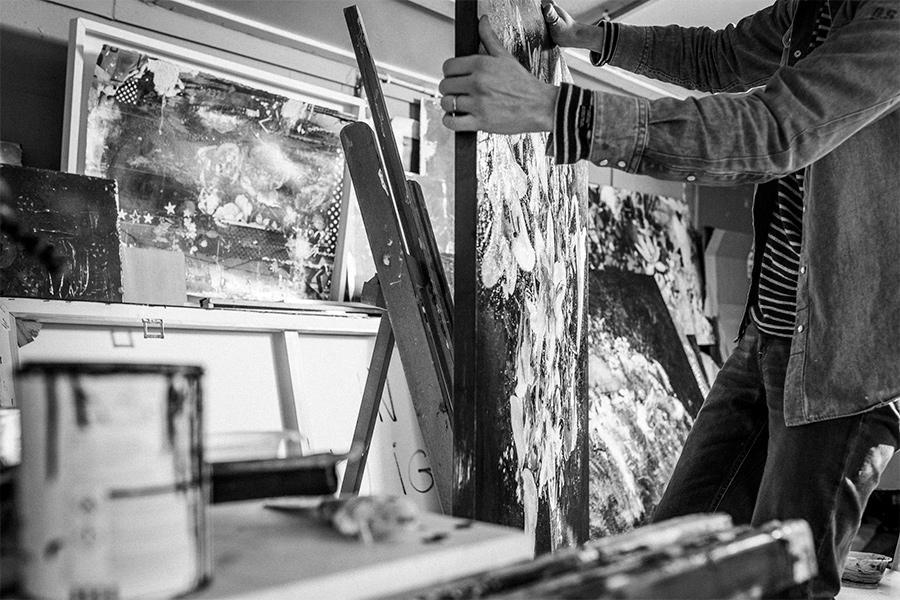 Teis in his workshop
What are the challenges of being an artist now?
I think sticking to your own plan and committing to the long run is a challenge many artists have these days. There's such an overload of really great work created everyday. 
How would you describe the life of an artist in less than 5 words?
Fun, nice, life, beautiful.
What advice would you give to younger artists just starting out.
Try and be on the lookout for as many things you can, techniques, materials and new technology. Really dig deep into all possibilities that are out there.
Do you like to use social media?
I mainly use it to show my latest works and I sometimes make stories when I'm working on new work. I do try to keep my personal life away from this and not obsessively focus on likes and views. But it's a great tool to reach people.