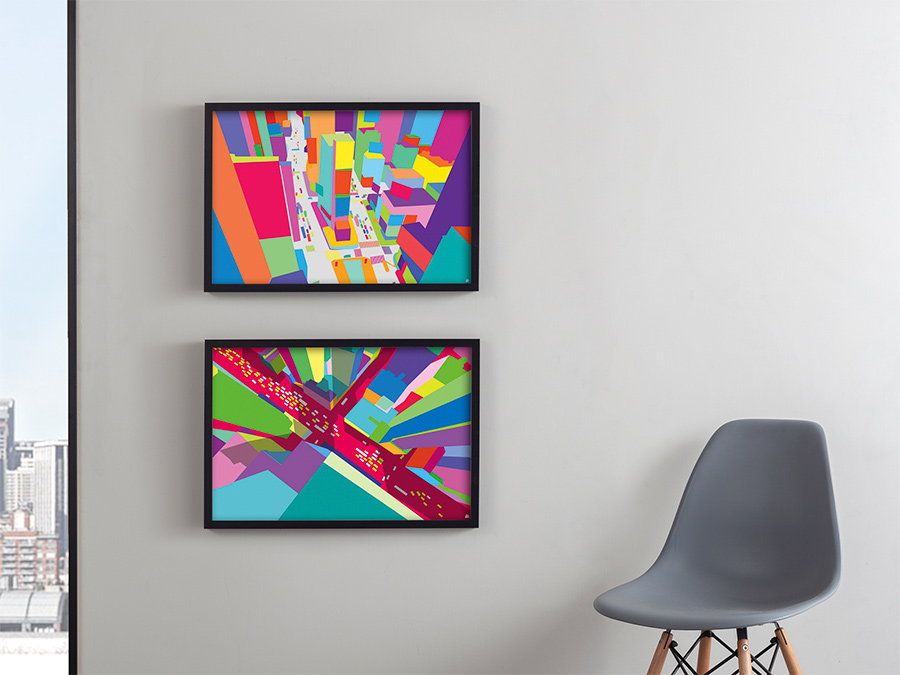 New York Times Square and NYC Intersection, from £70 framed
Have you always been creative since childhood?
I always loved drawing and making collages as a child. I was encouraged by my family who used to compliment my work. My dad has always been an art lover and used to drag me with him to see exhibitions and I also remember going with my parents to visit some famous Israeli artists.
Where did you grow up?
I grew up in a suburb of Tel Aviv. As a child I was always thrilled to visit the city where everything is exciting; the people, buildings, cinemas, shops, beaches, adverts in the streets. The list goes on!
Did you attend art college?
I studied in Bezalel, Jerusalem's art and design academy. One of the tutors I learned a lot from was David Tartakover who's known for his political posters and was awarded the Israel Prize for design. I took his poster design course which got me hooked on creating compositions using graphics. I then came to London for a semester as an exchange student and was immediately captivated (unsurprisingly as London is a vibrant cultural capital). I returned to London in 2006 to do a Masters at the London College of Communication and I've been here ever since.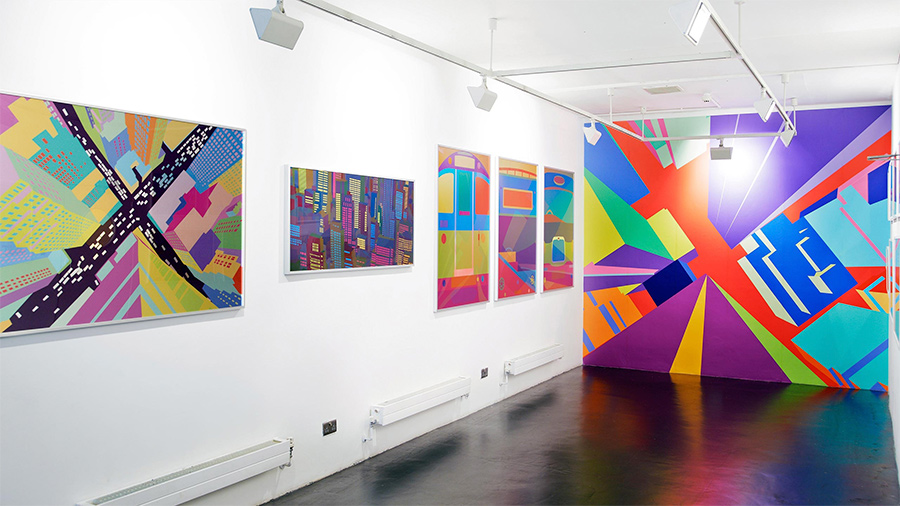 'City' Exhibition, Kemistry Gallery, London
Yoni's work process
Have you ever had any other jobs?
All sorts of jobs throughout the years. After my MA I was working in a London advertising agency whilst continuing to create my own work and sharing it with the world through the Internet and exhibitions.
"If I wasn't an artist I would be…"
Being creative and making things is something I enjoy and have to do each day so I don't see myself doing anything else. I vividly remember writing "an artist" in a year 1 school book next to "when I grow up I'll be…".
What piece of equipment can't you live without? 
My Mac is my main tool but I've also been using a Wacom tablet ever since the first one came out. My first interaction with computer graphics was when I was a child and a friend showed me the Microsoft Windows Paint app. I vividly remember being blown away by the ability to fill an area with a solid colour with a click of a button. Until that point I used to fill areas with solid colours on paper with marker pens and always strived to get a clean look. My father used to be an architect and would bring home large architectural drawing sheets that were no longer needed. The reverse of the sheet was like a blank canvas for me to draw on.
Where do you work?
I work from home. It's been like this since childhood and it works for me as I enjoy working near my family. I always have the radio on while I'm working listening to rock, jazz and a lot of Israeli music. I live right by the canal and try to go for a walk along its path whenever the weather permits. I love the feeling of being surrounded by nature inside London.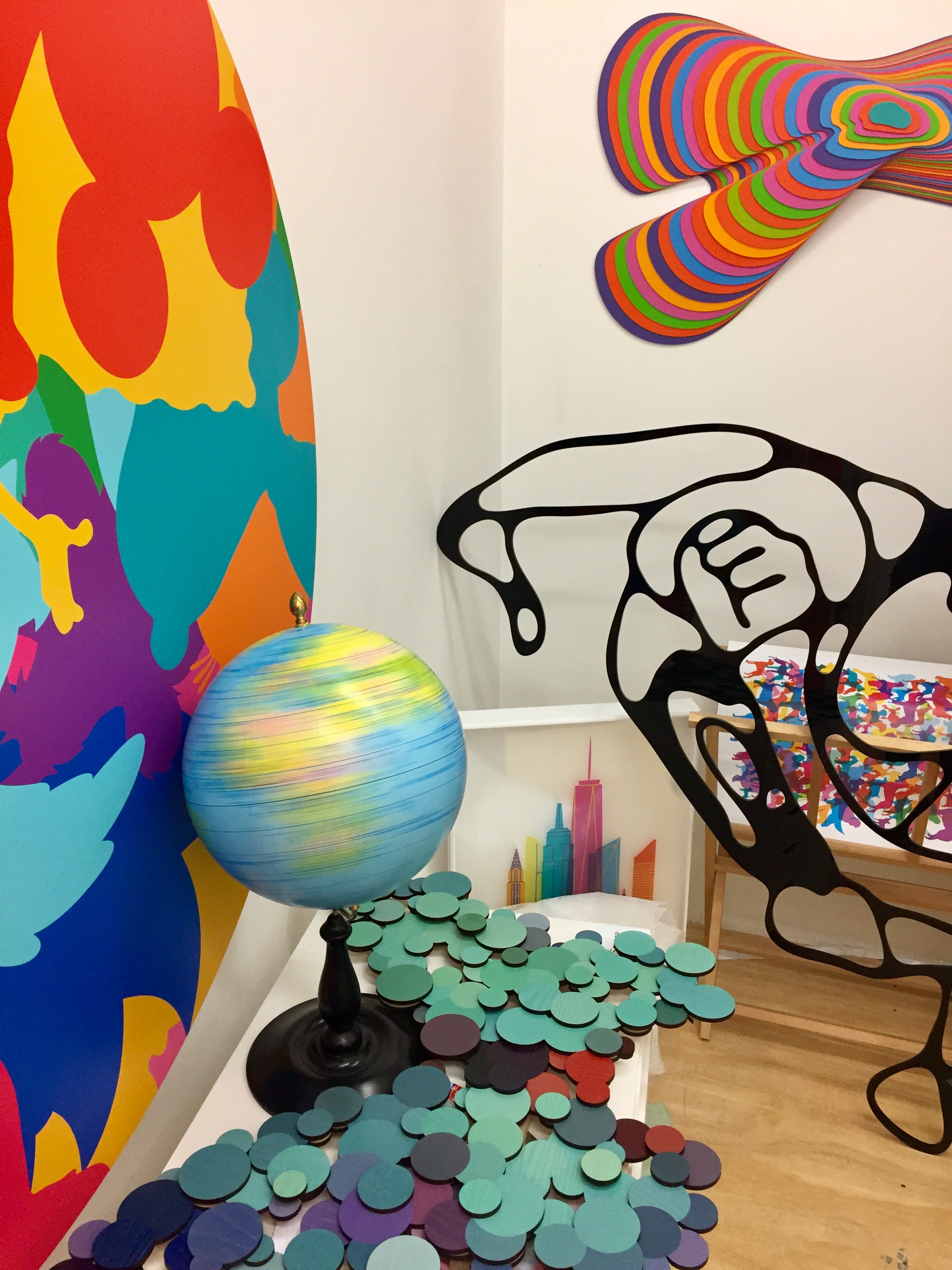 A corner of Yoni's studio
What are your main themes and influences?
My background in design is very evident in my work and so is my love for colours. I'm interested in ideas such as minimalism, simplicity and complexity, perception, abstraction, iconography and formalism. I'm guided by  experimentation so I'm always looking for new ways of creating visual representations. I enjoy working on different types of projects, producing work in different scales and using different materials. I have a curious nature so I like finding out what interesting things I can do with a certain material, technique or tool. 
Working on an idea always leads to other ideas. I enjoy contemporary art and architecture and follow some Instagram accounts such as 'Minimal & Contemporary' which posts a great selection of abstract, minimal, conceptual and colourful art. I also follow a few galleries like Gagosian and Perrotin. I really enjoyed Anish Kapoor's exhibition at Ealing's Pitzhanger Gallery and so did my family.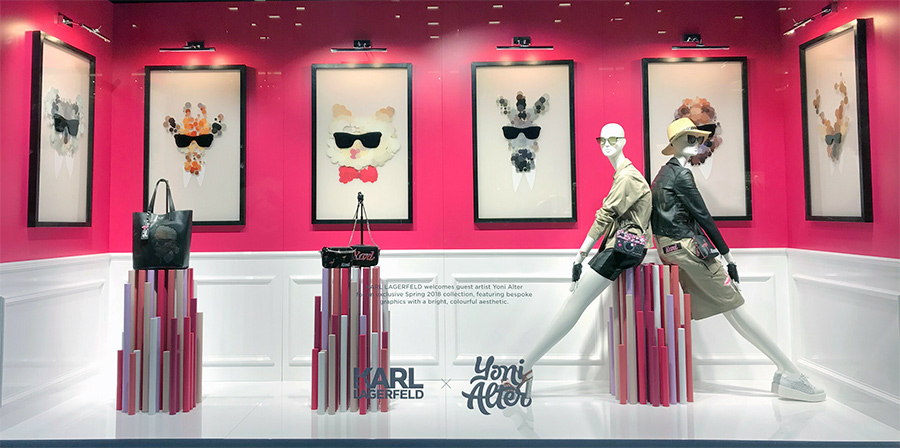 Karl Lagerfeld collaboration, Regents Street, London
What have been your greatest career achievements? 
I think every artist would say that his best work has still not been produced and his greatest achievements are ahead of him. Or at least that's how I feel. I also think that every artist would say that being an artist is not something you choose but rather it chooses you. I create because I feel a need to.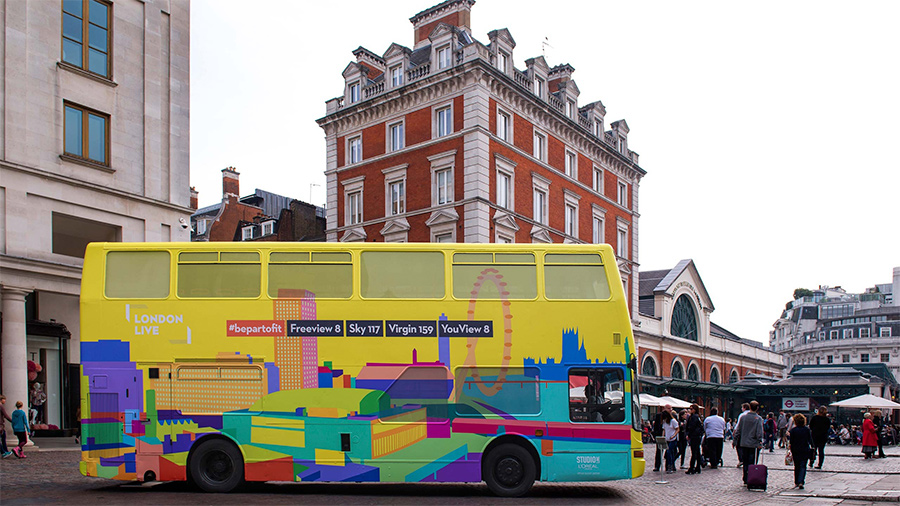 Yoni's artwork on a London double decker bus
Social media - heaven or hell?
Social media isn't heaven or hell - it's ubiquitous. I produce work for others to see and hopefully enjoy so I'm happy that social media allows me to share my work with more people regardless of their location. You can keep up to date with Yoni's work via his Instagram and Facebook accounts and shop Yoni's amazing collection at King & McGaw. 
Shop Yoni Alter's artwork