Bauhaus gets its name from the German word for building (bau) and house (haus), leaving many to suggest its founder, Walter Gropius, intended to evoke the idea of a community working to build a new society. The school, which was established in three German cities (Weimar, Dessau, and Berlin) implemented revolutionary teaching methods. Instead of traditional pupil-teacher relationships, teachers and students were encouraged to work collaboratively. The aim was to bring art back into contact with everyday life, and architecture, performing arts, design and applied arts were put on a level footing. Some of the school's most influential teachers included Wassily Kandinsky, Paul Klee, László Moholy-Nagy, Josef Albers, and Oskar Sclemmer.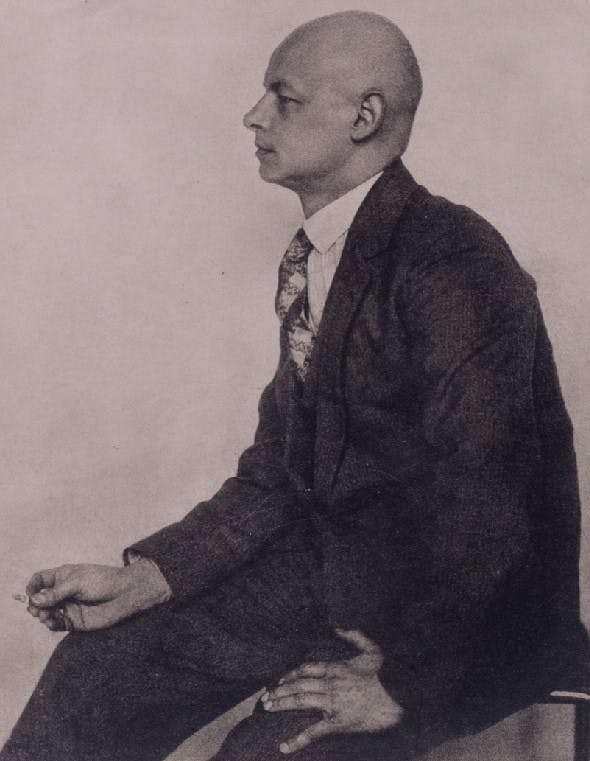 Portrait of Oskar Schlemmer, 1920, by Hugo Erfurth, Public Domain
Born in Stuttgart in 1888, Schlemmer studied under the tutelage of landscape painters Christian Landenberger and Friedrich von Keller. In 1914, he was enlisted to fight on the Western Front in World War I but, when he suffered an injury, he was moved to a position with the military cartography unit in Colmar. 
When the conflict ended, Schlemmer began experimenting with sculpture and, soon after exhibiting his work in 1921, he was head hunted by Bauhaus founder Walter Gropius. A year later, Schlemmer had the privilege of designing the School's logo: a two-toned face within a disc composed of crisp vertical lines and a black square. Stylistically simple, the logo encapsulated Bauhaus design principles. With an emphasis on mass production and design that was absent of ornamentation, Bauhaus style stood for harmony between form and function. Designs were intended to be aesthetically pleasing, uniform, and capable of mass production.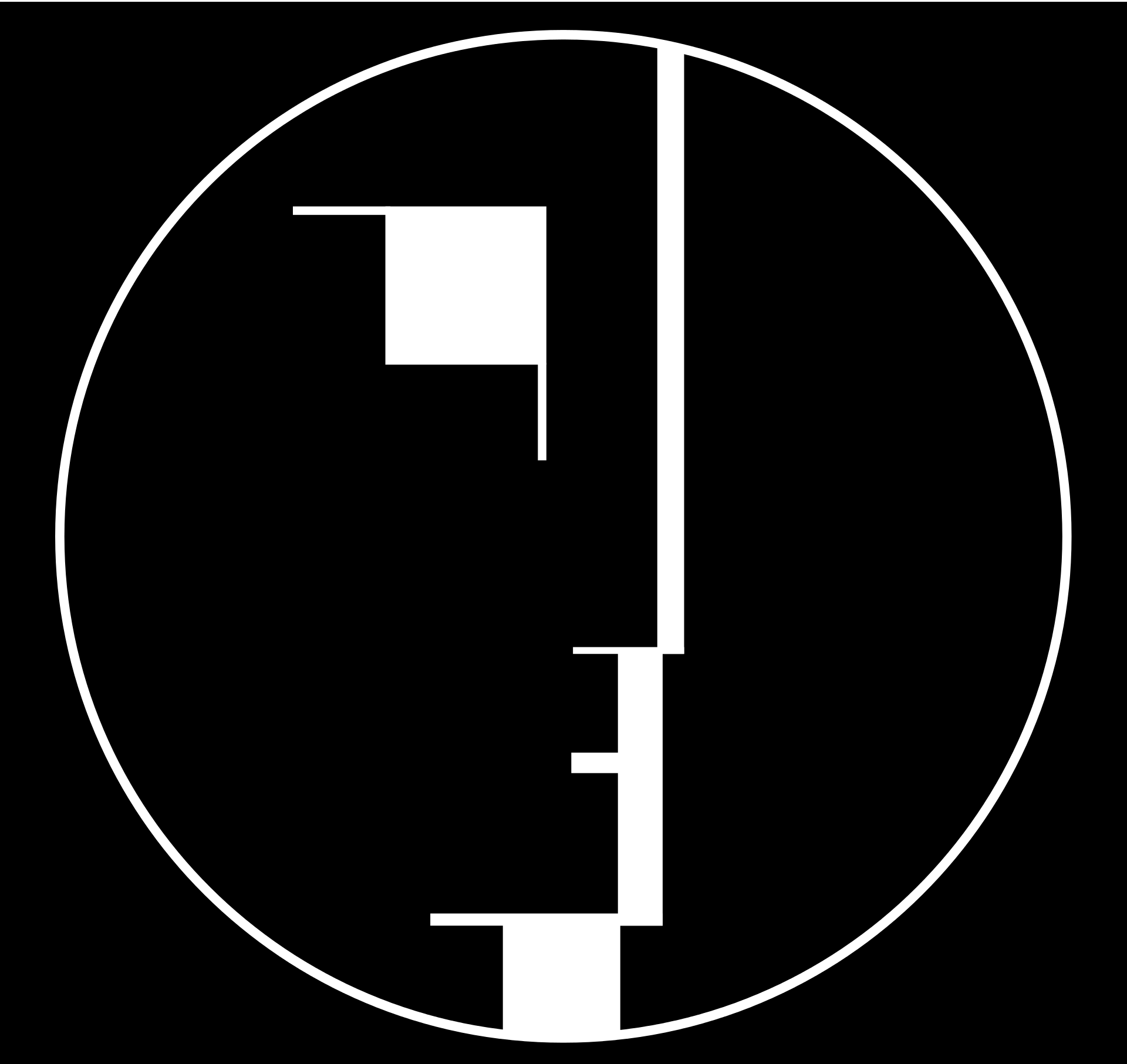 The Bauhaus logo, designed by Oskar Schlemmer, 1921
 'It is our task [as designers] to become pioneers of simplicity, that is, to find a simple form for all of life's necessities, which is at the same time respectable and genuine.' – Oskar Schlemmer
At first, Schlemmer ran the mural-painting and sculpture departments at Bauhaus, before becoming Master of Form in the theatre workshop in 1923. A strong believer in the power of simple effective design, he once remarked that, 'it is our task [as designers] to become pioneers of simplicity, that is, to find a simple form for all of life's necessities, which is at the same time respectable and genuine.'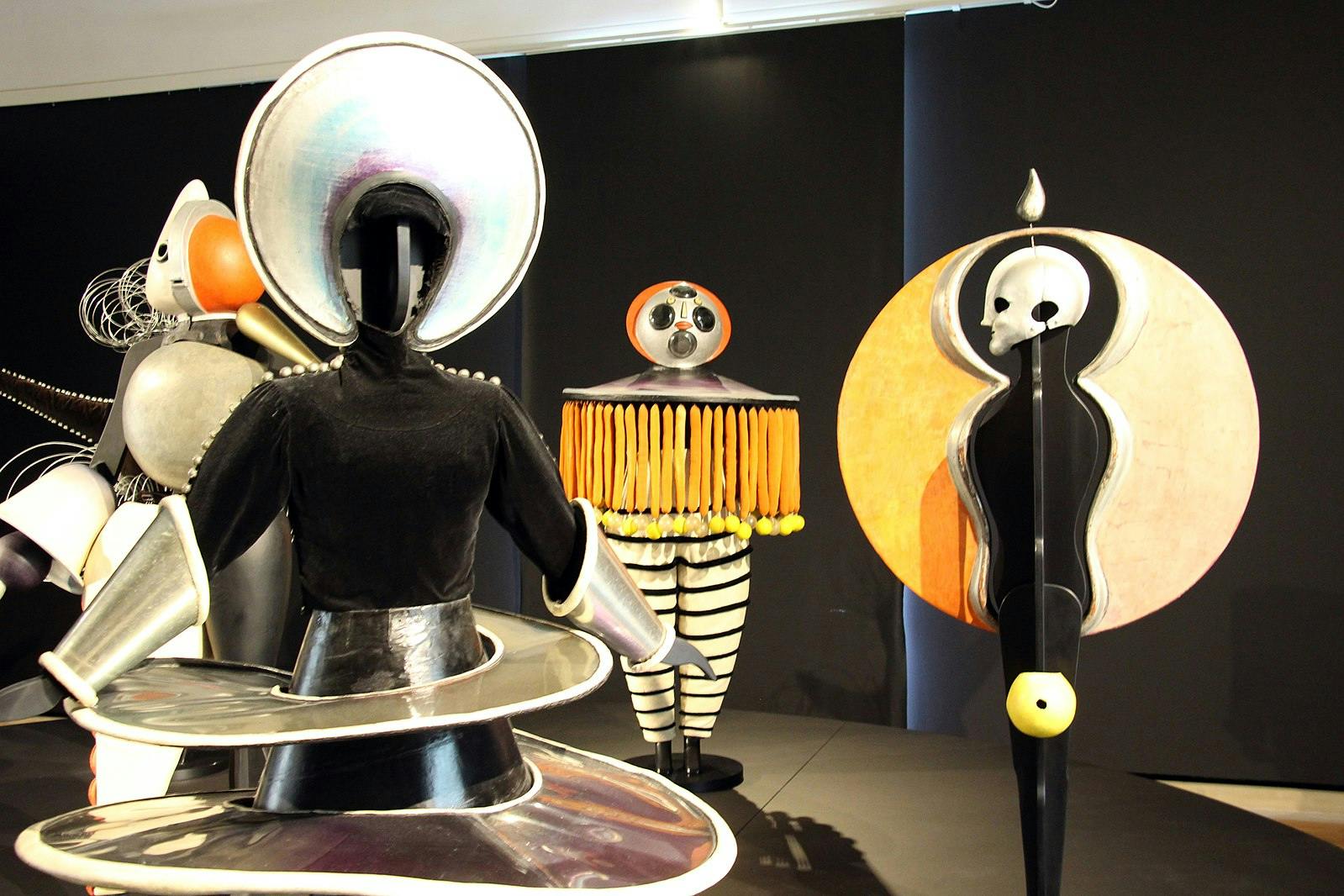 Costume for The Triadic Ballet designed by Oskar Schlemmer, 1922, Public Domain
The most characteristic artistic quality of Schlemmer's work was his interpretation of space. He experienced space not only through vision but with the whole body, with the sense of touch of a dancer or an actor. Experimenting across disciplines, he choreographed dance routines, designed costumes, made sculptures and painted murals — all with the intension of exploring the body's relationship with space.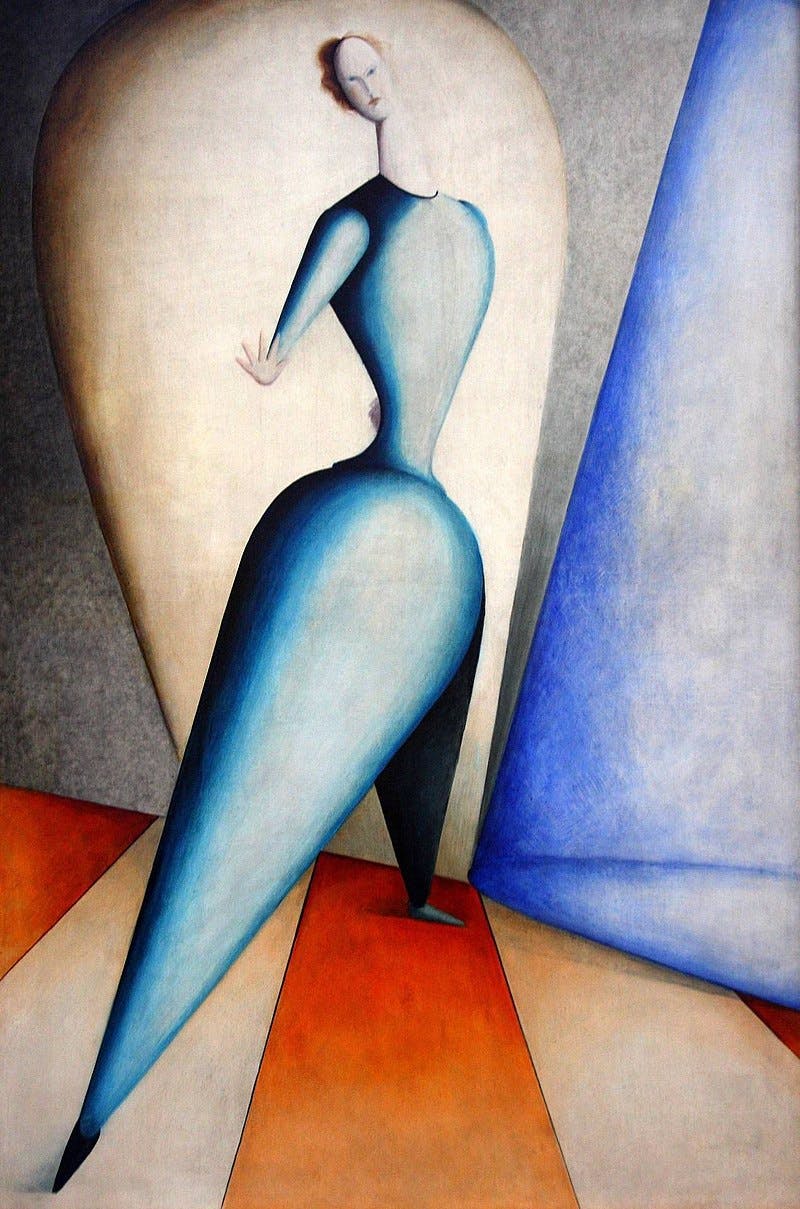 Oskar Schlemmer Tänzerin (Geste), 1922, Public Domain 
Bauhaus was a creative sanctuary for artists like Schlemmer living and working in Germany in the 1920s. But, as the Nazis tightened their grip on the country, it became harder and harder to escape their persecution. Sadly, Schlemmer was one of the first artists to suffer when his murals for the Weimar Bauhaus were painted over in October 1930. By 1932, the Nazis were threatening to close the school entirely if its teaching staff were not replaced with Nazis sympathisers. Bauhaus staff remained resolute. No one wanted to let the school fall into the hands of the National Socialists so, in August 1932, the board agreed to voluntarily shut the school. 
When Schlemmer heard the news, he was quick to produce what is now his most revered artwork. Painted in a studio at the Bresslau Art Academy in September 1932, Bauhaus Stairs is said to be inspired by a photograph of student weavers on the Bauhaus stairs in Dessau, c. 1927. The photograph, which was staged by Schlemmer but taken by Theodore Lux Feininger, depicts carefree students en route to class. In contrast to the photograph, Schlemmer's painting is tinged with sadness.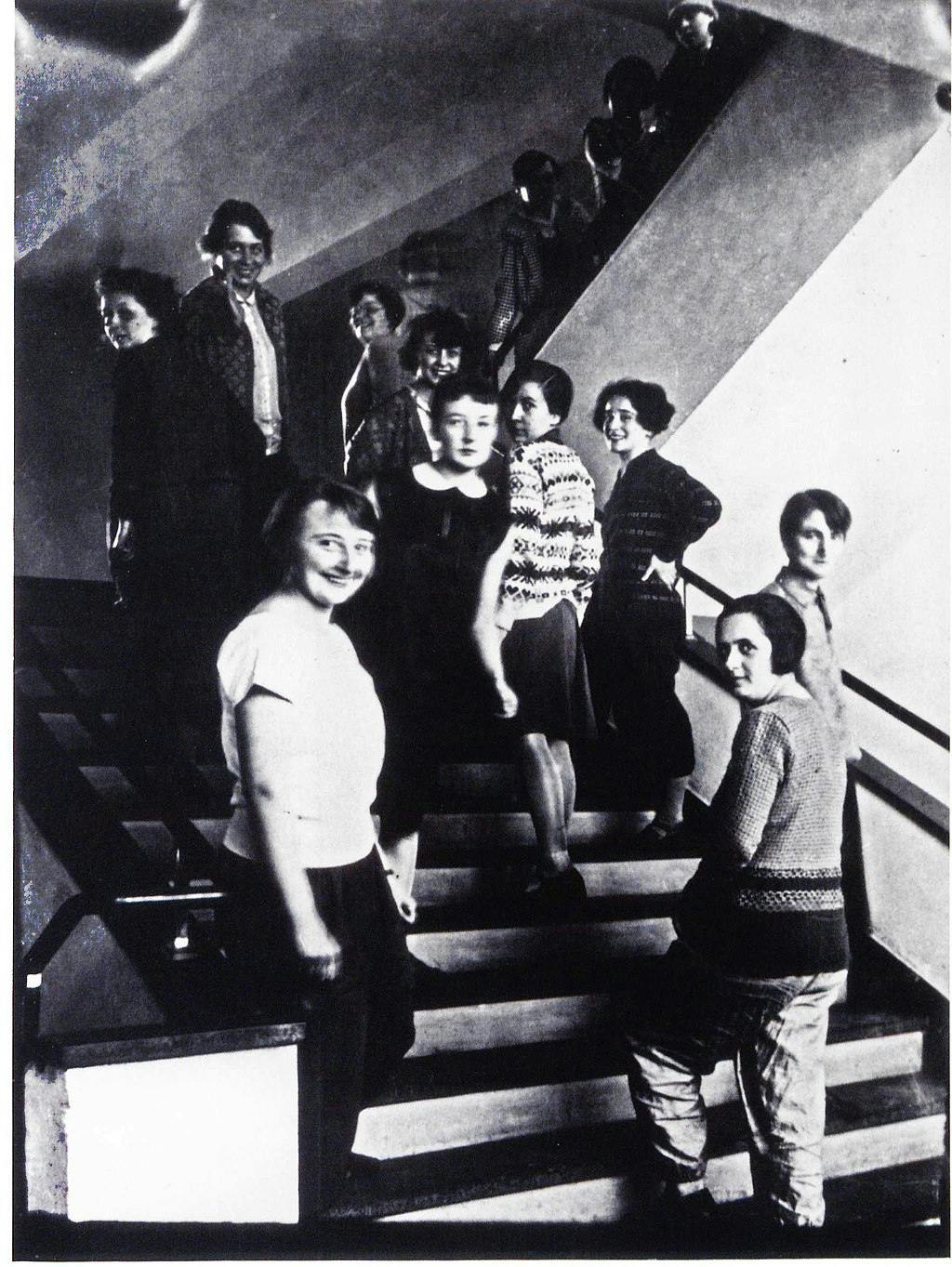 The weavers on the Bauhaus stairs in Dessau, c. 1927, staged by Schlemmer and photographed by Theodore Lux Feininger, Public Domain
Bauhaus Stairs depicts an ethereal staircase with students, bathed in an elegant glow of the building's slate-blue walls, ascending its wide steps. A total of six figures transcend upwards, their faces hidden from our view, whilst one stick-like figure faces towards us. Some have suggested the solitary figure who floats on the landing is dancing on tiptoes – a symbol of creative defiance in the face of impending doom. Even the students who look away from us grip the staircase bannister as a sign of support and stability despite difficult times. With its remarkable upward flow of movement, Schlemmer's watercolour suggests a brighter future, a distant utopia immortalised by his paintbrush.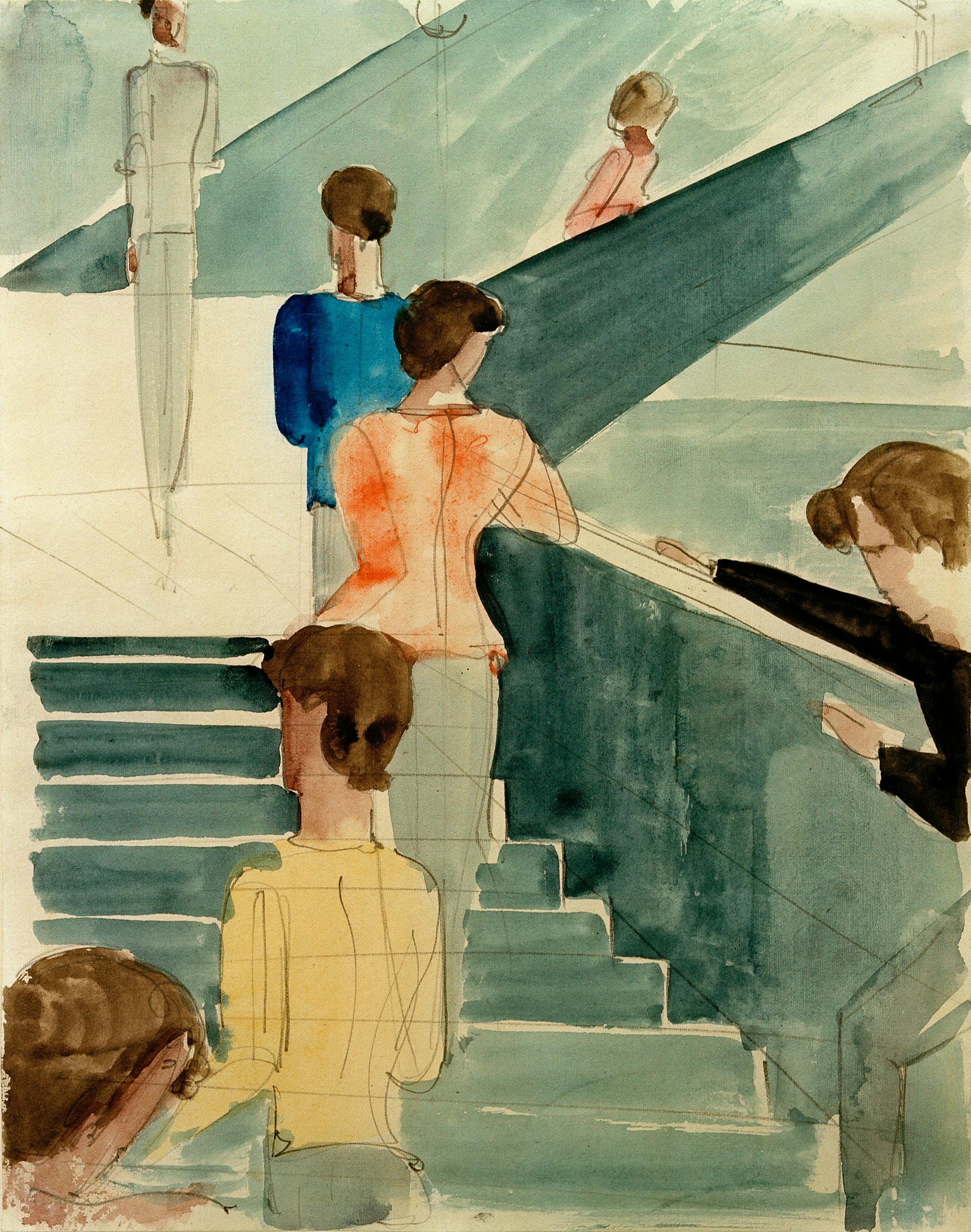 Bauhaus Stairs 1931, Oskar Schlemmer
When Bauhaus Staircase was exhibited in Schlemmer's native home of Stuttgart a year after its creation, a Nazis critic reviewed the show and labeled the painting 'unfinished' and 'Bolshovik'. Shortly afterwards, the paintings were taken off the walls and hidden from the public. Luckily, MoMa's first museum director, Alfred Barr, was in Stuttgart at the time and, upon hearing this news, rushed to the gallery and was permitted to see the works on account of being an American. Immediately understanding the cultural significance of the painting – representing an art movement that was persecuted by Nazis – Barr was determined to add it to MoMa's collection. In his words, 'just to spite those sons of bitches'. To this day, Bauhaus Staircase still hangs in all its defiant glory halfway up a modern staircase at MoMa. In a good year, the world famous art gallery welcomes over 2.5 million visitors. No doubt Schlemmer would have raised a smile knowing the legacy of his creative career, and the memory of the school he loved, lives on.