Destitute and isolated, Christina and her brother made a meagre living selling chicken eggs and surplus vegetables. By the 1940s, unlike the rest of America which saw an explosion of consumer goods and a steep rise in the middle class, the two siblings muddled along, almost entirely detached from the rest of the wider community. That was until they were introduced to Wyeth by his wife Betsy. Over time, the group became closer and more trusting of each other. By 1945, Wyeth could often be found roaming the land surrounding the farm, painting en plein air, or working in one of the bedrooms of the house Christina allowed him to use as a studio. 
A simple farmstead existence, untouched by advancements of modernity and industrialisation, was an appealing subject to the realist painter who longed nostalgically to portray rural scenes in a regionalist style. 'Most artists look for something fresh to paint; frankly I find that quite boring. For me it is much more exciting to find fresh meaning in something familiar.' Fascinated by the traditional Olson family farm, Wyeth produced nearly 300 drawings, watercolors and tempera paintings. Somewhat poetically, he compared the barren world of New England in which he worked to 'crackling skeletons rotting in an attic – dry bones [...] a tombstone lost at sea.' To him, Maine was beautiful because it was unspoiled. Modernism, on the other hand, was 'crap' and 'putrid stuff.'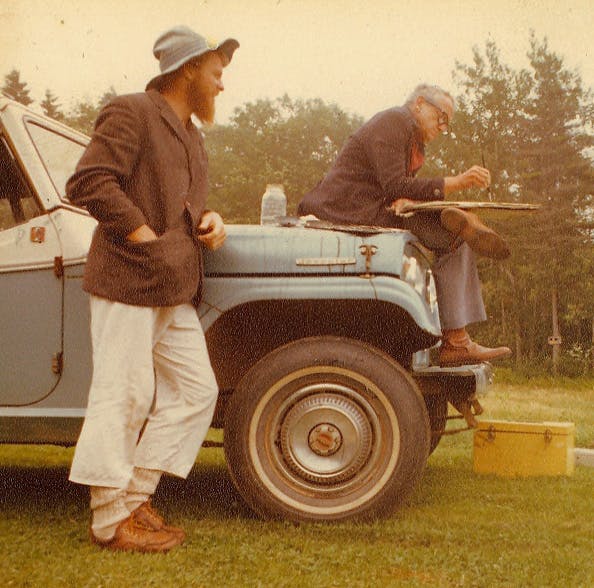 Wyeth pictured sitting on a car painting en plein air next to William Waterway Marks, who was a guest at his sheep farm in the summer of 1977.