Founded in Paris in 1912 by Lucien Vogel – an erudite editor described by his contemporaries as a 'dandified frog' who could often be seen wearing a black and white chequered suit and an ascot tie – Gazette du Bon Ton positioned itself as a journal of taste. 'Bon ton', which entered French vocabulary in the mid-eighteenth century, connoted style and refinement, a certain je ne sais quoi.
'To be possessed of bon ton,' wrote French literary critic and one-time editor of the magazine, Henri Bidou, 'it is not enough to be elegant.' Bon ton is 'ingenious and innovative, but it does not draw attention to itself; it has a feeling for grace and beauty but a horror of ostentation; it is witty in design and in lively orchestration of colours; and because it is witty, it appears relaxed.'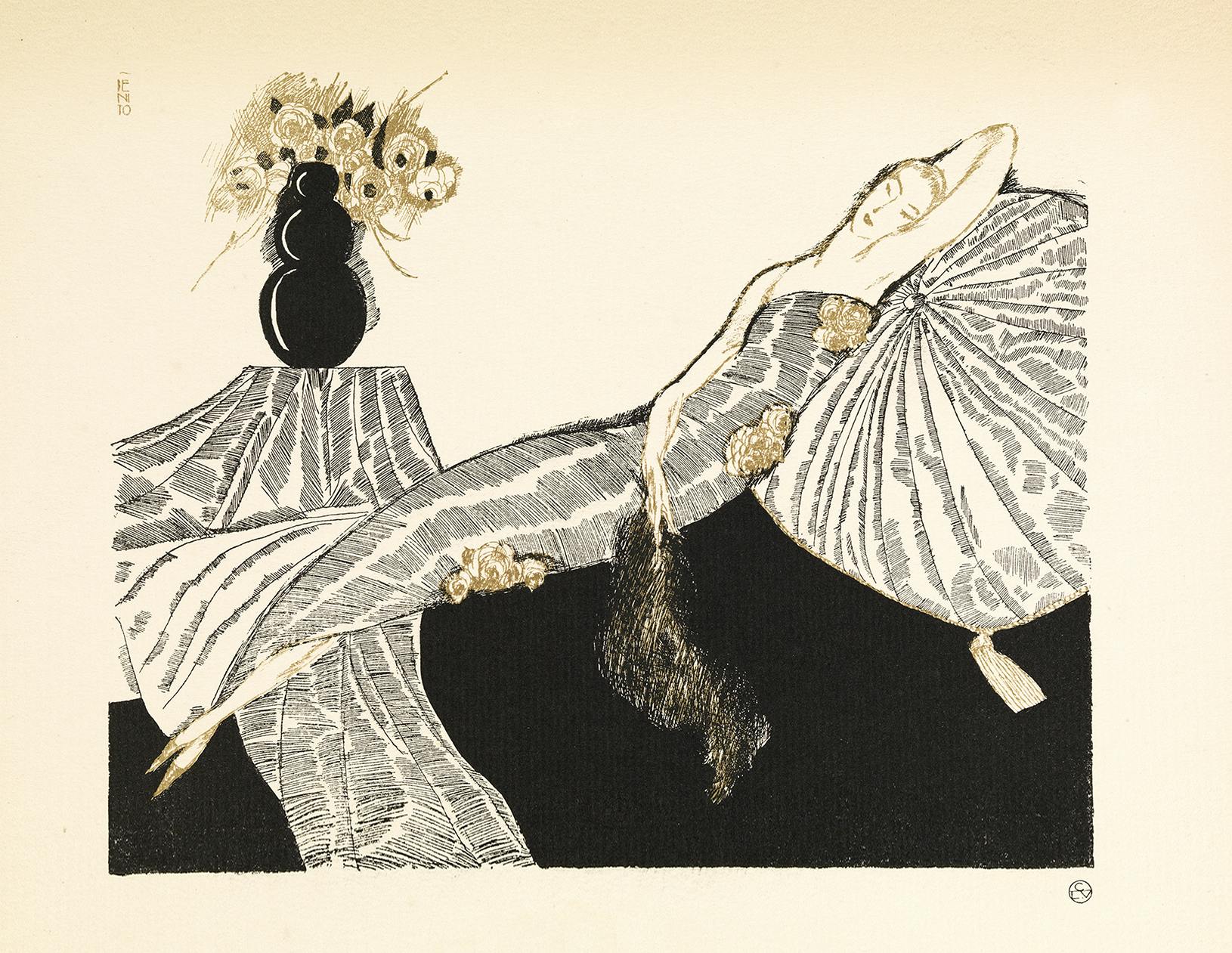 Les quarte bouquets, Gazette du Bon Ton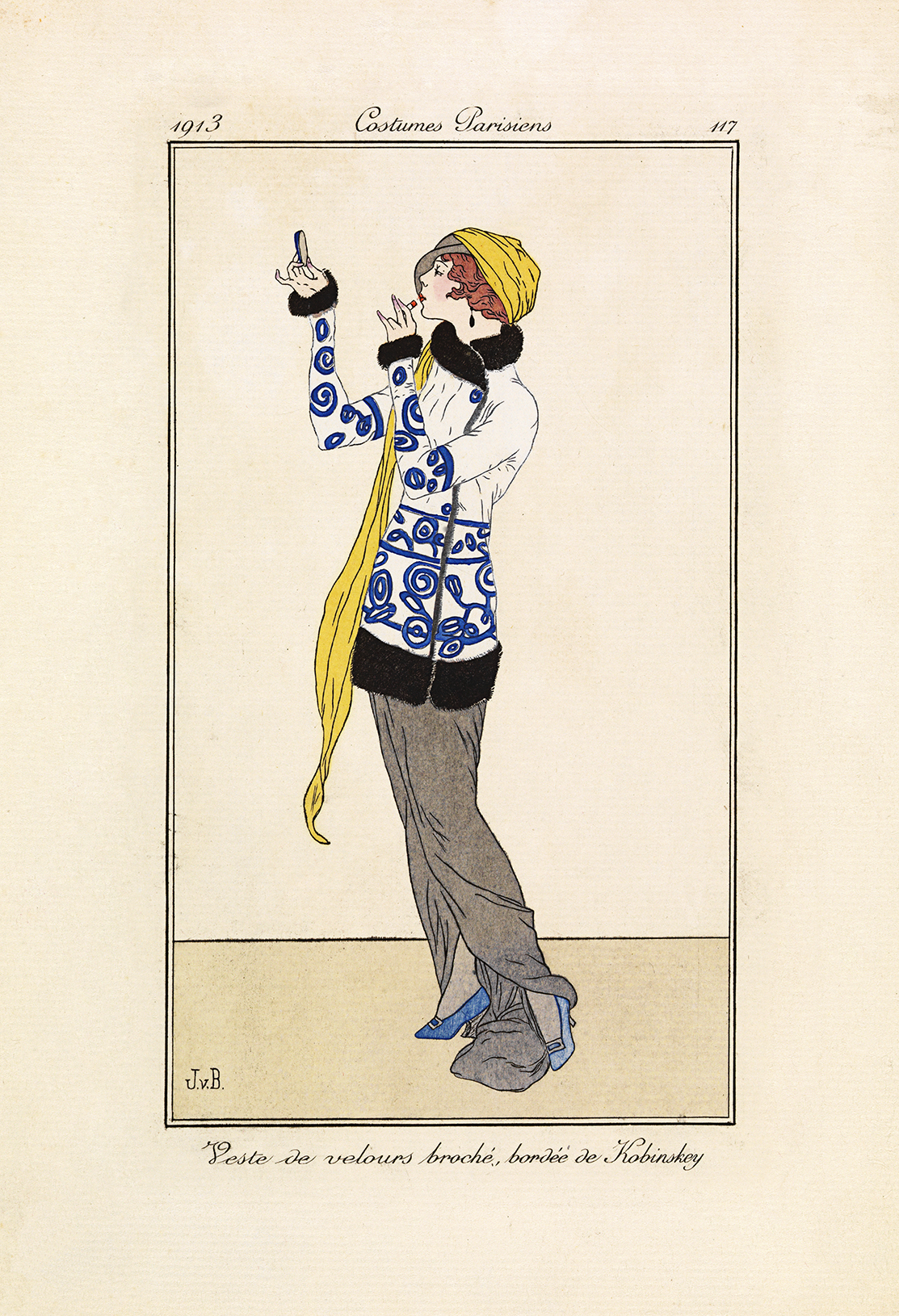 Costumes Parisien, Gazette du Bon Ton
Witty, worldly, and eye-wateringly expensive (Gazette du Bon Ton was sold at the inhibitive price of 100 francs per year) the influential French magazine was aimed at high society Parisienne women who warmed to its tone of exclusivity.
With commissions from leading designers, publishers, painters, and craftsmen and women – such as Georges Doeuillet, Jacques Doucet, Jeanne Paquin, George Lepape, Georges Barbier, Charles Martin and Pierre Lepape to name a few –  Gazette du Bon Ton set the standard for luxury in the French fashion press, continually cultivating prestige with prominent Parisian design houses of the day.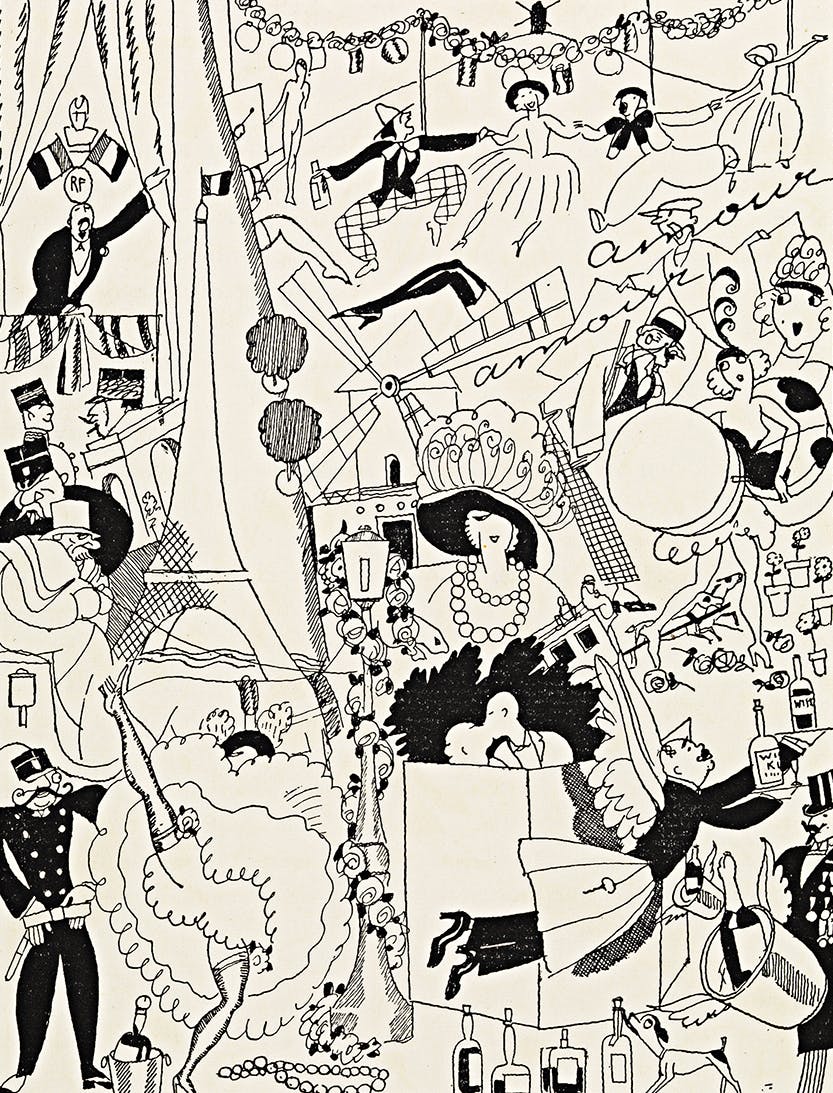 Comment les Américain imaginent Paris, Gazette du Bon Ton
With its literary and artistic pretensions (leading novelists, playwrights, decorating authorities, and art historians also contributed), the magazine did far more than report on dress. It viewed itself as a journal of taste and style in which visual art was featured and fashioned served as a centrepiece.
Though it only ran for 13 years, the publication became known for its signature watercolour pochoir plates (stencilling that produces an image or pattern by hand) which helped propel Art Deco to the forefront of the design world.
Each issue featured ten full-page fashion plates, often depicting the idealised and exaggerated images of women with longer proportions. Figures that were nine to ten heads tall (rather than the average six) became the standard.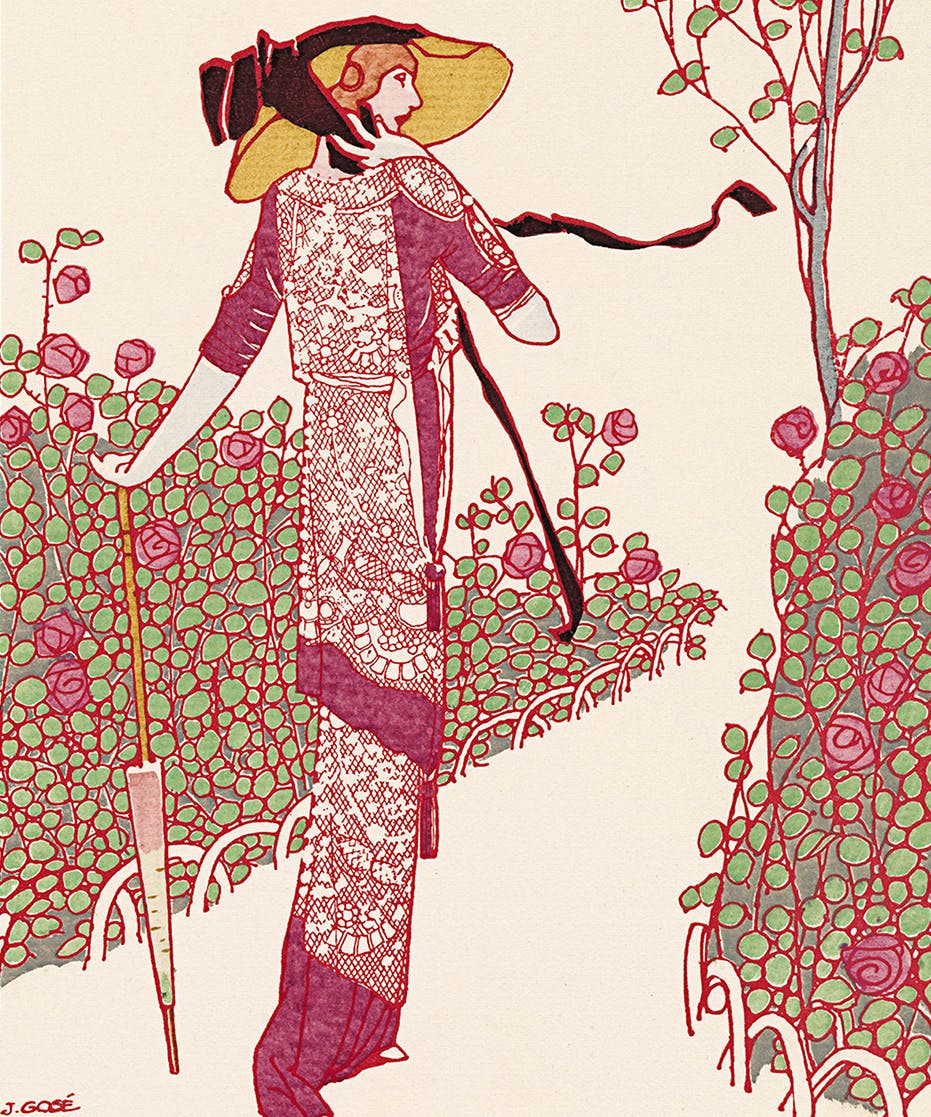 Une rose parmi les roses, Gazette du Bon Ton
'The clothing of a woman is a pleasure for the eye that cannot be judged inferior to the other arts.'
The magazine's Art Deco designs promoted fashion as the fourth of the beaux-arts, elevating dress to the level of painting, drawing and sculpture in the highest reaches of the French art world.
'The clothing of a woman,' the inaugural editorial proclaimed, 'is a pleasure for the eye that cannot be judged inferior to the other arts.' From the choice of paper to the design of the layouts, every element reinforced the magazine's mission to cultivate high-toned sensibility alongside haute couture. 
As the first signs of spring begin to blow in, we're spotlighting Le triste hiver à fait place au printemps (The sad winter gives way to spring). The two women, with their signature cloche and wide-brimmed hats, red-rouged cheeks and pearls represented the height of Parisian fashion. The early budding blossom that artfully frames the sky above – and scatters delicately on the grassy plain behind them – adds a refreshing sense of hope that can often be found with the arrival of a new season.
Produced in collaboration with the Courtauld Gallery, which houses a stunning collection of French Impressionist and Post Impressionist artworks, the fine art prints in our Gazette du Bon Ton collection have been expertly colour matched to their original. Printed on acid and chlorine free digital conservation paper which is made on a Fourdrinier Machine, a process first perfected and patented by the Fourdrinier brothers in 1803, every purchase supports the work of the Courtauld Gallery.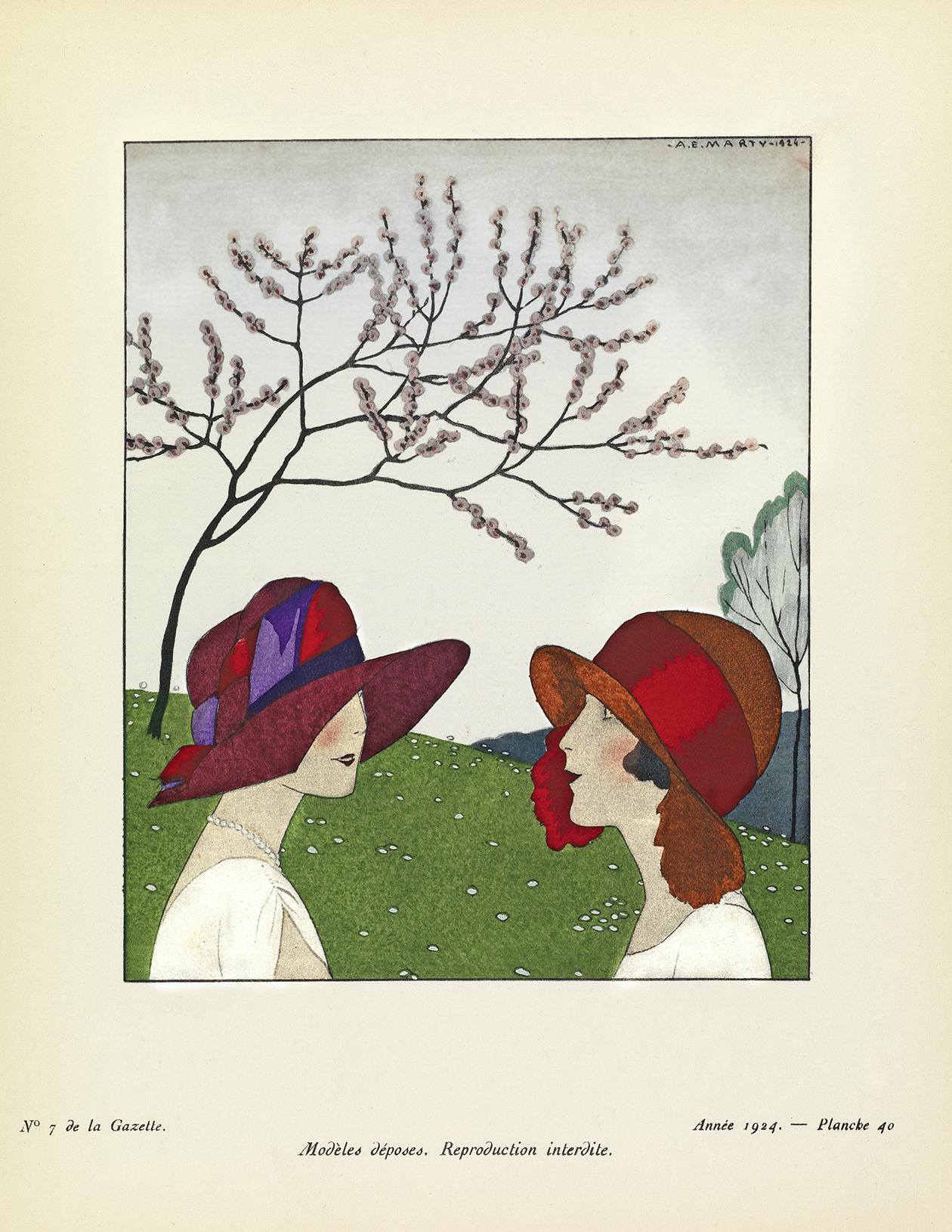 The sad winter gives way to spring, Gazette du Bon Ton