Can you tell us about your journey to becoming an artist? 
I'm the third generation of female artists in my family: both my mother and my grandmother are artists. I grew up surrounded by art and, initially, I was determined not to become an artist myself. I'd seen what sort of life it was for them and it wasn't easy. Often, when your parents do something, you want to do something original, something that's your own. But, since I have a lot of creative energy – and I've always been drawn to monochrome, mark making, and the intimacy of an artist's relationship with paper – I decided to study drawing. After studying drawing for three years, I went on to do masters at Wimbledon School of Art. And that's where I discovered collage.
What is it about collage that you're most interested in, what initially attracted you to the medium?
I was really drawn to the landscape prints of eighteenth and nineteenth century explorers. I liked that clear aesthetic. One day, I discovered that if I snipped a little bit of an image off and drew around it, the result was really interesting. I began working with layers of textures, textiles, found images, and drawing which I assembled all together. Over time, the collages have become more and more intricate. 
'Over time, the collage pieces become smaller and more detailed.'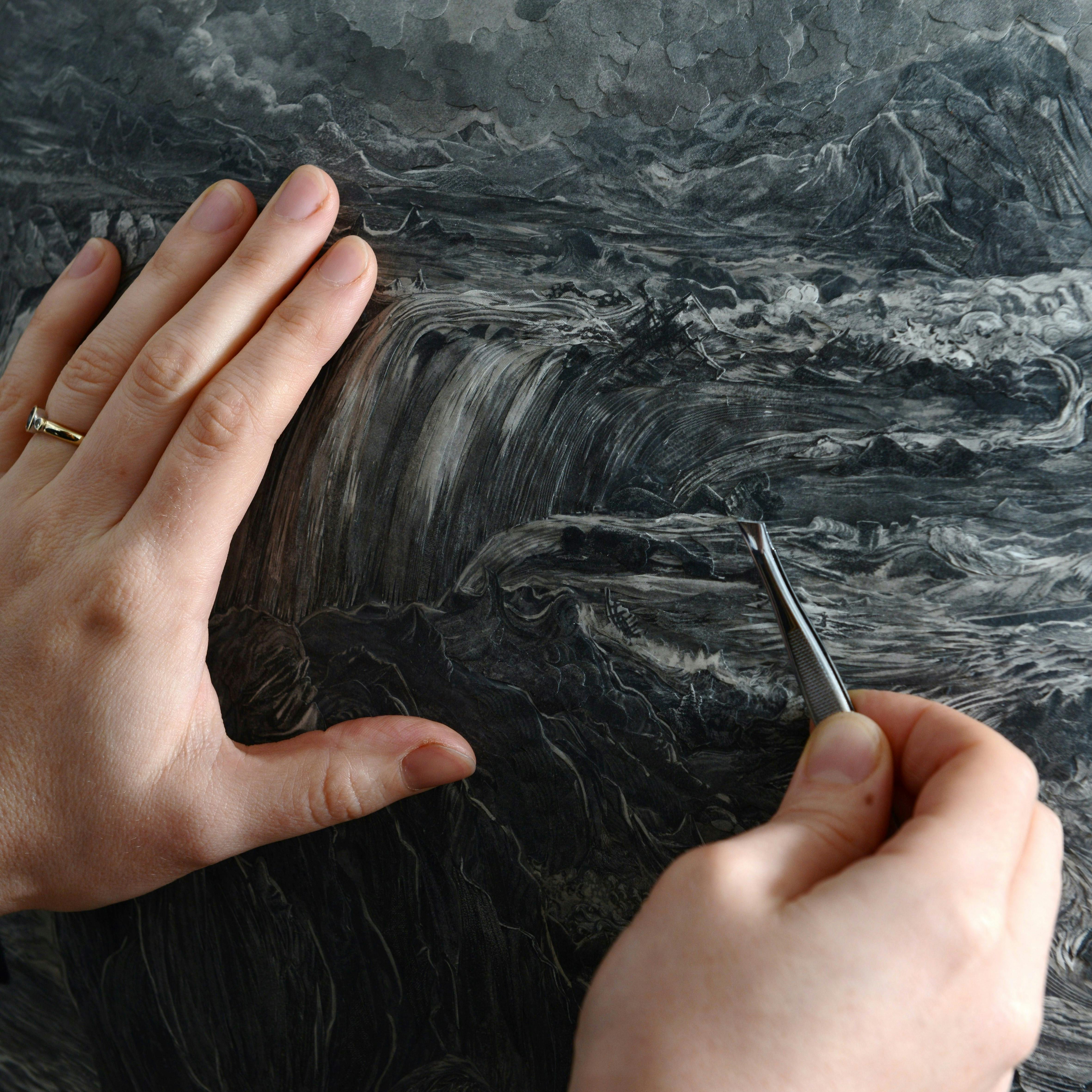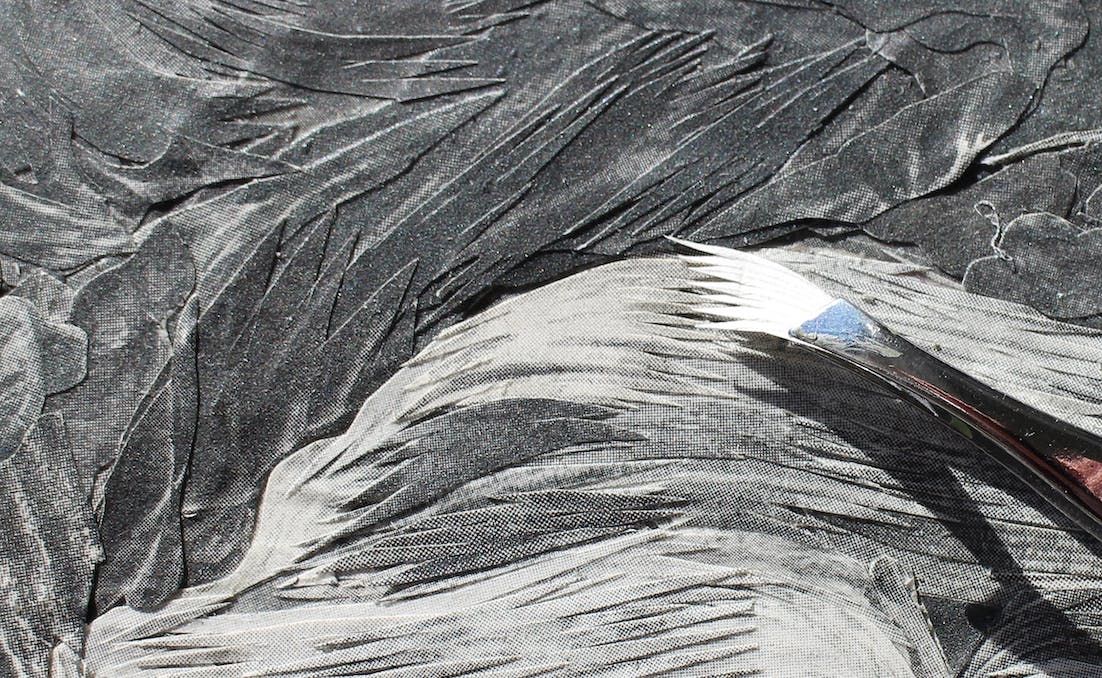 Can you tell us more about the making process?
The collage is made from mainly old cuttings of encyclopaedias and discarded books. I break the images down into smaller and smaller cuttings. After that, they're layered up into the landscapes that I create. I'll often start a piece with a drawing of a landscape to get a rough idea of the composition, then the collage pieces will come in. Initially, as big, chunky pieces that help establish the tone of the picture. Over time, the collage pieces become smaller and more detailed. When I'm finished, I add archival glue and a layer of archival matte varnish with a UV filter so that the paper doesn't discolour.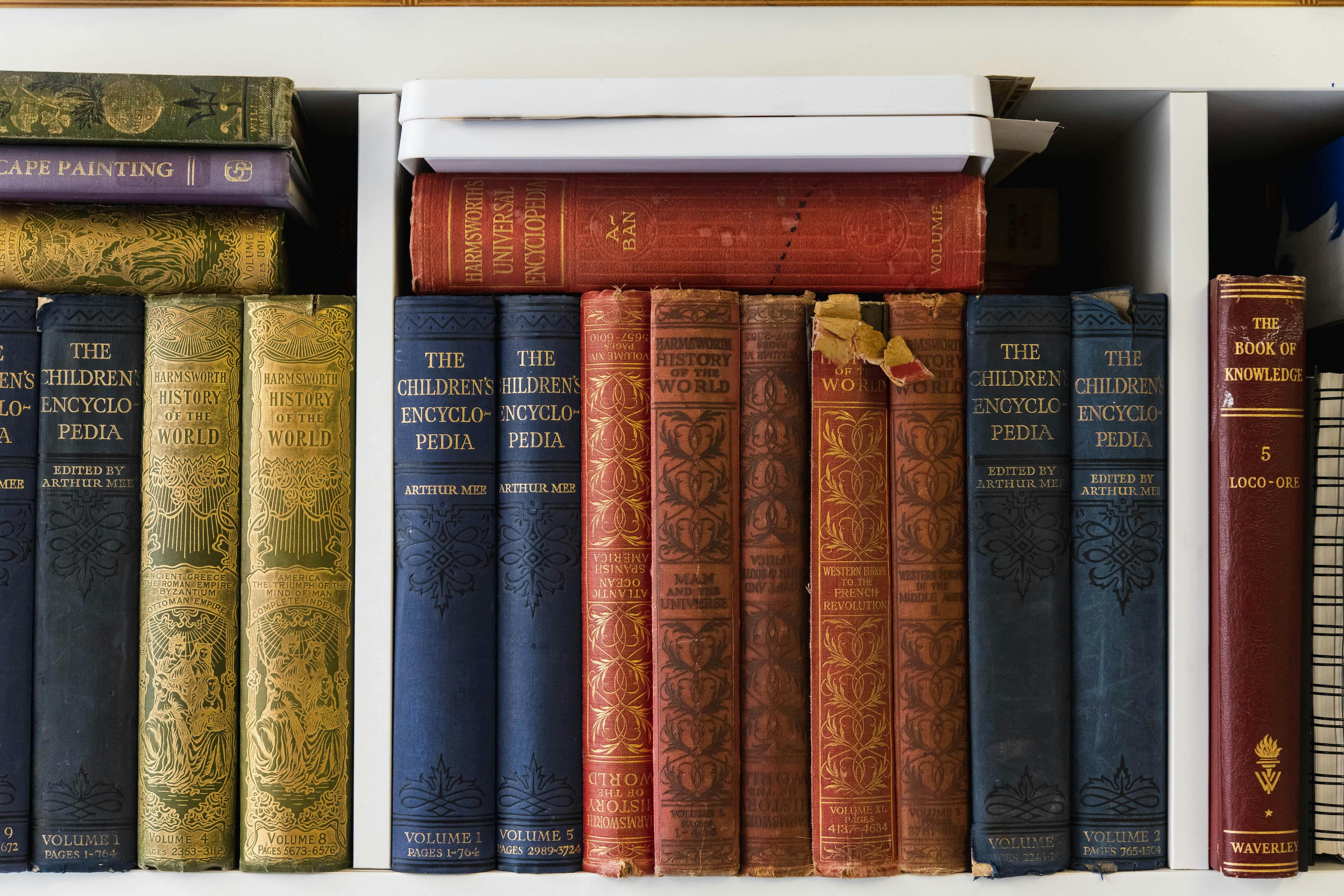 The subject matter of your work is at once delicate, beautiful and full of foreboding. Can you talk to us a bit about this balance?
I'm really interested in landscapes with a sense of tension and flux – where beauty and power meet, causing anxiety. I'm from a rural area with huge open skies and I've always felt very small within the world. I'm not a natural city dweller. I'm very always surprised that I've ended up living in London. Since I'm from a rural part of Suffolk, a part of the world that has these beautiful, huge open skies, I always want to get out into the open. Sometimes I feel quite claustrophobic in the city.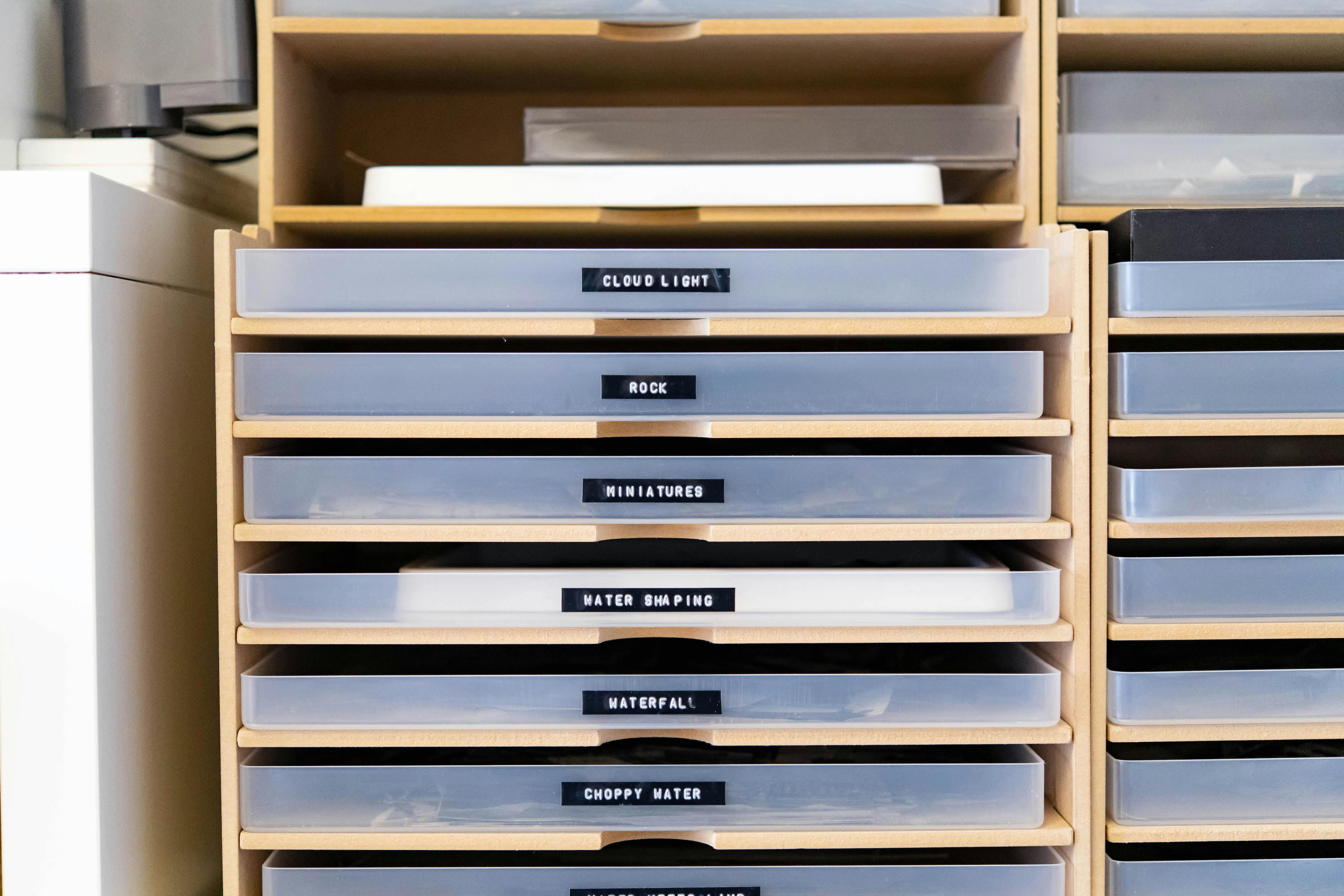 Are the landscapes you create imagined or are they places you've been to?
The landscapes I create usually originate from somewhere I've been or place in the world I've seen a picture of. But the images always go on a long evolving journey in the creative process. I often take a sketchbook away with me and I do sketches of places that interest me. I use those pictures, as well as the ones I find in encyclopaedias and geographical textbooks as a reference. 
Your work is often catastrophic or apocalyptic. Are you speaking about climate change? Or is it more of fragility in the face of nature's power? 
When it comes to climate change, I think it's an unavoidable truth that we're all living with. But, in a weird way, I think I've been making work about that before we even really became conscious of it. Since a lot of the work is about my own anxiety about the natural world and the human impact upon it – that tension and sense of foreboding – it's all part of the same narrative. 
Some of my work is absolutely about climate change and the impact it's having on the world: forest fires, floods, storms. Other pictures are more about the tension and flux in the landscape which might have been there before humans were even present on the planet. 
'I want to be able to make work that has a handmade quality and workmanship that's important to me.'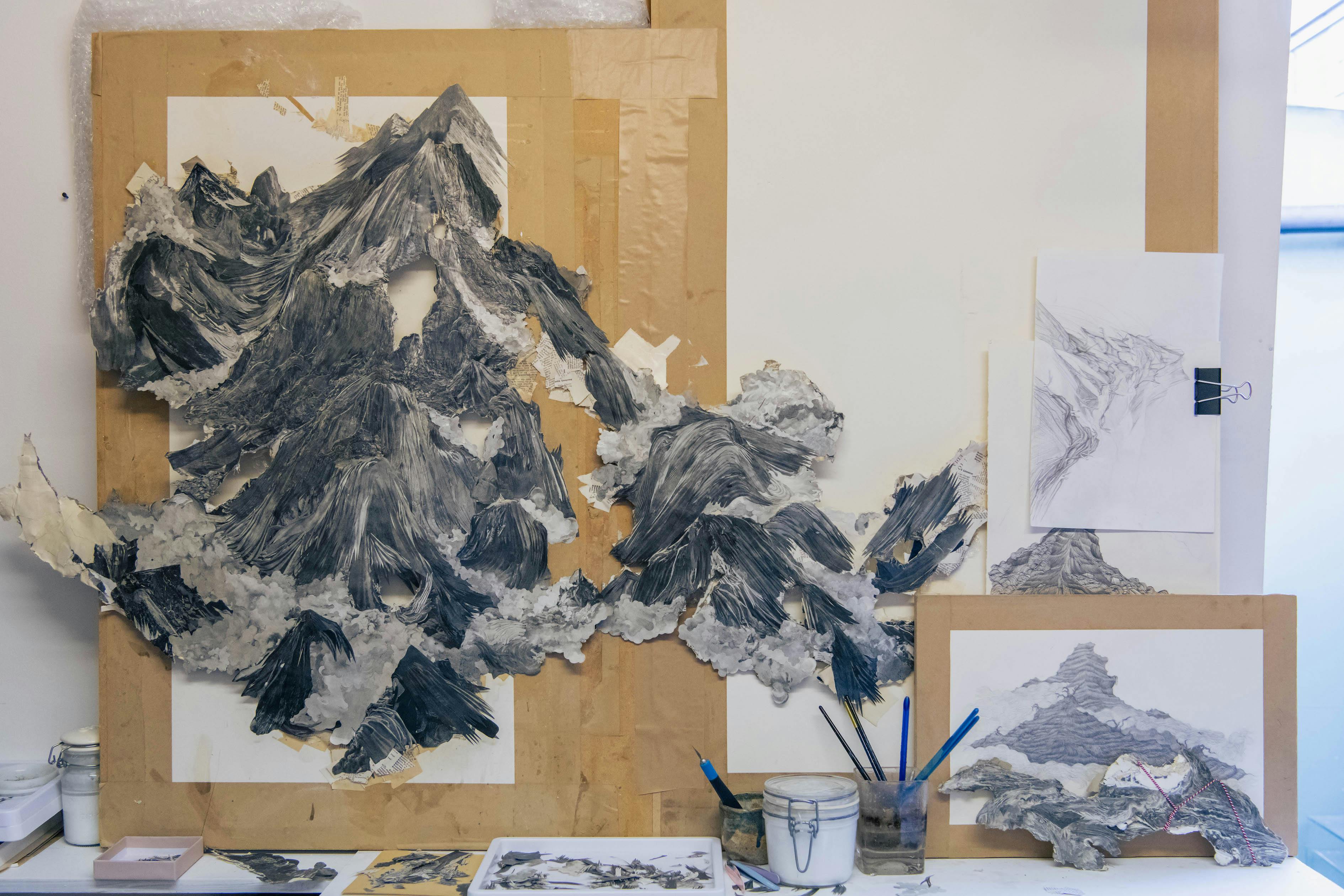 Can you tell us about the edition you're making with King & McGaw?
The aim of the edition was to effectively translate my landscapes and unique collaging process into a print. A number of options were explored but dividing an image into laser cut sections which could then be layered and mounted at intervals was the most reflective of my practice. Mounting the print in this way creates a sense of depth and the precisely cut edges give the work tactility. 
I was able to introduce rich detail into the work and the final image depicts a mountain terrace with an ascending white cloud that shrouds some sections and reveals others. The staggered surface of the print helps to highlight rocky outcrops and pick out areas of debris to show that the vista we see has recently been disrupted and reshaped. The combination of composition and process invites closer scrutiny to explore this mountain scene and the story it has to tell.
_________
All artworks in the Curated Editions, New Mythologies collection will be on display to the public at OHSH Projects, New Oxford Street on 8th April 2022. To register your interest and to receive the collection catalogue, please email curatededitions@kingandmcgaw.com