Can you tell us about your journey to becoming an artist?
After school I did an art foundation then went onto the Slade, and then to the Royal College of Art in London. Although I studied fine art, I always knew I had an interest in history. It wasn't until I went to the British School at Rome that I learned how to combine all my interests in making and historical narratives though. That was really when things came together for me. 
Your work covers a wide spectrum of mythological, esoteric and spiritual references. Can you tell us what interests you about these subjects? 
I'm really interested in how we relate to objects in a spiritual, metaphysical way, as well as the gestures and the performance that we have around those objects. Things like statues, talisman, and hanging horseshoes. There is so much hope in these absurd objects. For the past few years, I've been looking at how the female body is represented within the historical narratives surrounding esoteric spiritual practices.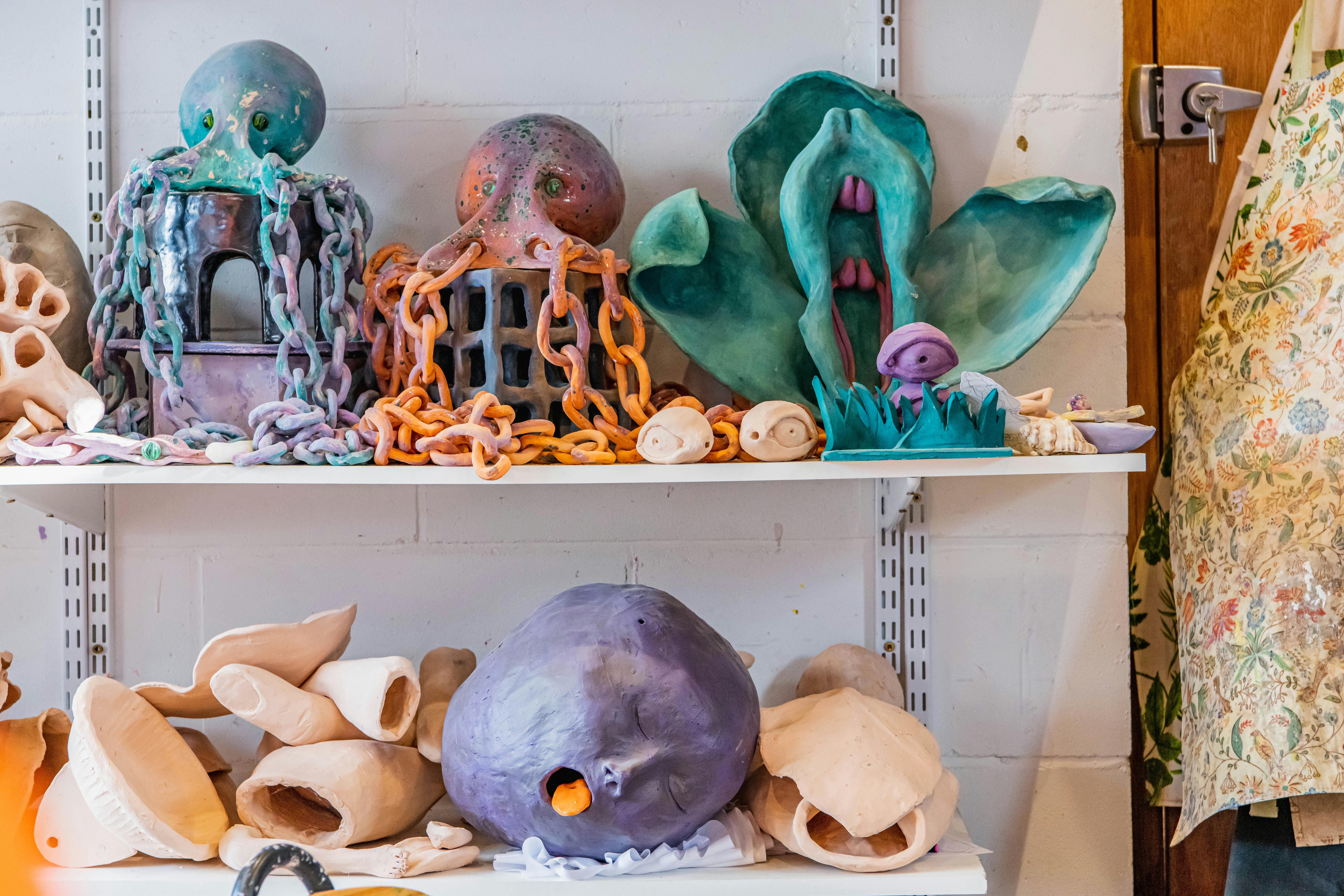 Sculptures in Candida Powell-Williams' studio
When you create a body of work, it often involves various materials and modes. What's the relationship between all your sculptures, paintings, drawings and performances? 
For me, a new work starts when something sparks my imagination, for example, a mythological narrative I've read that I think could be reconsidered. During the research process, I start to layer lots and lots of different genres and times, flipping between contemporary contexts right through to ancient.
I start by doing drawings which begin to form a collage of ideas. Next, if I'm making a performance, I use the drawings to choreograph it with three-dimensionally drawn figures. From that, I'll then create a body of sculptural work, which references the performance and the drawings. And then I might make another body of work that references the sculptures and the performance through the digital, animated form. Each mode of my practice is in conversation with what's come before.
You use a lot of bright colours, what do they signify to you?
Even though a lot of my sculpture and performance language is about manipulating symbols, colour, for me, isn't symbolic. I see it in a more painterly way. I try to create an atmosphere with the colours I use. As I'm really interested in sculpture as a live experience, it's about animating the surface of the sculpture. So often, the colour is daubed or mottled on, and I like the idea that there's movement and a history in it. So that it doesn't feel like this sort of finished mass produced objects has got that haptic sense of my fingers, and colour enhances that for me.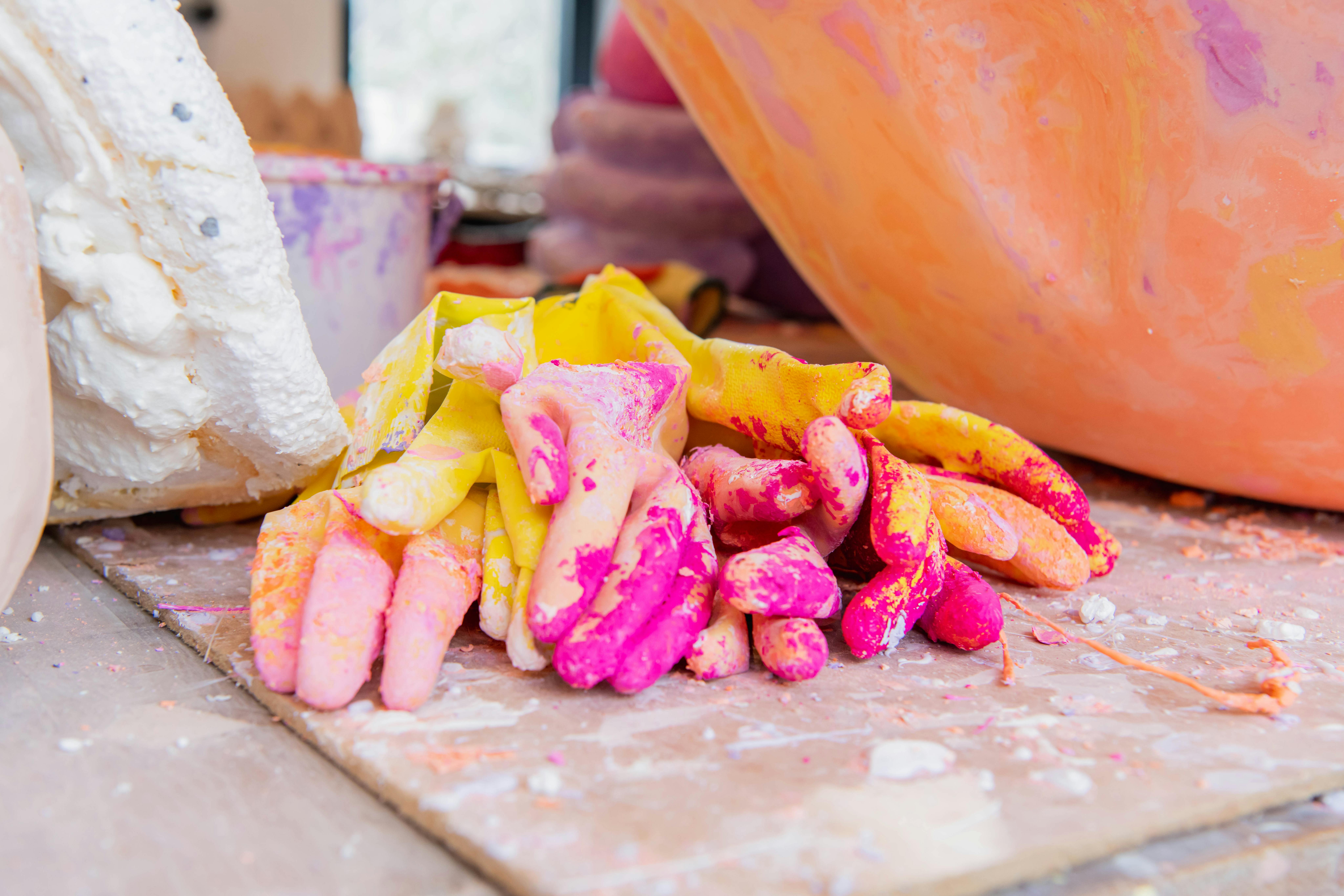 'It's about animating a space, sometimes with an element of melancholy but, ultimately, I want to create a joyful experience.'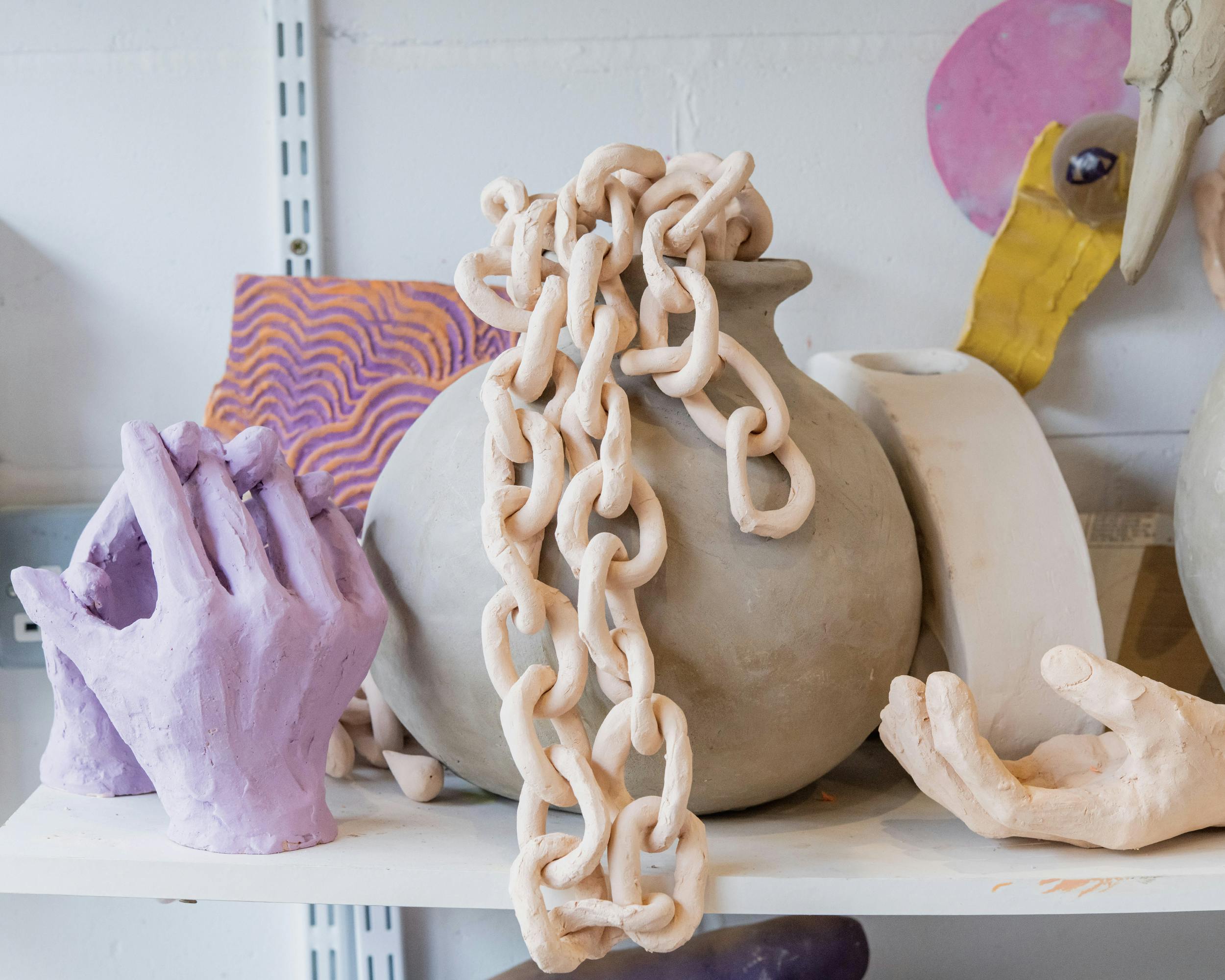 Can you tell us about the element of play and playfulness in your work?
Because I'm interested in objects that are touched and our ritualistic relationships to them, play has been important to me since I started making sculptures. It also links with my interest in the esoteric and the whole notion of magical thinking, of imagining something's possible with an object. The idea that you can have an effect with an object starts in childhood.
There's this sort of innocence to the relationships that I'm discussing with the objects. For me, it's about animating a space, sometimes with an element of melancholy but, ultimately, I want to create a joyful experience. I guess that's also what the colour does in terms of bringing a sense of playfulness in too. 
I often have this sense, when looking at your sculptures, that you could almost interact with them?
Yeah, way back when I was studying. I was really interested in the psychoanalyst Donald Winnicott and his research in relation to objects. And back then I used to sort of propose opportunities for the audience to play with the objects. But I became really disenchanted with that and really wanted to take ownership of the way that things are interacted with, which is why I only do that through performance now, which is all choreographed and carefully planned out. 
I like the idea that there is a sense of a relationship with the objects but it is withheld, that everything's sort of poised and ready. And sometimes it's animated and playing with itself, like a fountain is producing water and it's kind of playful in the way that it does. But I don't allow for touch at that moment in the exhibition. That said, the tarot cards, Unreasonable Silence, that I made were intended to be played with in a hands on way. 
What are you reading at the moment, how does it inform your research?
I started looking at a Renaissance text called Hypnerotomachia Poliphili in early 2020. It's about a dream of walking through an initiatory journey in a garden, and it's hung over all my research. The Red Thread by Charlotte Higgins was a really great source of information that informed Orbit in the Echoes. And right now I keep looking at Vickery's Folk Flora.  For the past few years, I've been reading about the history of gardens and how different cultures have formed what we now think of as domestic gardens.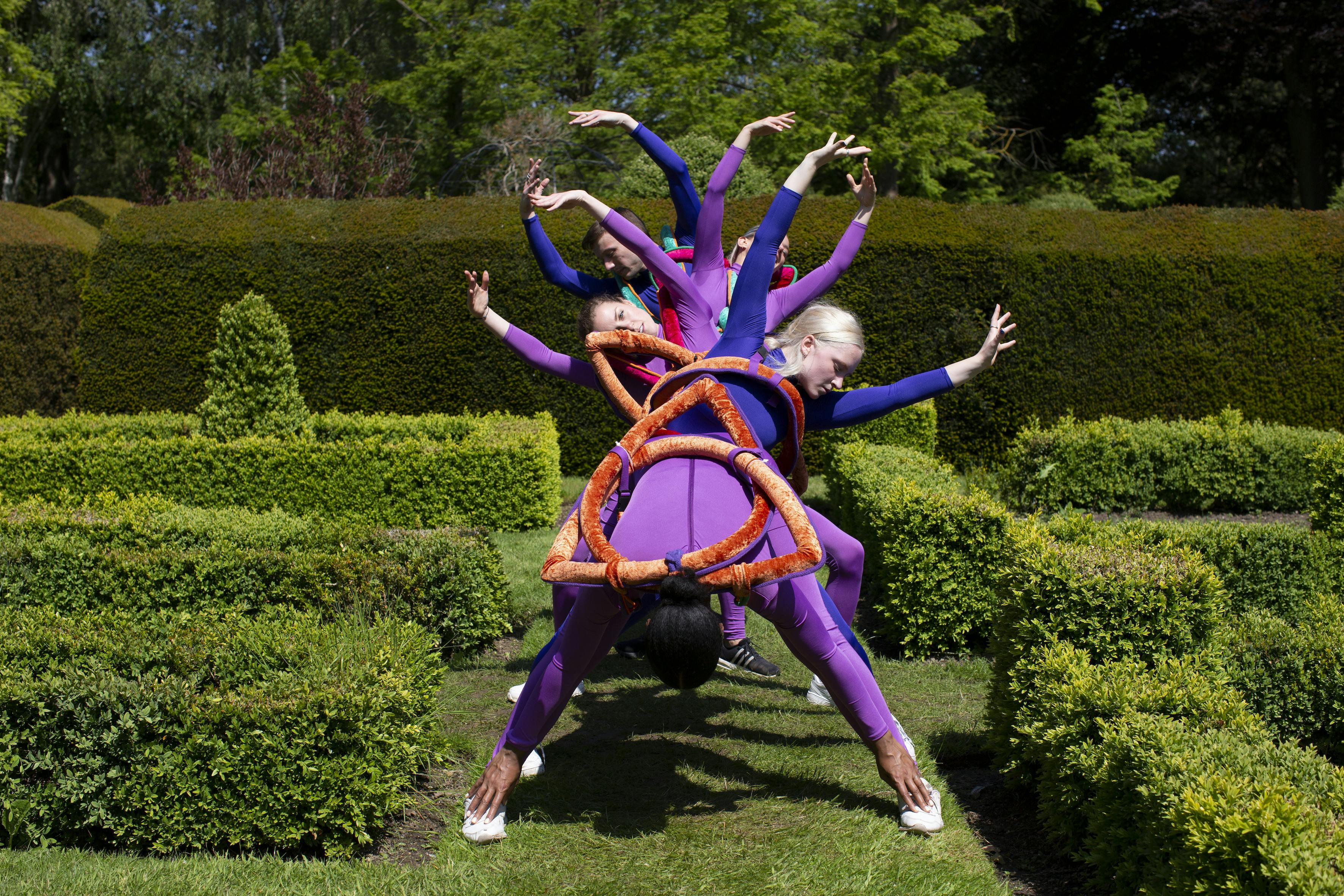 Orbit in the Echoes, performance and sculptural installation by Candida Powell-Williams, Photo by Dave Bebber
Can you tell us about the edition you're creating with King & McGaw?
The edition began as a preparatory study for a performance piece called Orbit within the echoes which was live at Whitechapel Gallery's Nocturnal Creatures event and at Capel Manor Gardens in summer 2021. The performance of five dancers in a garden drew inspiration from the history and design of labyrinths and their association with dancing. It referenced the ways in which movement in these spaces has been written and represented across different cultures, including the Ancient Egyptians, Greeks, Native Americans, Japanese and English. 
The choreography mirrored the myth of Ariadne's dance as described in Homer's Iliad, taking the form of a ring, exploring hypnotic coiling and repetitive gestures. At times, the dancers condensed into one amorphous pulsating being playing with symmetry and group mechanics and, at others, the dancers explored simple acrobatic movements, twisting and knotting together. Tangling and untangling their bodies in space, they used perpetual motion and kaleidoscopic patterns to explore how movement can be meditative. A sound track composed of synthesised recordings of handmade bells and birdsong accompanied the performances.
_________
All artworks in the Curated Editions, New Mythologies collection will be available to purchase on 6th April. They will also go on display to the public at OHSH Projects, New Oxford Street on 8th April 2022. To register your interest and to receive the collection catalogue, please email curatededitions@kingandmcgaw.com