Can you tell us a bit about your initial processes: how do you begin a piece, what are your main influences? 
I tend to start from very concrete images that I find in travel websites and magazines. They're always these very 'ideal' images. I'm drawn to them because they're so gorgeous. But, over time, they erode. They disintegrate. I like to think of it as an un-doing of the image. It's not always a conscious thing. It tends to evolve naturally. There's always a question of how much the original image should disappear and disintegrate, and that's something I find quite interesting.
So, would you say the process is multi-layered? 
Yeah, in a way, I could keep on going forever. I sometimes wonder if, at some point, it'd be nice to document the evolving process as it's such an integral part of my work.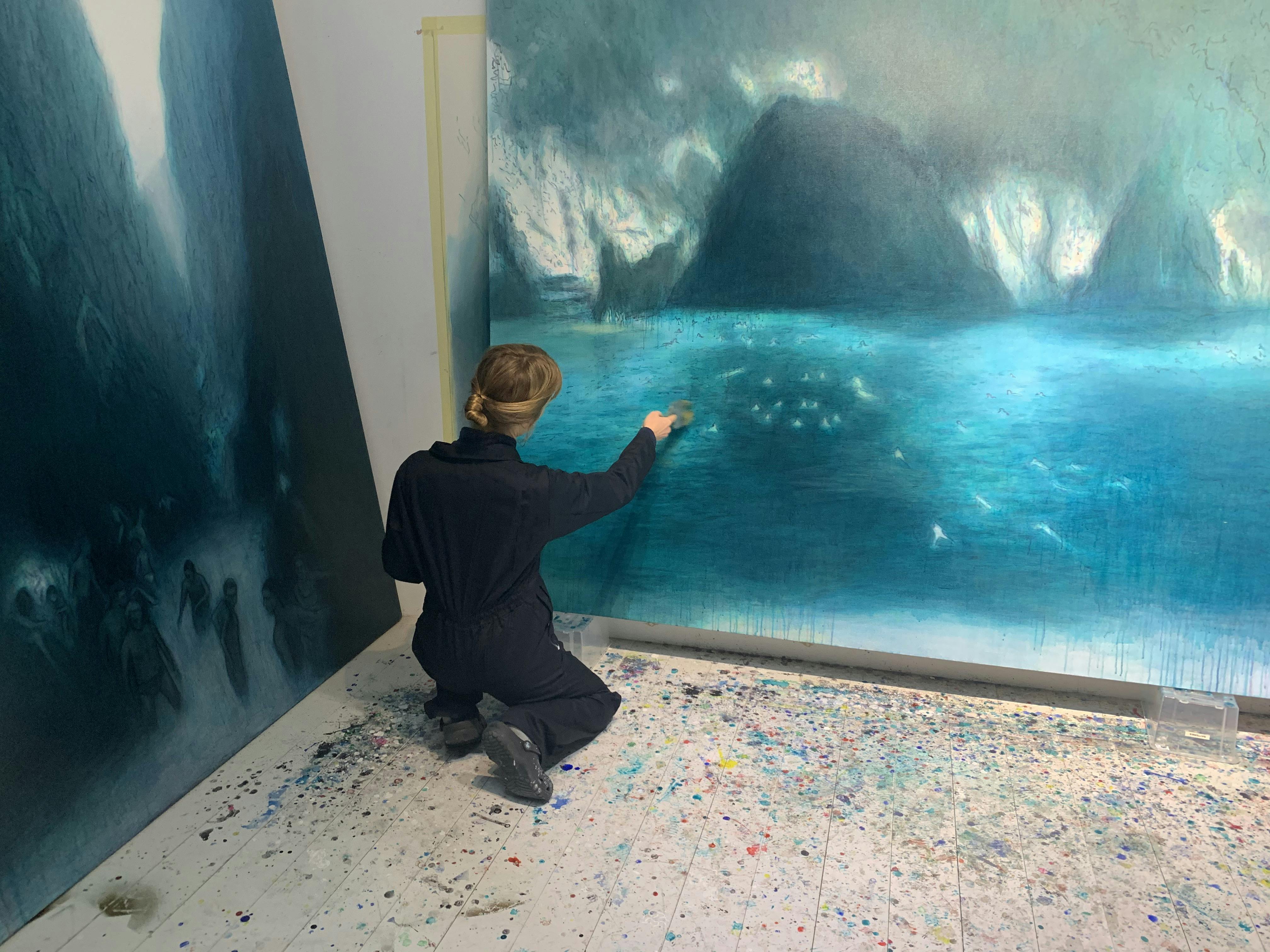 What artworks are you working on at the moment?
I'm working on six paintings at the moment. My work deals with lots of different genres but it might loosely be labelled landscape painting that deals with the sublime. Themes of the sublime speak to a slightly unsettled experience about travel which became more interesting over the pandemic when we couldn't move around as freely.
When such idealistic images persist around us, feelings of needing to be somewhere else often creep in. That feeling has definitely influenced my current series which is informed by a pair of contradictory words that have been floating around in my head lately. The word is 'Azul', which is blue and links to the tropical Mediterranean azure (a colour between cyan and blue on the spectrum of visible light which is often described as the colour of the sky on a clear day). But it can be spelt another way: 'ASYL', which is asylum.
'I don't see myself as an artist. It's just painting for me. It's a way of dealing with life. In the same way swimming in freezing cold water at the crack of dawn is, or dancing.'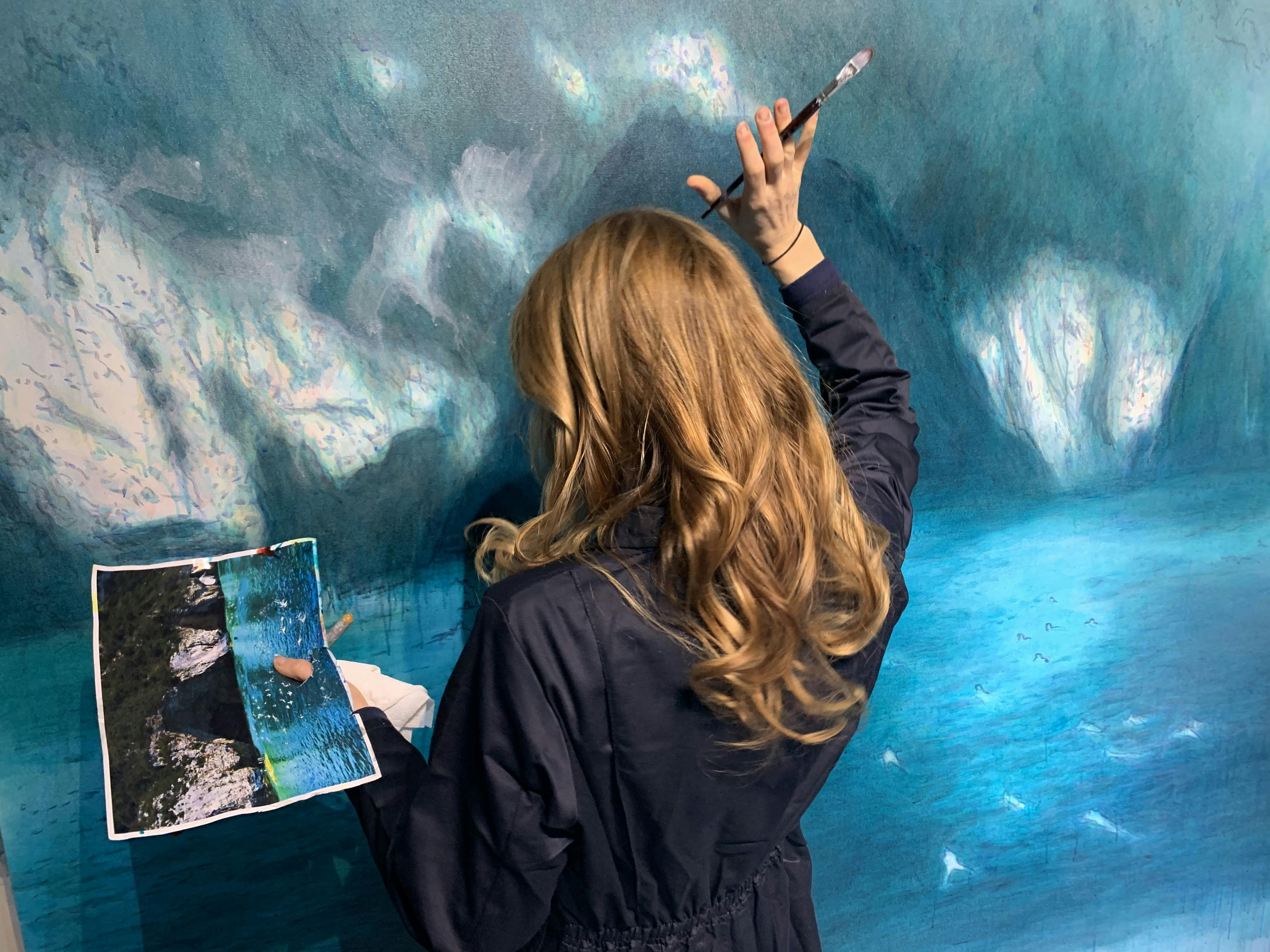 You reference water a lot in your work, can you tell us a bit more about the reasoning behind that?
There are various forms of water in my work. I have friends that I swim with who are also artists and they do drawings and collages and make stuff that's very directly related to swimming. But, for me, I think it informs my work in a much more ambiguous way. And I think it's strange because, in some ways, I don't see myself as an artist. It's just painting for me. It's a way of dealing with life. In the same way swimming in freezing cold water at the crack of dawn is, or dancing. Painting is a way for me to make sense of living in the world.
You've recently started dancing as well, haven't you? Does that influence your paintings too?
That's a really interesting question. I know artists who do merge the two and that's not something I've explored yet. I like the idea that it will inform future work. I work on such large scale paintings that in a way there is a sense of movement within them already, but I'm not sure where it's going to go at this point. As you say, dance is still relatively new for me and I hope that as I do more of both painting and dance, I'll achieve a greater sense of freedom that might show itself in my work.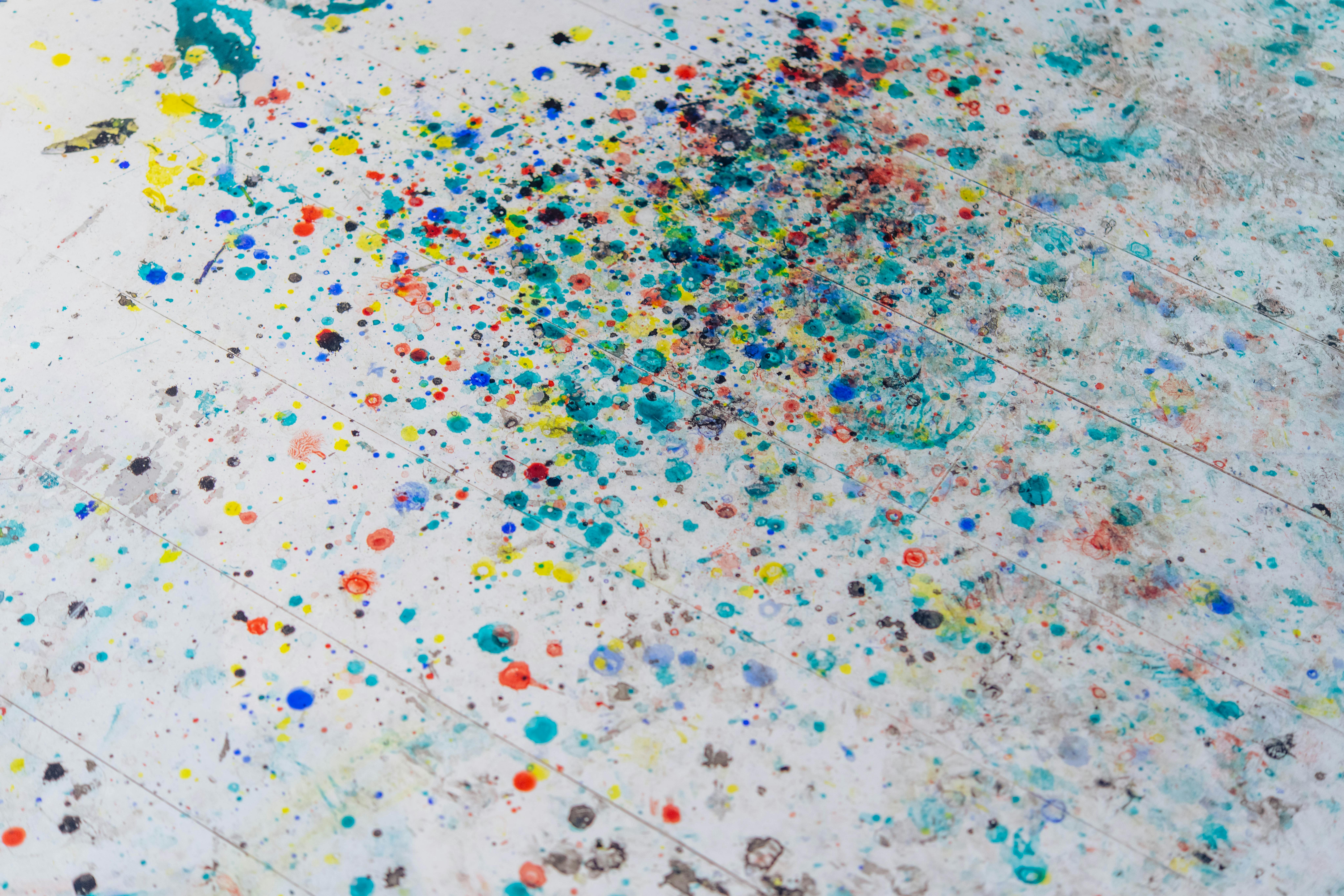 Do you think it's necessary to travel far to find inspiration?
People often suggest that maybe I'd like to paint things closer to home. Or, since I live near the sea, I swim a lot, and I experience amazing sunsets and sunrises every day that I could be influenced by. But that's not what it's about. For me, it's the idea that comes first. Always. So it is the idea of being somewhere else and the idea of traveI. It's almost like I have no say. Like the paintings have their own dynamic and I sort of have to follow that dynamic. It's like I'm fighting with the painting all the time. I'm never completely sure where it's going to go.
Can you tell us a bit about why you're interested in producing limited prints of your work with King & McGaw?
Printmaking is so interesting for me because it's such a different process. Having to stop at a certain point where the image is still so 'there' in my mind is quite wonderful. It's really liberating. The edition I'm making with King & McGaw is called Farewell Song (Spring Water Dripping).
It is based on a stock travel image of Beaver Falls on the Havasupai Indian Reservation in Arizona. It reflects my ongoing interest in the power of advertising as well as engaging with the long tradition of Romantic landscape painting. As with much of my work, it aims to provide a critique of the aspirational tropes deployed by the travel media, taking the devices and false narratives employed within the world of consumer seduction and re-staging them as unstable and unconvincing visions.  
The title of this work refers to a Havasupai love song which, in contrast to its re presentation as an idyllic holiday destination, speaks directly to the land as a living (sentient) being, and explores the erosion of the youthful fantasy of immortality. 
Making prints is very, very new to me and I find it really exciting because it's such a different way of working and decision making. My editions for King & McGaw include hand finishing which is really lovely because it enables me to bring a bit of myself back into artwork but in a very considered way. It's amazing to see all these tiny lines and how they transform each of the prints in their own unique way.
_________
All artworks in the Curated Editions, New Mythologies collection will be available to purchase on 6th April. They will also go on display to the public at OHSH Projects, New Oxford Street on 8th April 2022. To register your interest and to receive the collection catalogue, please email curatededitions@kingandmcgaw.com