Can you start off by telling us about your journey to becoming an artist?
So I did a BTEC in art and design at college but, at the time, I had no aspirations of becoming an artist. I preferred film production and making props. But, during that course, I discovered textiles and I found that I had a natural affinity for it, so I continued on to Chelsea where I did my BA, then onto The Royal College Art for my MA. I soon began making less design work and instead making works that were far more autobiographical. They were fine art banner tapestries which eventually culminated in a final piece which was four metres in length. 
When I graduated, I began going to more exhibition openings, and thinking about art prizes emerging artists like me could enter. I took the decision to apply for Bloomberg New Contemporaries and I got in. The experience prompted me to question my art more and I soon discovered it no longer fit into a art/design/craft context. It had become what many would refer to as 'fine art'.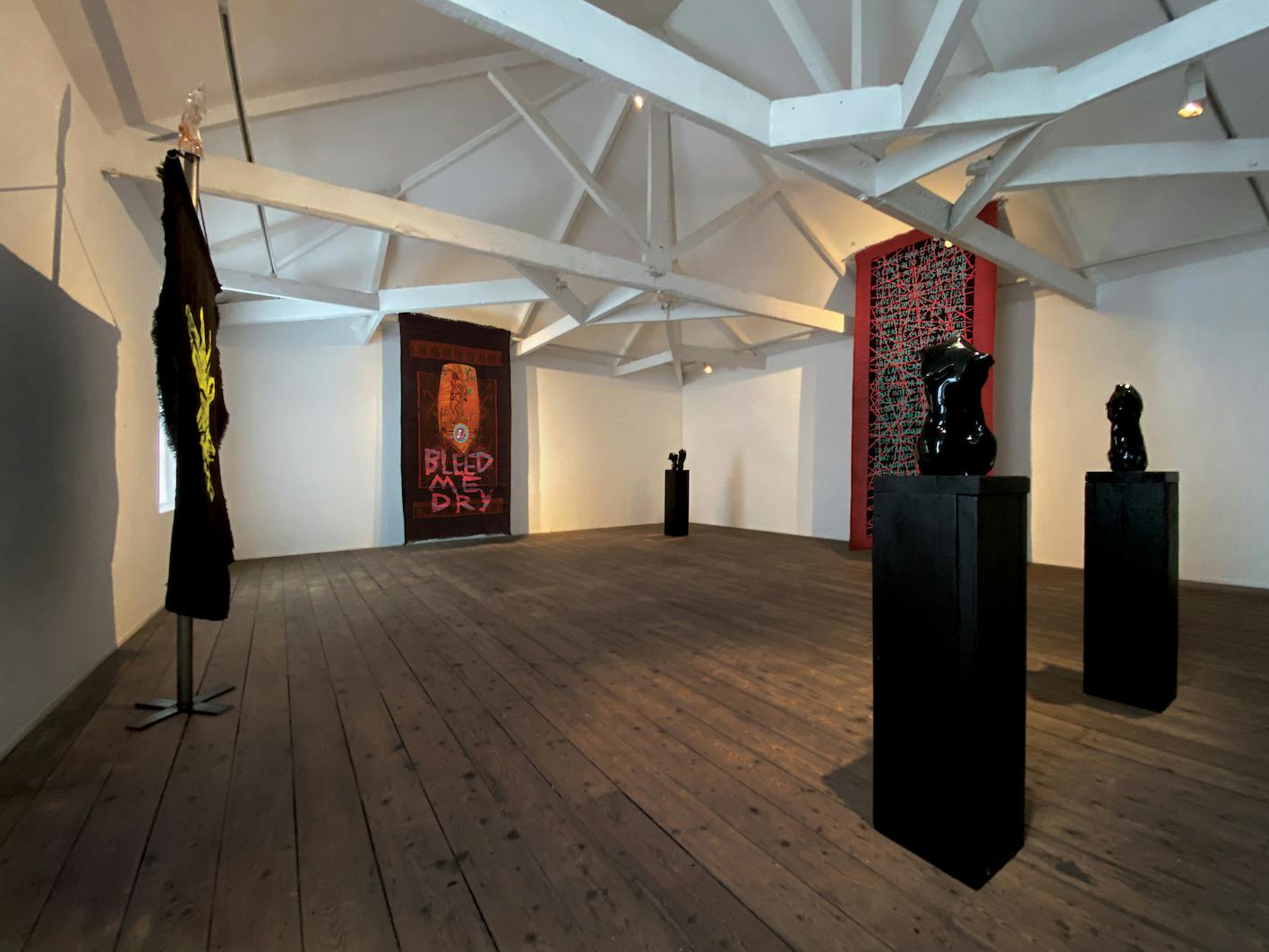 Henry Hussey's solo exhibition, We Live in the Remains of the Gods, at Anima Mundi
Where does everything begin for you? Can you pinpoint what stimulates the making of a new piece of work?
When ideas emerge, I put a note in my sketchbook or do a little drawing. Gradually it evolves from there. I don't try to force an idea. Through the process of making, I often make mistakes but I like the idea of a perpetual cycle of making, a process through which a piece is gradually distilled and made ever more immediate. 
How has your practice evolved over time?
For the past two years, it's become far more reductionistic. I've been trying to remove all the supplementary parts – all the excesses. Initially, perhaps it was a manifestation of my lacking self confidence, I often tried to put too many expressions into my work. In a way, I was hiding insecurities. I was unsure about some components. But, as the years have gone on, I've consciously tried to reduce the amount of marks I make – simplifying each piece to get to the core of exactly what I'm trying to say.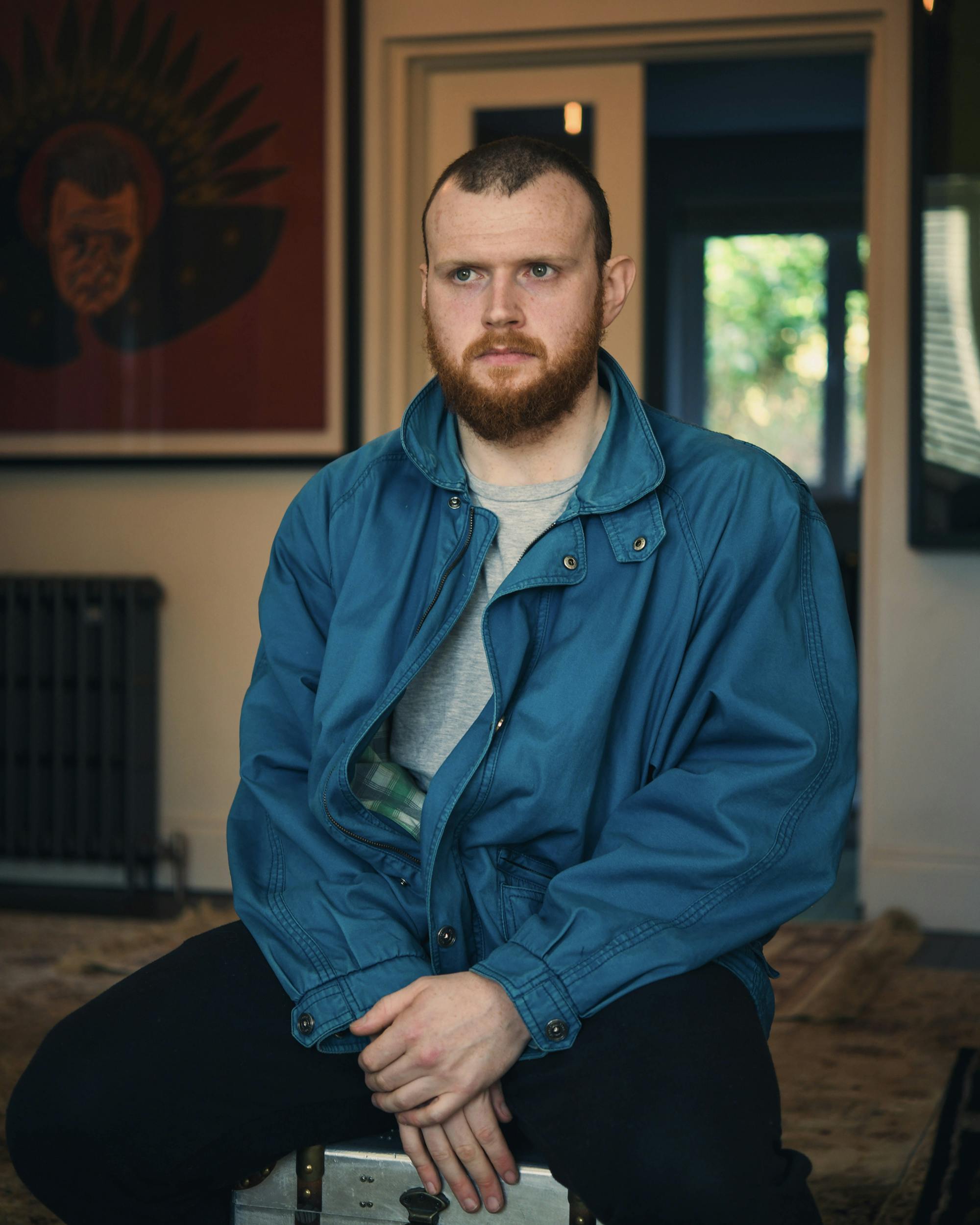 'I've consciously tried to reduce the amount of marks I make – simplifying each piece to get to the core of exactly what I'm trying to say.'
You use loads of different materials across your practice. Can you tell us more about your choices?
I'm interested in craft-based mediums because they're very process heavy. There's a lot of rules you have to follow in order for a work to be successful. Things like ceramics, for example, if you don't get all the air bubbles out, or if you don't dry it properly, your piece will blow up in the kiln. There are real world practicalities of doing something sensibly and methodologically in order to execute an idea. 
With my work, I like pushing the boundaries of those rules, thinking: how can I disrupt the way a medium is typically used? With my textile work, I've presented imagery that's quite aggressive and confrontational, things you wouldn't usually associate with a medium that's quite domesticated. 
Likewise, with my glassworks – things that are delicate and associated with fragility – I work with the material when it's in a molten hot liquid form and I destroy it. I create breakages and I shatter the glass to such a degree that it almost doesn't succeed as a piece. But then, through the firing process, when it cools back down, it becomes a transient work: existing and being destroyed at the same time.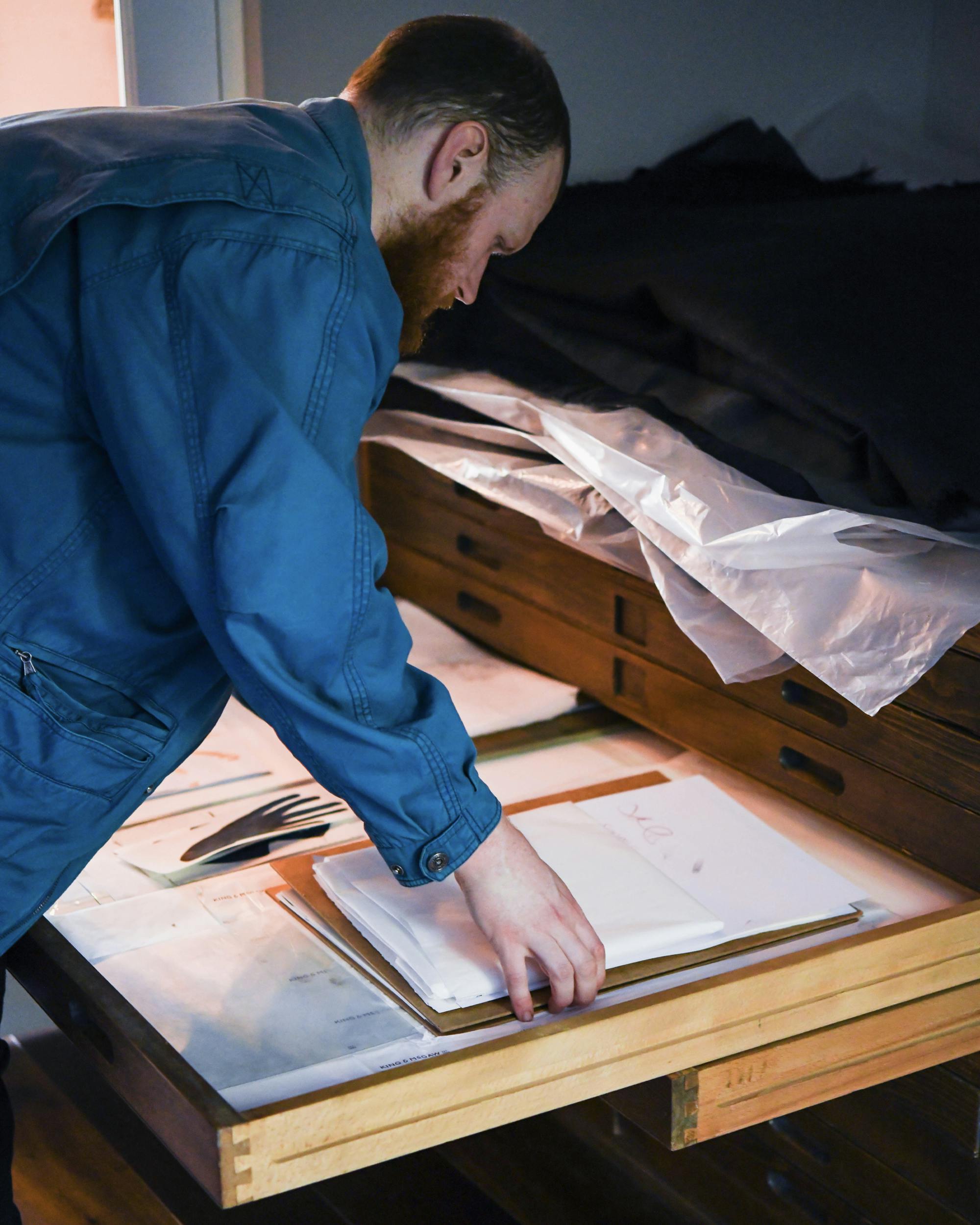 Henry Hussey sorting through print works in his studio
Your work tackles many themes like mythology and self identity, what would you say is the golden thread that runs through it all?
I've always had an interest in history. I often go to the British Museum or, when I'm travelling in foreign cities, I'll go to a museum and see the objects on display there. I'm fascinated by the Swiss psychiatrist Carl Jung's idea of the 'collective unconsciousness'. The fact that humans are born with a dictionary of certain imagery and stories. As humans, we tend to come back to the same stories and symbols no matter where they're located on the planet. And so, my work is almost a mixture of self portraiture and my own unconsciousness. It taps into collective images and symbols that reoccur throughout different cultures.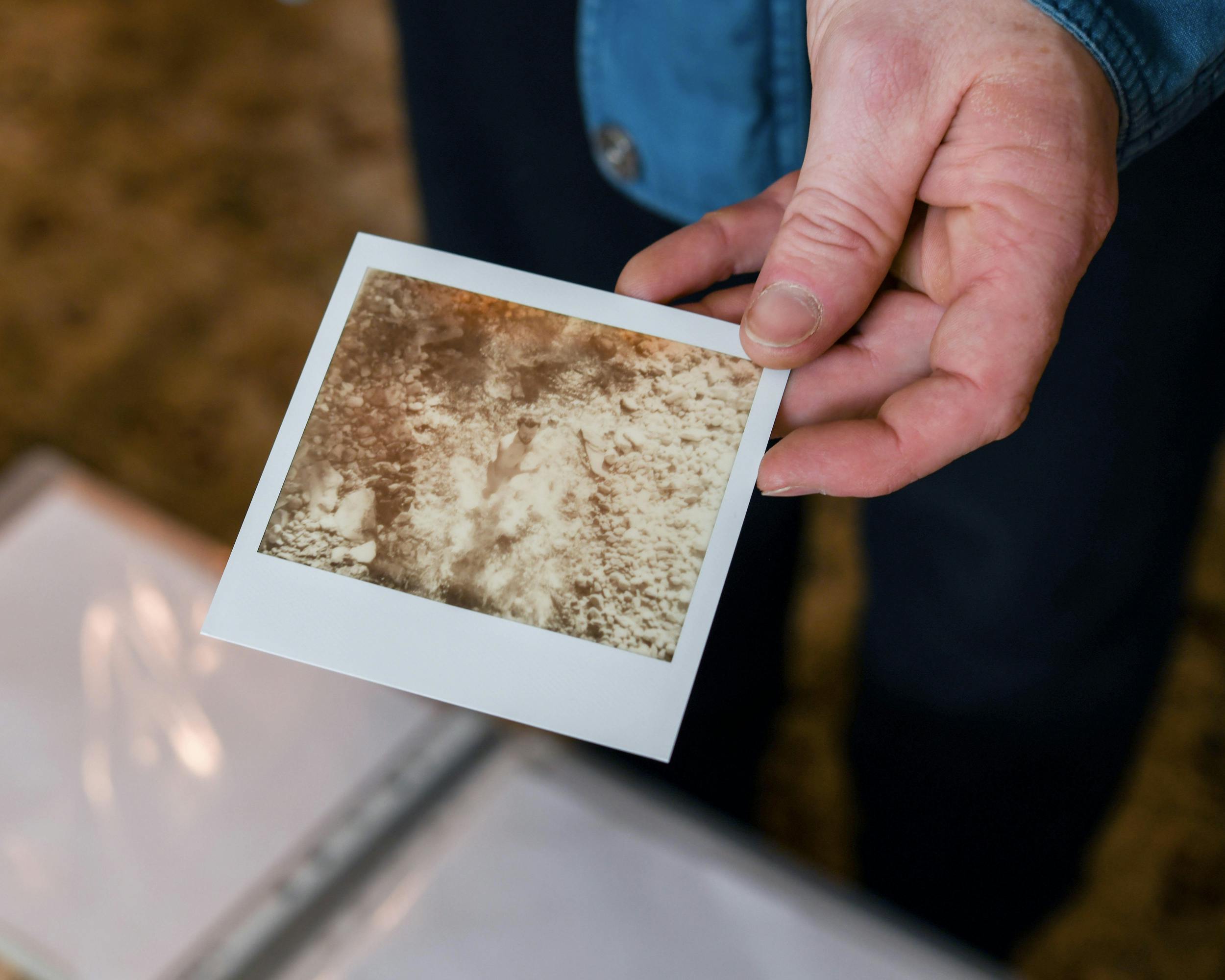 The polaroid from which Henry Hussey's Limited Edition Black Marble I is based upon. 
Can you talk us through the process of making the edition with King & McGaw?
The process of making this edition has stemmed from my interest in playing with the possibilities of the silkscreen medium, expanding and contracting with ideas and trying to do something that has varying degrees of complexity by reducing it, making it complex again, and reducing it again. 
The screen print edition was originally a polaroid which I had painted on and made marks by scraping away the paint, and then digitally scanned. The scan became a digital file which was then altered and reduced, so the process transferred from physical to digital twice over with the last process going back to a hand-made silkscreen process. The result is an image that has gone through all these different processes, being reduced once again, and played out. 
The original polaroids were of tombs in Carrara, Italy, the city from where the marble for Roman statues famously came. I photographed the marble tombs in Carrara and, at a life drawing class referencing classical Greek and Roman sculpture, I painted over the polaroids and removed areas of paint with my fingernail – the way I would do on one of my monoprints – so I was effectively almost making a print that would never be printed. Then I scanned the polaroids, not knowing what exactly I would do with them. When I came back to the pieces months later, the paint had disintegrated. I then became interested in the idea that this expressive, small little drawing now only existed as a digital scan. All I had left was a collection of pixels, which left me wondering about how I could play with the images further.
___________
All artworks in the Curated Editions, New Mythologies collection will be available to purchase on 6th April. They will also go on display to the public at OHSH Projects, New Oxford Street on 8th April 2022. To sign up for the 24 hour presale and to receive the collection catalogue, please email curatededitions@kingandmcgaw.com