Can you tell us about your journey to becoming an artist?
I have always painted and drawn and I did my BA at Manchester Metropolitan University, now Manchester School of Art. Initially, I studied graphic design. The reason was perhaps because it seemed like a profession you could make money out of. A lot of people are scared of going into fine art.
Quite soon into my BA, though, I realised I was on the wrong course. I called my mum and said, 'Mum I want to do fine art!' and she said, 'I always knew you wanted to be an artist'. So that was really lovely. Though I wish she'd told me before, obviously. So then I studied at Chelsea College of Art and did my MA there. After that, I lived in London for a bit and then I moved back to Manchester. I have been working here ever since.
So, where did your fascination with painting people begin?
I've always been fascinated by people. When I'm walking down the street or on my bike, I'm always looking at people, at their faces. It's always been there, the fascination with human beings. The human condition.
My interest in the figure has been influenced by artists I am fascinated by: Francis Bacon, Lucien Freud, and quite a few German expressionist painters. The rawness in the way that they painted really appealed to me, and that emotional connection. I think there's a real directness, a psychological charge. I try to feed that into my work.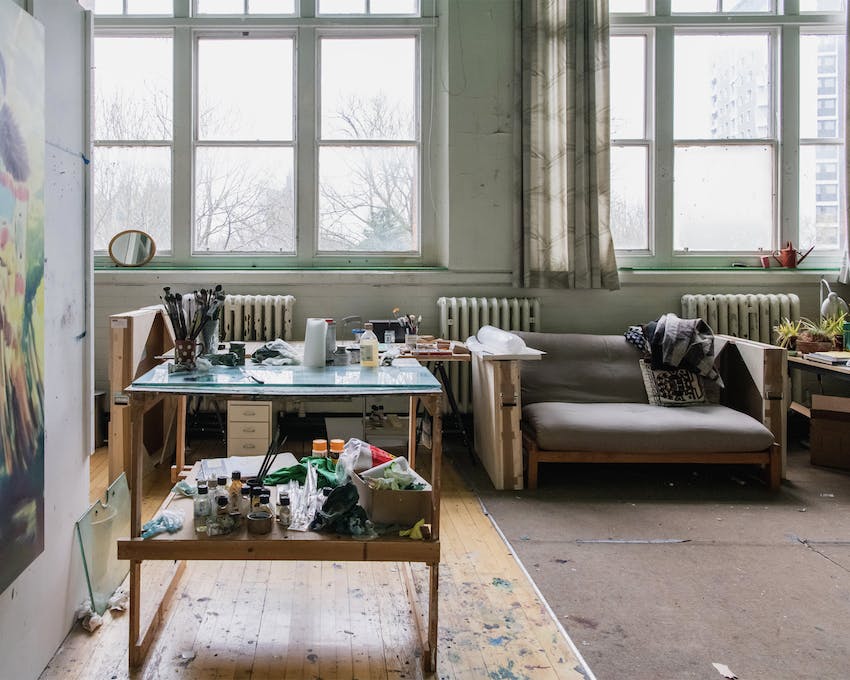 Who are the figures in your paintings? Are they imagined or taken from somewhere else?
The figures in my paintings are from appropriated images, often from fashion magazines, though not always. I don't know these people. There's often something about a particular image that I'm drawn to. There might be something in the look on somebody's face, or a sense of melancholy.
Then, through the act of painting, I transform the images into imaginary characters. By the end of the painting, I feel like I know them, and they are part of me in a way. They've been transformed in this process. 
Your painting style is quite light and loose with areas of the canvas unpainted, are you intentionally leaving out parts of the story?
Yes, for me, it's interesting to leave blank spaces in the painting where nothing is happening. It creates balance and allows the viewer to fill in those blank spaces of narrative, adding an element of mystery.
I think it takes a kind of bravery to leave part of the canvas untouched. I went to the recent Francis Bacon show at the Royal Academy, and I was struck by how much of the canvas was just blank. Sometimes two thirds of his canvas were empty. Just nothing. And that's amazing. It takes a lot of confidence to do work like that. It also influences what is happening in the rest of the work. It makes it more intense because you've got a balance between something that's not happening, and something that's happening.
Can you tell us more about your subject matter?
I'm interested in people on the margins of society. It's an interest that's been within me since I was a teenager. Obviously, a lot of people go through difficult periods throughout their teenage years, feeling like they're on the margins of society. I'm fascinated by slightly strange figures, people on the periphery.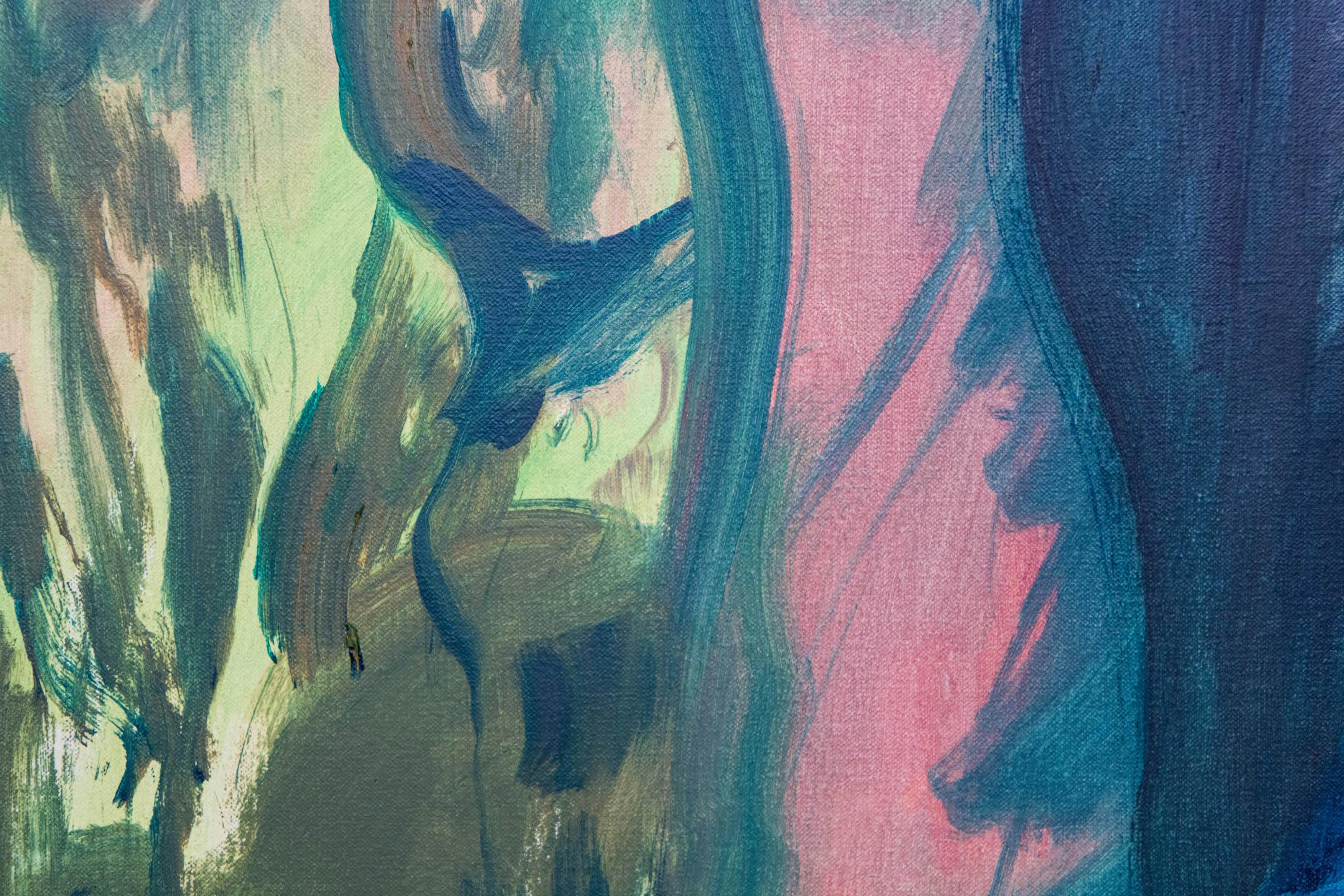 'My figures have an element of vulnerability and insecurity. But, at the same time, they have a real sense of strength.'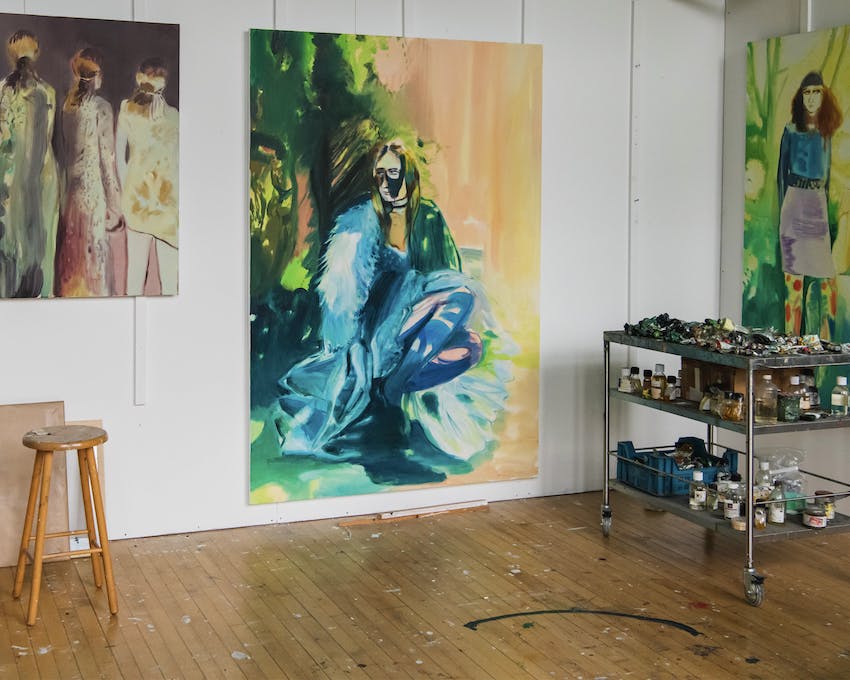 Your figures are often androgynous, or of indeterminate gender, and found in slightly strange environments. Can you tell us more about that?
The figures that I am often drawn are sometimes male, sometimes female, but there is a slippage between those two genders. It's a kind of sliding scale and I'm interested in figures that are of an indeterminate gender.
I'm fascinated by the simultaneity of vulnerability and power. My figures are often strong women but they also have an element of vulnerability and insecurity. But, at the same time, they have a real sense of strength.
Is there an anxiety in the work sometimes? Do you feel anxious about the world or are you interested in creating a sense of tension?
Yes, it probably stems from me and who I am. There is probably a sense of underlying anxiety and I transfer that into the work. Halfway through that Francis Bacon show the Royal Academy (admittedly I did have a hangover at the time!) I thought I was going to have a nervous breakdown. It was just so intense. But that tension is important to me and I try to channel it – that psychological charge – in my work.
I wouldn't particularly describe myself as an anxious person, but I think there's a level of tension within me at all times that I transfer to painting. It's kind of like a useful tension in a way, it's not a destructive thing. I remember when I was studying at Chelsea there was somebody who did yoga classes at lunch time and I went along. Of course, I was very calm afterwards but then I'd try to paint and I just couldn't. I was just too blissed out. I need a certain level of anxiety, a sense of tension within me, to make my work.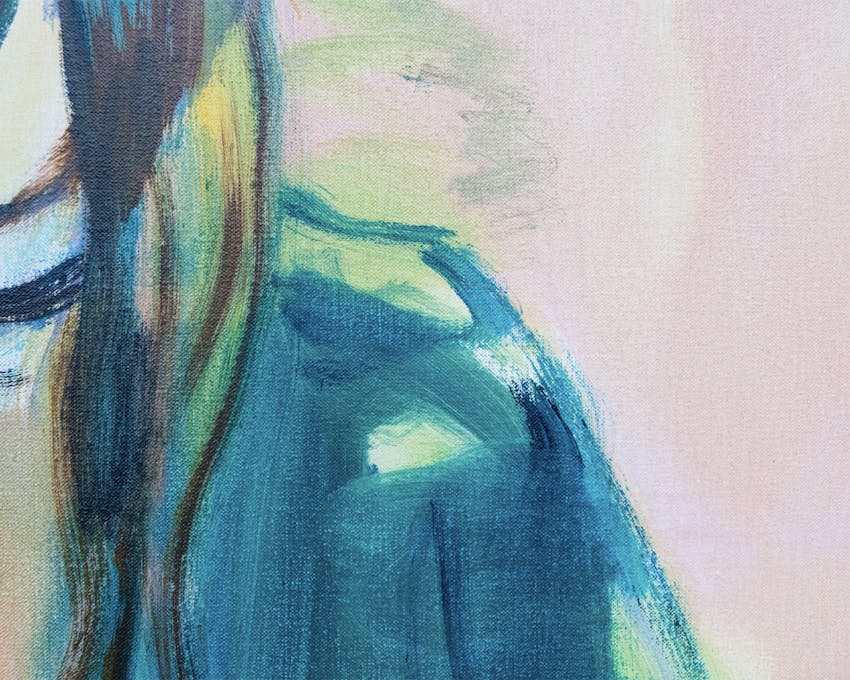 Do you see yourself in any of the figures that you paint at all? Have you ever made a self portrait? 
Increasingly, as I get older, I am seeing more and more of myself within the work though. I'm sort of transferring subconsciously. In a way, they're all self portraits.
The way I paint is very intuitive. I don't necessarily plan what I'm going to do apart from using a particular image beforehand. I often believe that I paint to think. I'm like a conduit in that sense. I subsume things and ideas and they come out within the painting, whether consciously or unconsciously.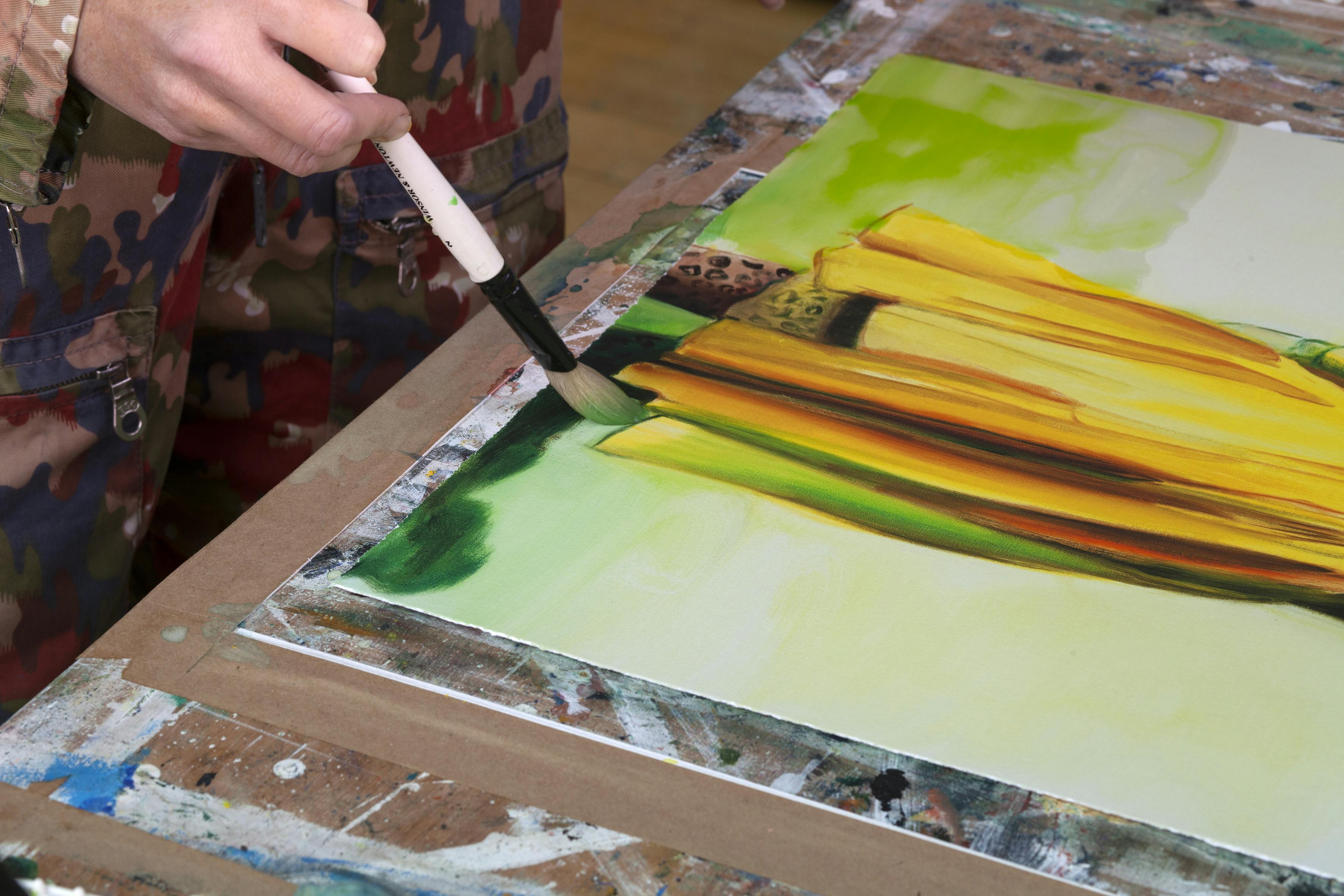 Lindsey Bull adding hand-finished watercolour detail to her painting, 'The Sock'
Can you tell us about the edition, The Sock, you've made with King & McGaw?
It was a really great, collaborative process. I loved it. We decided my painting The Sock would be a good image to use because the colours are saturated and we would be able to tone down parts of the image in the printing process. I like this idea because it enabled me to hand tint with watercolour on top of the print. It makes it really special, really unique.
The image itself, Sock, is this kind of singular figure. I see it as a woman, and she's quite introspective. It's got a melancholy kind of feel to it. But at the same time, because of the colours which are very, very bright, it's got a real brightness and an overpowering sense of colour. Obviously, yellow can be seen as a melancholic colour too. So it's a sort of strange, sad, yet happy kind of image. The main focal point is the leopard print sock, that's peeking out from the clothing, hence the title. In a sea of yellow this leopard print sock is visible. It's a mysterious image. Perhaps she's going somewhere?
_________
All artworks in the Curated Editions, New Mythologies collection will be available to purchase on 6th April. They will also go on display to the public at OHSH Projects, New Oxford Street on 8th April 2022. To register your interest and to receive the collection catalogue, please email: curatededitions@kingandmcgaw.com