Leonardo Da Vinci hysteria has been fully unleashed this week, with the start of Leonardo Da Vinci: Painter at the court of Milan, which started on Wednesday 9 November at The National Gallery, which has seen astounding advance ticket sales.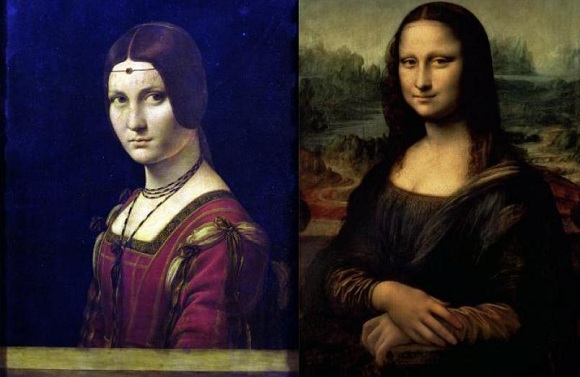 Leonardo Da Vinci's Portrait of A Lady from the Court of Milan c. 1490 will be making an appearance at the National Gallery show and it's realism is startling when compared to the alien, beguiling quality of the Mona Lisa
However, it's Leonardo's most famous painting, the Mona Lisa, permanently housed behind bullet-proof glass in the Musée du Louvre in Paris that continues to fascinate us all. The current London exhibition concentrates on the work the painter created in the 1580s and 1590s working for Duke Ludovico Sforza in Milan. The Mona Lisa was probably painted in Florence in 1503 or 1504, and it's a painting the Louvre would now never loan, especially after it's history of accidents (see below).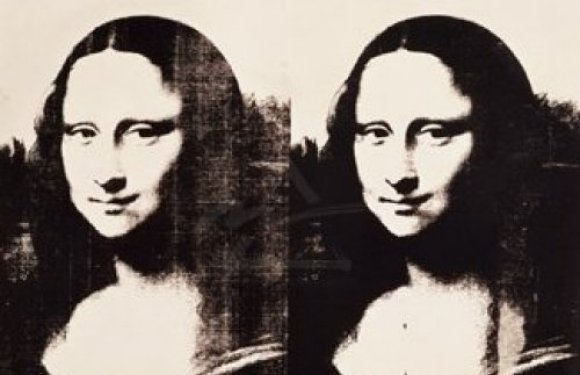 Double Mona Lisa, 1963 by Andy Warhol Art Print. As with his signature Marilyn's, the change in shading on the right image changes the expression in the Mona Lisa's face
Here are a few random facts about the Mona Lisa, with her enigmatic smile, that will make you scratch your chin and go hmm…
– The Mona Lisa is also known a La Gioconda, La Joconde, or, rather more awkwardly, as the Portrait of Lisa Gherardini, wife of Francesco del Giocondo.
– Mona doesn't actually refer to the sitter's name, it's a shortened form of the Italian 'Ma donna' which is a polite form of addressing a lady in Italian, similar to 'Madam' in English.
– Francesco del Giocondo was a wealthy Florentine cloth merchant who commissioned the painting to celebrate the birth of the couple's second son.
– If you look closely, the Mona Lisa has no eyelashes or eyebrows – it's been speculated that Italian women of the time totally removed these hairs, but scans show traces of hair painted on the canvas, which has probably disappeared due to over-enthusiastic cleaning.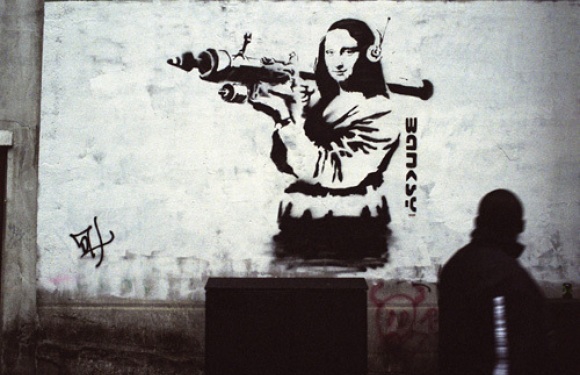 The Mona Lisa as Art Guerilla: a typically subversive Banksy Art Print
– The Mona Lisa's rocky history involves: being stolen by an Italian patriot and employee of the Louvre in 1911; moving to three locations during WWII including the Ingres museum in Montauban; being vandalised twice in 1956 with acid and a rock, respectively; being sprayed with red paint at the Tokyo National Museum in 1974 and having a teacup thrown at the glass cover in 2009!
– Viewers, on average, look at the Mona Lisa for 15 seconds only, due to the permanent queues to see her portrait.