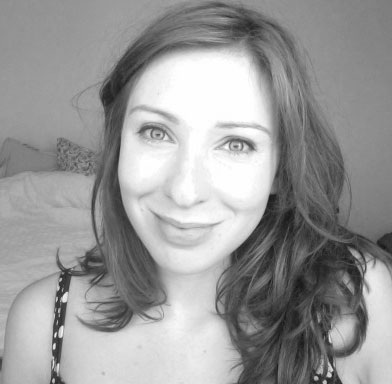 Since graduating in Illustration from Edinburgh College of Art in 2005, Louise Cunningham has worked as a freelance illustrator. She recently relocated to her new home-studio in Bristol.
By combining ink drawings with painted paper collages, she creates images with multi-layered textures that pulsate with positive energy.
Louise has mainly worked in the greeting card industry but she is also embarking on illustrating a new children's book. Exciting!
Louise's art prints were most recently printed by Easyart, where her whimsical nature study Dragonfly Love was featured in an Ideal Home Magazine room set at the Ideal Home Show in March 2011.
We interviewed Louise to find out what inspires her and how she likes to work…
Louise, you've been one of our most successful academy artists for a few years now – where do you draw inspiration for your works?
I like looking at blogs like Decor8 and Print & Pattern. I do this every morning over a gigantic mug of coffee to get my brain into gear and it's great to be aware of design trends that are currently brewing. I also admire the work of fellow illustrators such as Brian Wildsmith and Miroslav Sasek. Although it's stating the obvious, I'm constantly inspired by random elements such as architecture and nature.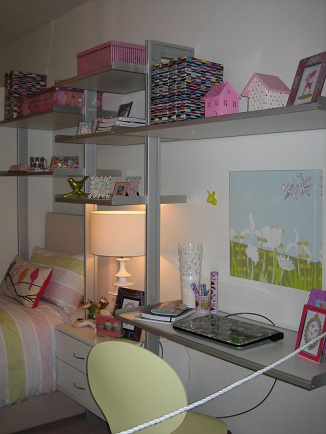 Dragon Fly Love Canvas Print by Louise Cunningham as seen at The Ideal Home Show 2011
What processes do you use and how have these developed for you?
I always start images in the good old-fashioned way – ink and dip pen on paper. I use a stack of bog standard white copier paper so I don't get overly precious. Using beautiful sketchbooks would turn me into a nervous wreck! I then scan the drawings into Photoshop and colour them up using scanned in prepared papers (paper I've painted on, created texture on in some way, then scanned in).
Recently, the ink line has become more prominent in my work – I'm not sure why, but they must be in fashion as clients keep asking for the lines to be left in!
Tell us about your favourite/quirkiest commission?
I recently created a greeting card range called 'Style Queen', published in July 2011. This involved drawing glamorous ladies channelling a 50s Marilyn Monroe aesthetic. I had great fun researching the hair, clothes and colour schemes of the period.
Illustration has become more popular recently, why do you think this is?
There are so many facets to illustration, it's a way of expressing your personality and stamping your individuality on the world. I think people are searching for authenticity in the products they buy and the way they decorate their homes. Just witness the popularity of vintage art prints and the retro styles of Cath Kidston and Orla Kiely.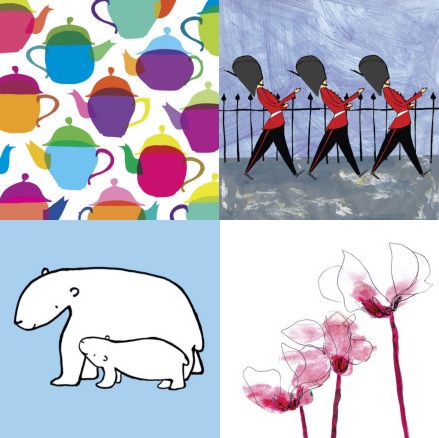 A collection of Louise Cunningham Art Prints
Do you ever get artists block?
All the time! If I'm really stuck I go out with a sketchbook and draw-I make a good old mess to get the creative juices flowing! I also love flicking through books and websites like flickr, which provides fertile creative  material!
What do you find the most popular subject matter to be from your portfolio?
Before the glam ladies project, I would have said animals, but now people seem to be all the rage, and not just glamorous ones!
If you had to commission or take one artwork to a desert island what would it be and by who?
It's hard to choose just one image, but it would be something by Brian Wildsmith. He still remains my favourite illustrator. His images have so much energy and never fail to keep my eyes entertained.