Take a trip to our factory in Sussex and you may notice there's something a little different going on. Under the eaves of our framing studio, overlooking the mounting department, you'll spot a sea of Indian ink pots, hear the hip hop beats of De La Soul and observe a Brighton lad drawing away. This is illustrator Dugong John aka John Biggs, King & McGaw's latest artist in residence.
Our calls for an artist in residence were met with an overwhelming amount of applications from hot new talent and budding creatives. But it was John Bigg's cheeky illustrations and creative storytelling that caught our eye. We sat down to talk illustration, creative influences and the important topic of pizza! Follow us on Instagram to catch Dugong John's weekly artist takeover.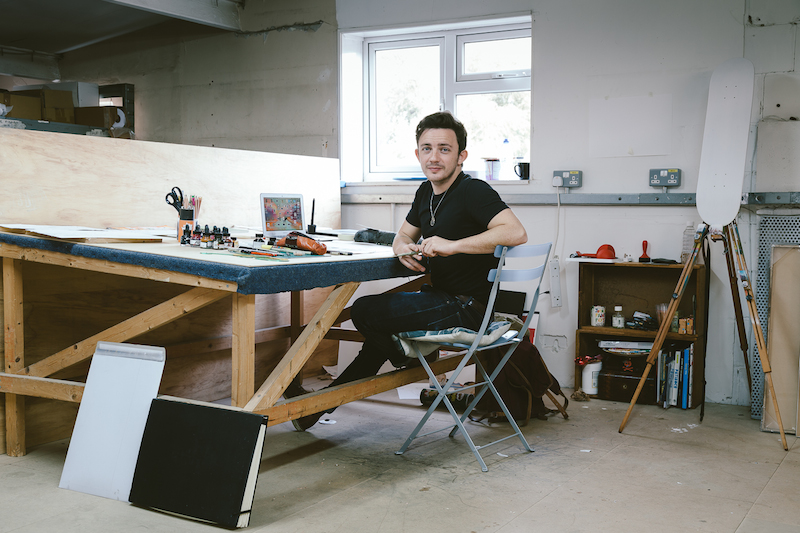 When did you realise you wanted to do something creative?
One of my earliest memories is scribbling on a bit of paper when I was one and realising it looked like a mouse, so since then I guess!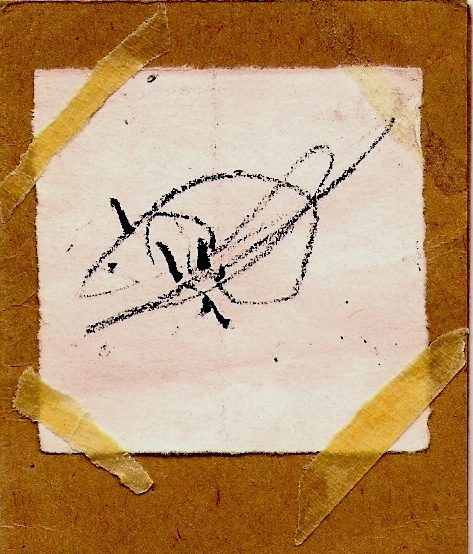 How would you describe your style?
Fun and accessible, I try to make something of quality that doesn't take itself too seriously. Stuff that anyone can enjoy with bold colours, imagery and interesting visual narratives.
What are your essential work tools?
Ink and brushes for line-work (I go through loads of them). I use Windsor Newton waterproof black Indian ink and a range of brushes, I've just started using Chinese style calligraphy brushes which are great at giving different weights of line. I either colour by hand with watercolour / FW acrylic ink or in photoshop using a Wacom tablet. Can't do without a range of acrylic and oil paints for when I want to work big either!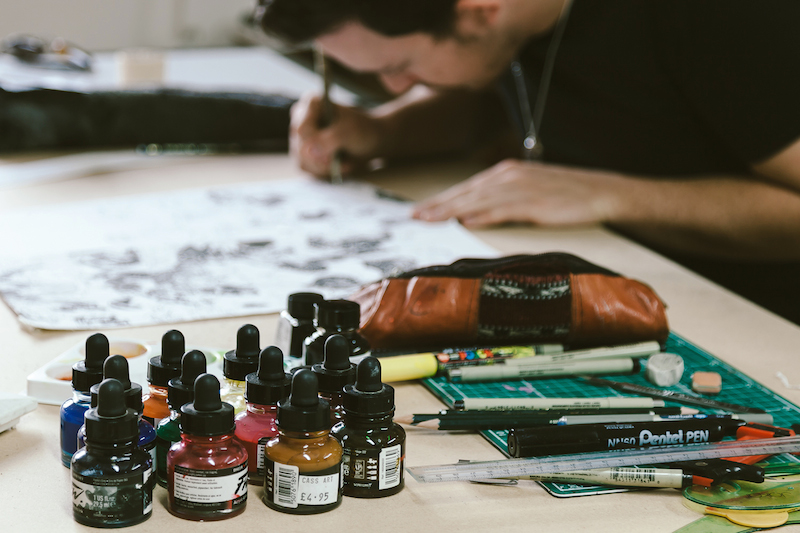 What or who influences your work?
Old Masters and new ones! Goya, Rembrandt and Lautrec are some of my main guys from back in the day and I love the contemporary work of artists like Jeremy Fish, Connor Harrington and Tomer Hanuka, big love for Hokusai and Basquiat too, the list could go on forever! My major influence is the world around me and the friends and people I meet along the way. I love fictional narratives, ancient myths and folklore too, so it's a big melting pot of inspiration.
Which is your favourite illustration from your own work?
That's a hard one, I did a single cover for a local band called Wildcat Strike which was really fun, it involves a stampede of horses escaping from a pair of massive tattooed hands (I know how weird that sounds). I think the most fun I've had working on something though was a mural at a Brighton cafe called Nowhere Man, the image is based on a chat that me and the owners had about The Beatles being time travellers (again, I know it sounds bonkers) so that concept was great to play around with.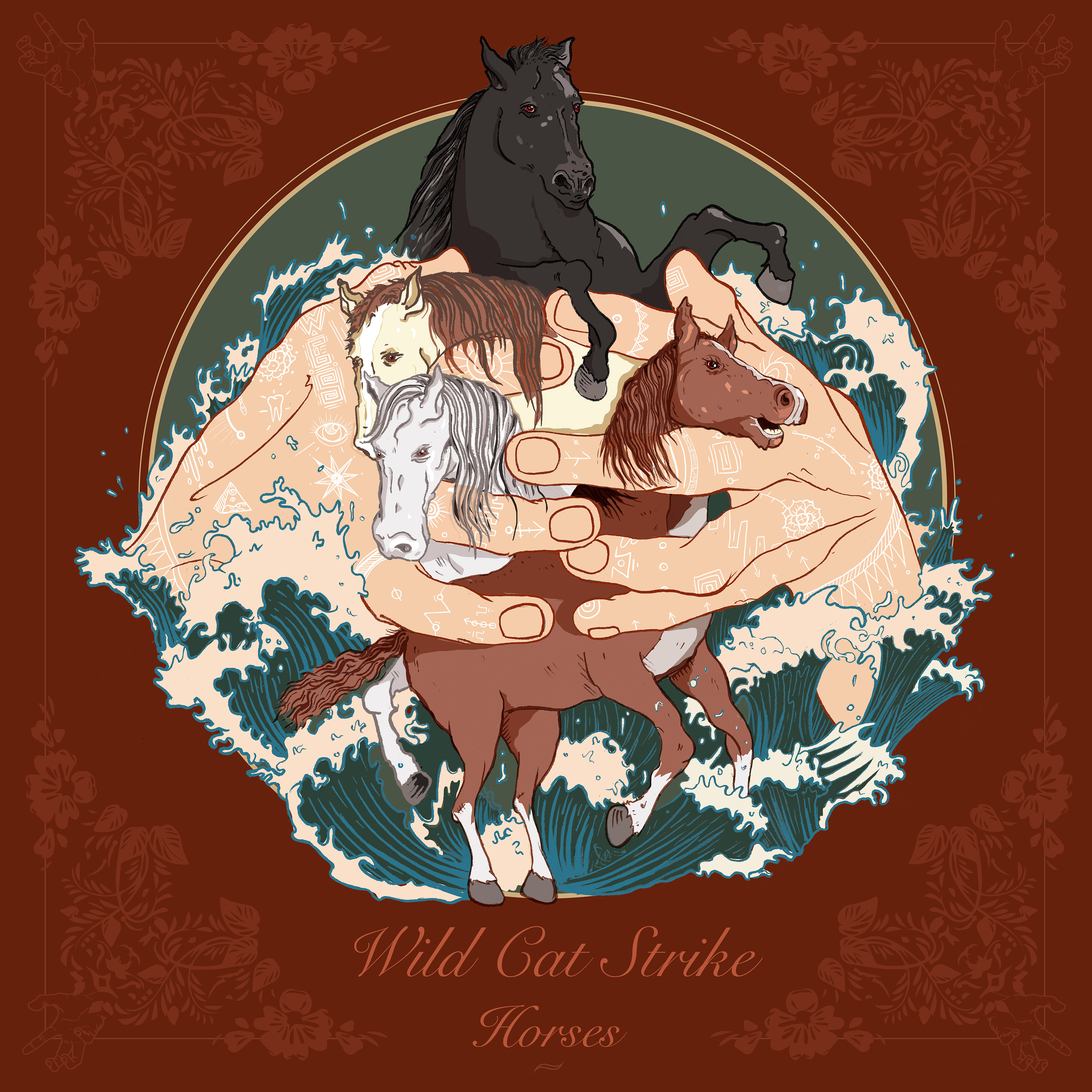 What are you working on now?
It's a secret! But the piece is called Yakuza Steam Room, I'll let your imagination do the rest. It's going to be part of a bigger project of personal work based on Japanese printmaking and storytelling.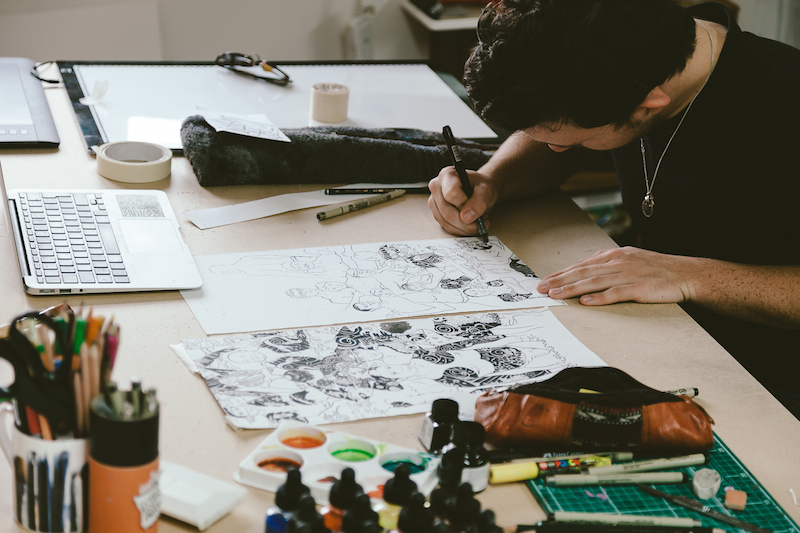 What do you hope to gain from the residency?
I'm already loving the freedom of working in a bigger space. Before having the studio at King & McGaw I had to convert my already tiny bedroom into a dual purpose space. I'm going to spend my time here developing my personal work, experimenting with new materials and learning more about the production that goes into your guys' fine art prints and frames. I'm keen to work towards a body of work that links into the crafts and skills of the employees in the workshop and exhibit a solo show at the end of the residency.
We're intrigued, where did the name Dugong John come from?
Dugong John kind of came about my mistake! I was rushing to put a blog together a couple of years ago to submit some work, when the website asked what I wanted to call the blog the word "DUGONG" jumped into my head for literally no reason whatsoever, after a while it sort of evolved into my working name! I like it, it kind of rolls off the tongue and it's a nod towards one of my favourite illustrators Jeremy Fish who has bit of a nautical name too.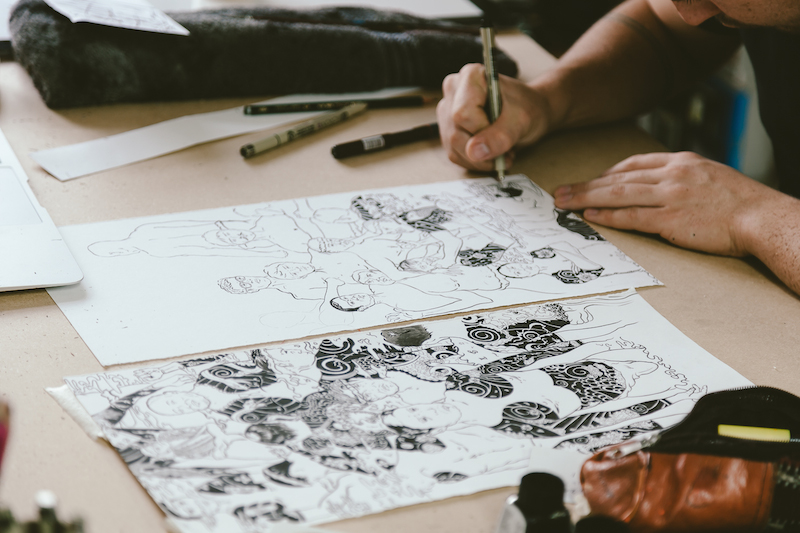 We hear you work as a Tutor and Learner Support worker, can you tell us a little more about it?
I work part time at a specialist college for vulnerable young adults with learning difficulties. It's a brilliant job, the students are great and I've been lucky enough to run sculpture workshops, creating life size versions of anything the students could think of, we've had Wile E Coyote, a T-Rex and even a double decker bus. The college itself is a great campus which gives students (mainly autism spectrum) the opportunity to develop skills for all sorts of jobs and hobbies in the future.
What's on your playlist right now?
It's ever changing and verrrrry long, so I'll give you a top five tracklist.
Are you an early bird or a night owl?
Early bird! I try to rely on as little sleep as possible to be fair, I often DJ at weekends, so late to bed early to rise, don't want to miss anything!
It's your last meal, what do you choose?
PIZZA PIZZA PIZZA PIZZA PIZZA PIZZA.