What do you want your art to do? "To cause a transformation, to be a source of hopeful resistance and to make a positive contribution." No mean feat, but by using a range of mediums – clay, paper, found objects, film and print – and subverting traditional techniques, Wilma Stone's art achieves just this.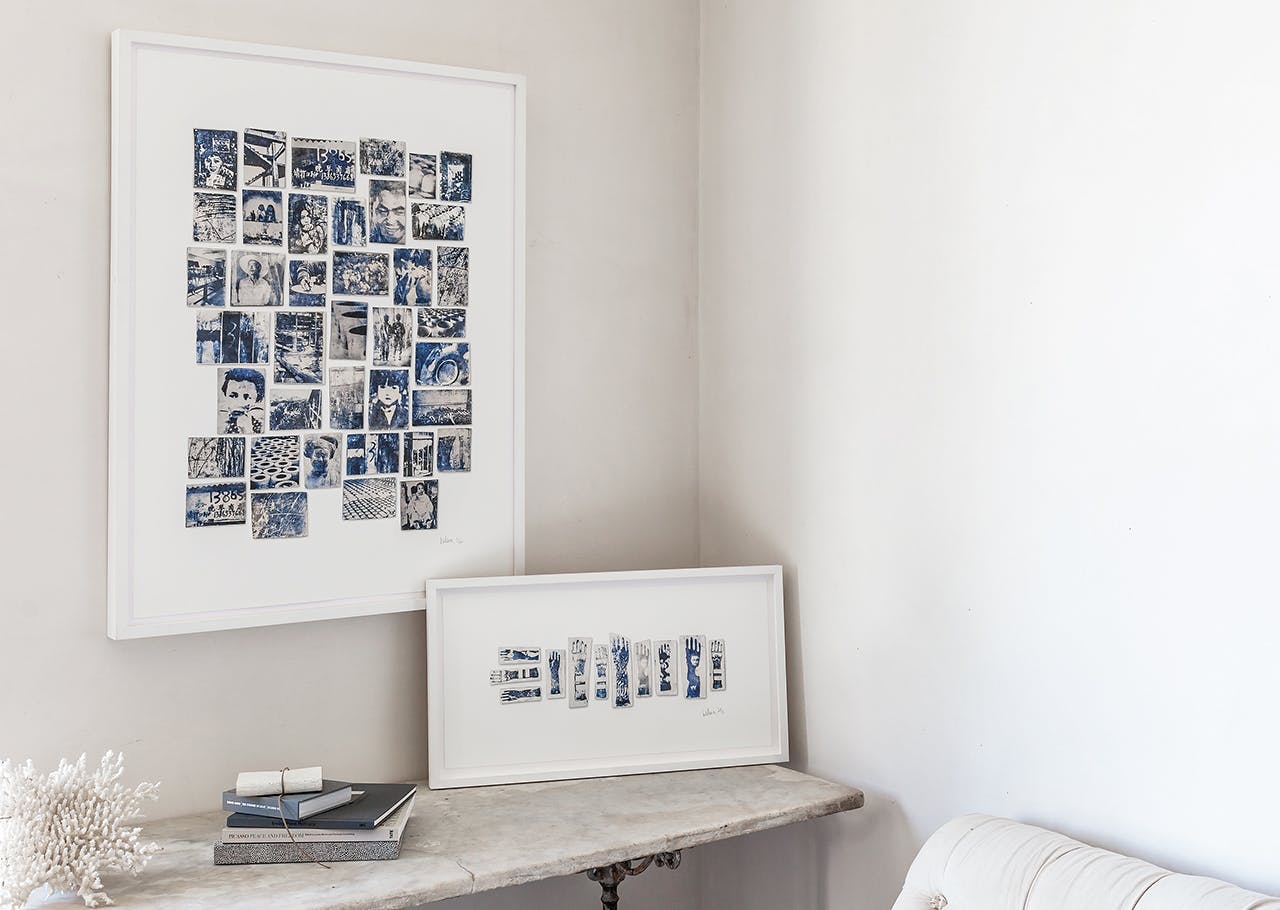 Working from her studio in East Street Arts in Leeds, Stone produces works which sit somewhere between modern and traditional, juxtaposing high and low culture. The resulting works are as beautiful as they are subversive and as challenging as they are sublime. Now, for the first time, Stone's work is available to buy in a series of limited edition prints, exclusively from us. We caught up with Stone to talk about her residency at the Sanbao Ceramics Institute in Jingdezhen, China, on which these limited editions are based.
Tell us about the ceramics culture in Jingdezhen…
"It is known as the porcelain capital of the world and the whole city is involved in porcelain production. It's made up of large factories and hundreds of small workshops, with each production process carried out by different highly skilled people – there are mould makers, carvers and painters – with knowledge passed down through the generations. Ceramic artists are held in very high esteem and sell their tiled paintings for a fortune, completely opposite to the UK."
Along the way, Stone collected found objects and documents, manipulating the material in her sketchbook every evening, to use for collage and montage when she returned home. But it was the discovery of some discarded hand moulds, which led to the exciting project, SheChina.
"After discovering a discarded pile of hand moulds with Chen Yong (Joe), the studio manager at Sanbao, a few days before the end of the trip and recognising the possibility for an installation, I invited Joe to collaborate with me – him working on the multiples in China, me working with the individual hand mould in Britain –  and see what happened. He agreed. We had no idea where the project would take us or what the outcome would be."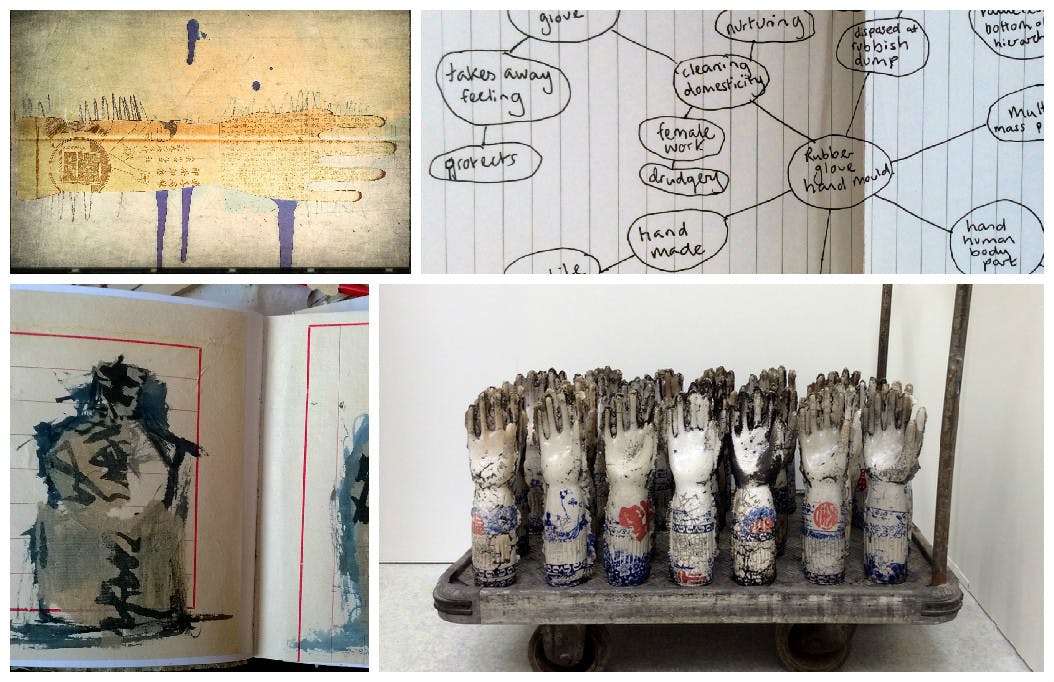 The resulting body of work celebrates and questions porcelain history and tradition, and explores photographic media culture, as well as traditional cultural artifact production. It is a sculptural language, told through the notions of inclusion, storytelling and connection. It celebrates the discarded and unwanted through the creation of mnemonic objects. Given a new life, the objects and images, induce daydreams into, and transformation of, our repressed histories, memories and trauma.
The shared spirit of optimism and cooperation pushed the project along, but it was not without its challenges:
"Taking part in a trans-generational and trans-geographical project meant that we had to continually negotiate the divides between us. Connection through conversation was an essential part of the process to encourage co-participation, create thought-provoking solutions, cross-fertilisation and improvisation and to produce ideas that would not have been reached alone."
It's a way of working Stone plans to continue, "The collaborative encounter is definitely a way of working which presents exciting challenges which I hope will be a major part of my future working practice."
The original works consist of images hand-printed onto porcelain clay tiles with an ink made from linseed oil, cobalt oxide and black ceramic stain, which were then combined to create a three-dimensional montage. The limited editions have been carefully designed to preserve the three-dimensionality of the originals whilst being two-dimensional works of art:
A constellation of photographic images on tiles, captured in China, which play with scale, abstraction/figuration and fragmentation/disintegration. All images were shot by Stone except for one historical photograph which acts as a visual counterpoint; created to allow a construction of connections, relationships and meanings, and bring about a chain of associations in the viewer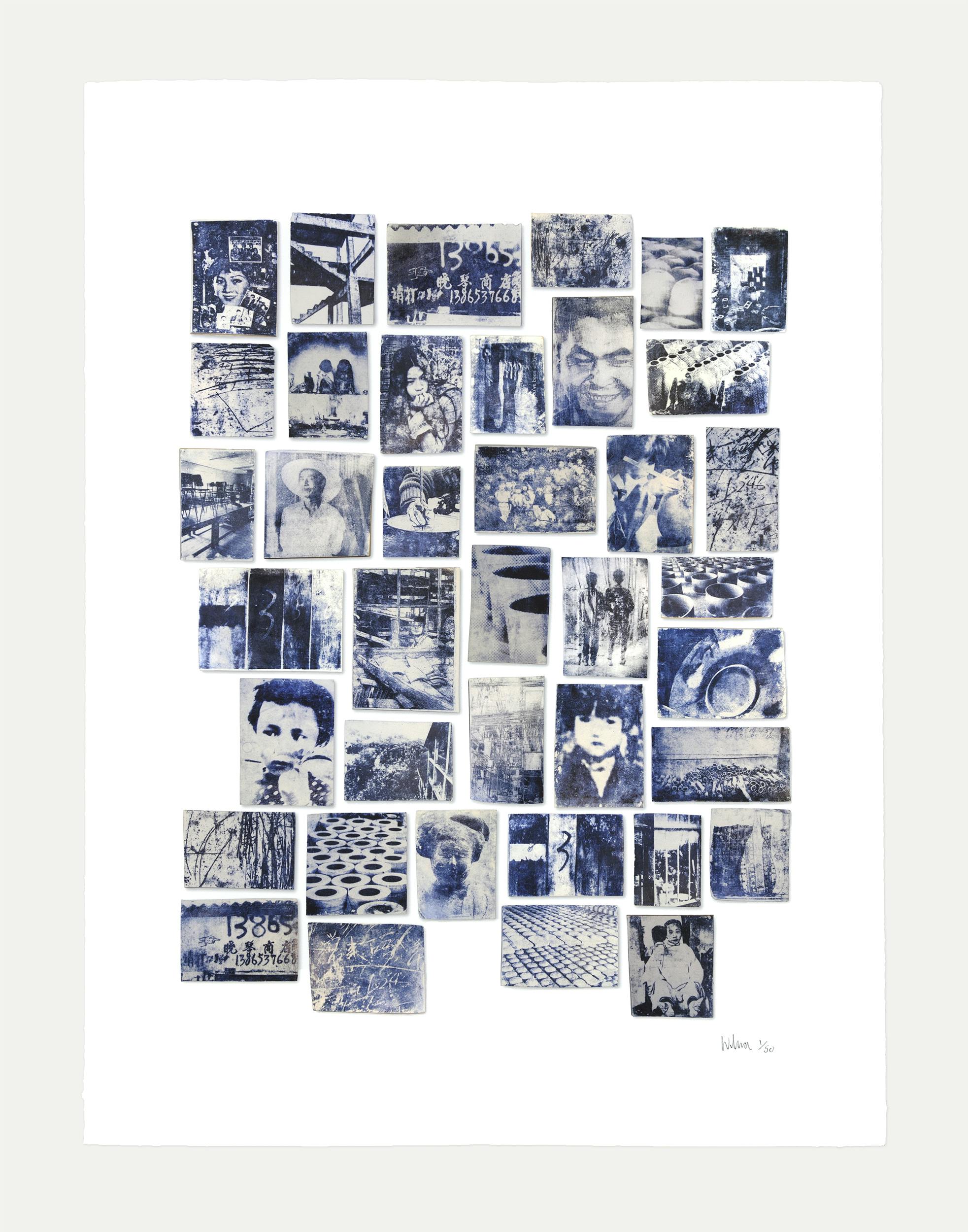 A series of small hand tiles created to signify collective identities, devotional practice and sacred memory. An invocation of religious artifact and personal gift commodity; revealing the easy slippage of the sacred and the handmade into commodity and mass produced souvenir, and its effect upon industrialized labour and manual work. The title refers specifically to the Confucian 'Mandate of Heaven' ceremony – an expression of the interconnection of all people regardless of social position.