Richard Reed, entrepreneur and founder of Innocent Drinks and the Art Everywhere project tells us about the role art plays in his life, from the artists he admires to his most treasured work of art.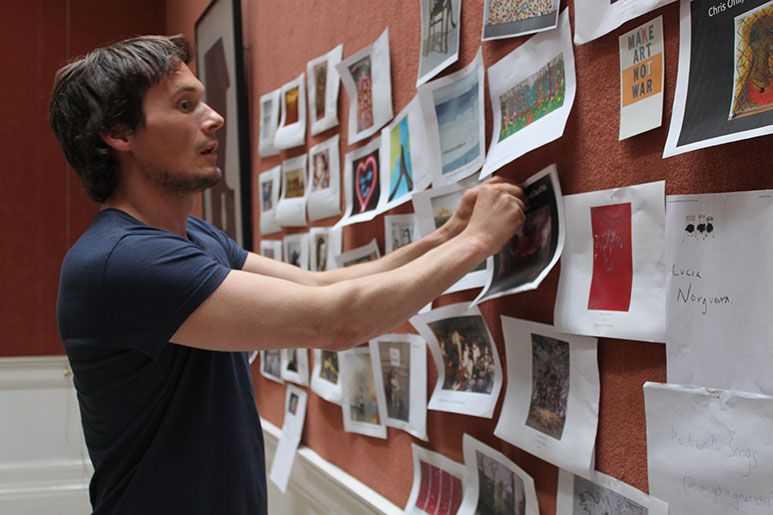 Q: How do you incorporate art into your home?
A: I cover as many walls and surfaces as I can with it! I want to have art everywhere!
Q: What piece of art that you own, do you value most?
A: I have a photo that has been painted over with oils so it looks like an old master of two men sat a table drinking wine – it reminds me of the many dinners I have with my friends drinking and talking long into the night.
Q: Do you feel the boundaries between high and low art are blurring? If so, how?
A: For me, high art is about having incredible craft skills, of using paint to capture light or an expression or the back of a hand. There is plenty of low art that may be fun, arresting and looks great on a wall, but if there isn't an unbelievable amount of skill involved it isn't high art, irrespective of what people pay for it.
Q: Which artists, living or dead, and/or artworks inspire you and why?
A: I love Hockney as a fellow Yorkshire man, but the greatest piece of art ever created is the Garden of Earthly Delights by Hieronymus Bosch. It was the starting point of creativity. How he imagined everything that is in that picture is beyond me. You can see hundreds of years later his ideas still being used in everything from George Orwell to Monty Python.
Q: Tell us a bit about Art Everywhere – how you came up with the idea and what you hope to achieve with it.
A: Art Everywhere is a joyful project that exists to flood our streets with art. I got the inspiration from seeing a beautiful piece of art up on a public wall in Shepherds Bush. I walked past it every day and it gave me a lift on my way into work. I wanted that for the whole country.
Richard's favourite picks from kingandmcgaw.com