Standing on a commuter train in the middle of rush hour, it's hard to imagine when travel used to be a thrilling thing. However, one look at the bright vintage travel posters of the 20th Century immediately transports you to a world of luxury and romance. What made the posters of the 20th century so persuasive? We take a look at our iconic P&O Heritage collection, to find out how the artists behind the shipping and cruise company's eye-catching travel ads encouraged people to explore the world in the golden era of travel.
Picture-perfect panoramas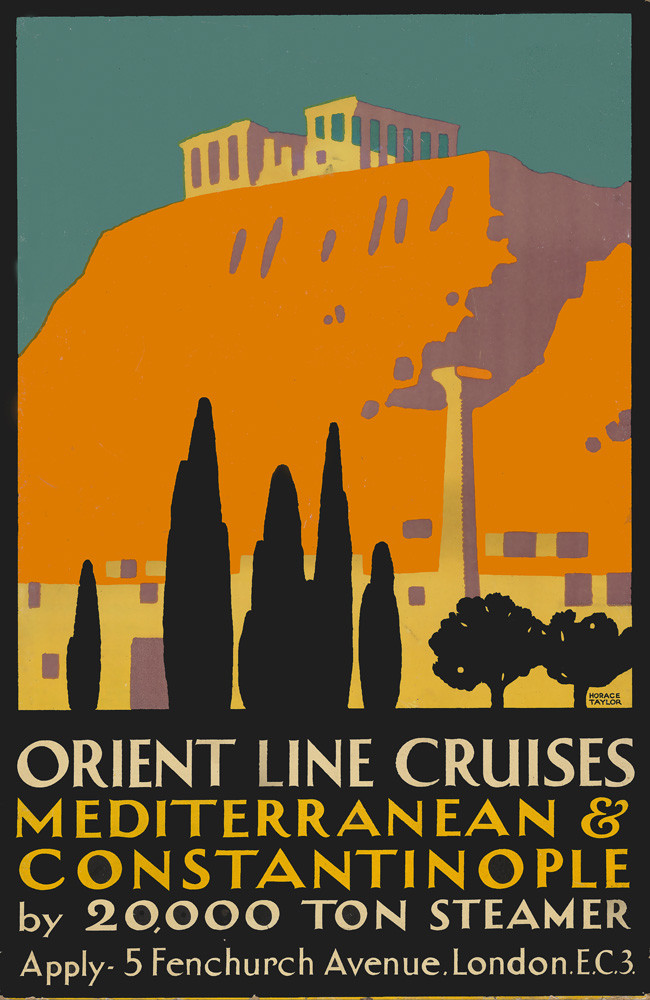 Horace Taylor, Constantinople, 1920's, lithographic poster
Exotic landscapes and picturesque architecture instantly set the viewer daydreaming. Such scenic views already appeared in nineteenth century travel ads, when they were filled with decorative text, but in twentieth-century designs, they take on a sleek finish. Instead of commissioning fine artists, travel agencies now turned to commercial designers. The likes of Horace Taylor, whose clients included the Guardian and the London Underground, designed posters with block colours, minimal and impactful text. The medium of the lithographic poster offered smooth planes of exceptionally bright colour that made holiday destinations look even more inviting, like Horace Taylor's sunlit and secluded "Constantinople".
Daring designs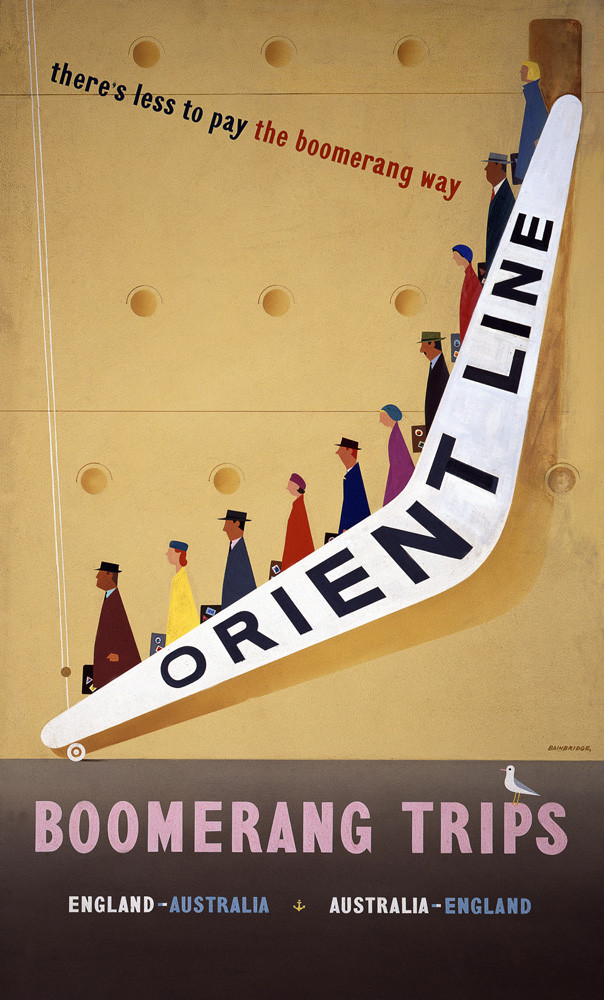 John Bainbridge, Boomerang, 1950's. 
Further into the twentieth century, artists began to get more creative with the posters' layouts and letters. Some started to integrate text into their  images, such as John Bainbridge with his 1950's poster Boomerang, which is in our P&O Heritage collection. The designs of these posters reflect wider twentieth-century artistic styles. Mixing images and text was popular with cubists and collage artists, and the simplified shapes in P&O Heritage's 1937 Escape from winter appear in abstract art. In these fresh designs the commercial poster meets avant-garde tastes.
Pleasure seekers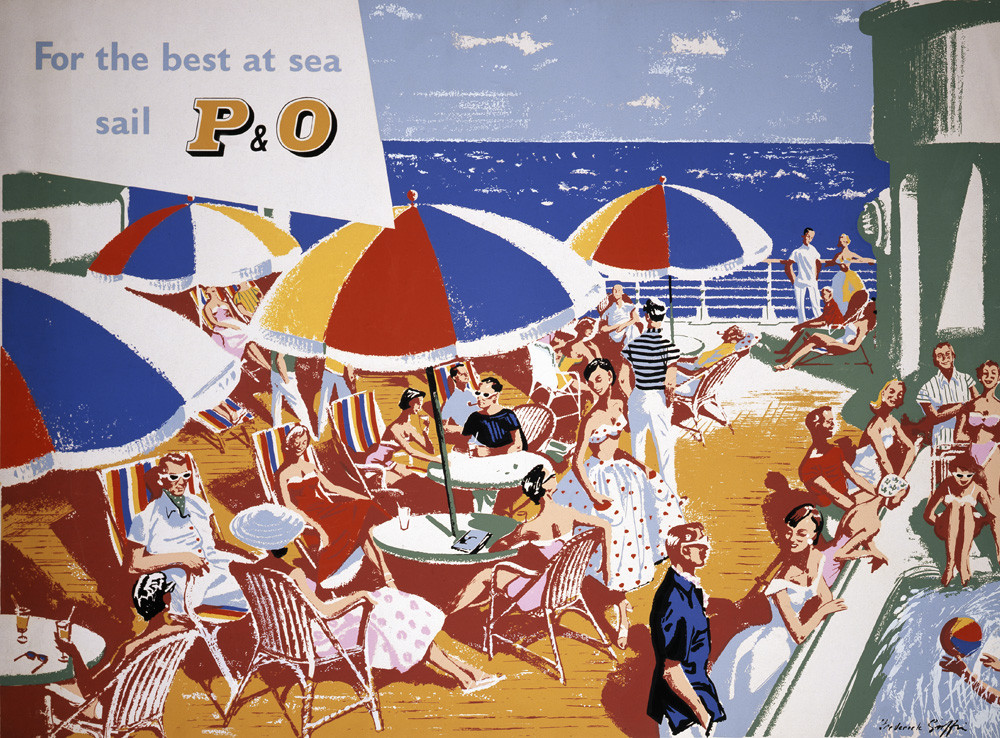 Frederick Griffin, For the Best at Sea Sail P&O, 1956
Writing about his trip on a P&O ship in 1930, Noel Coward recalls "lines of chairs on the promenade deck" and "hooting sirens" on board. Holiday stories always capture the imagination, and what better way to evoke the idyllic atmosphere than bringing cheery guests into the picture? Many vintage travel posters, especially from the 30's onwards, are full of smiling, swimming and sunbathing tourists. The emphasis on families having fun in the sun also presented holidays as an escape from the gloomy context of two World Wars.
Bathing suit bombshells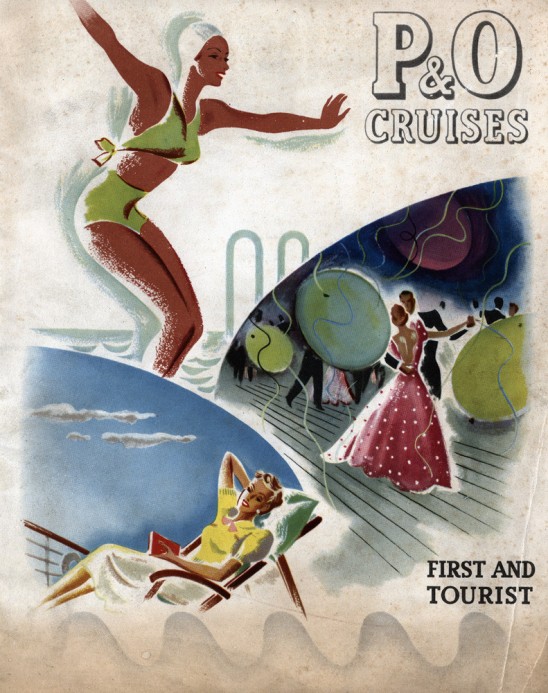 P&O Heritage – First and Tourist Class brochure from 1939
Poster artists of the twentieth century knew that placing a few long-legged ladies around the poolside might tempt viewers to book a holiday. Suntanned, shiny-skinned girls pop up in sultry posters like this one from P&O's First and Tourist Class Brochure from 1939. Take a look at Septimus Scott's New Brighton and Wallasey or Charles Pears' poster advertising trips to Gorleston-on-Sea for more beachy pin-ups. These glamorous vintage posters certainly heat up the seaside.
Discover more vintage travel posters