Frankenheimer's first big-budget production, Grand Prix, followed the fate of four fictional drivers played by James Garner, Brian Bedford, Yves Montand and Antonio Sabàto.
Though the star-studded cast helped get bums on cinema seats, the film also owes its illustrious success amongst film critics to its creative camera angles. Filmed during the actual 1966 race season – by real Formula One World Champions such as Phil Hill, Graham Hill, and Juan Manuel Fangio – viewers were treated to a never-before-seen driver's point of view. 
So convincing was the in-seat camera position that some audience members reported moving their heads in sync with the meandering race-track movements they saw on screen.
The level of driving ability possessed by the movie's actors varied wildly. Bedford couldn't drive at all and was only ever in the car for close-up type shots. Montand and Sabàto faced significant challenges, both struggling with basic car skills.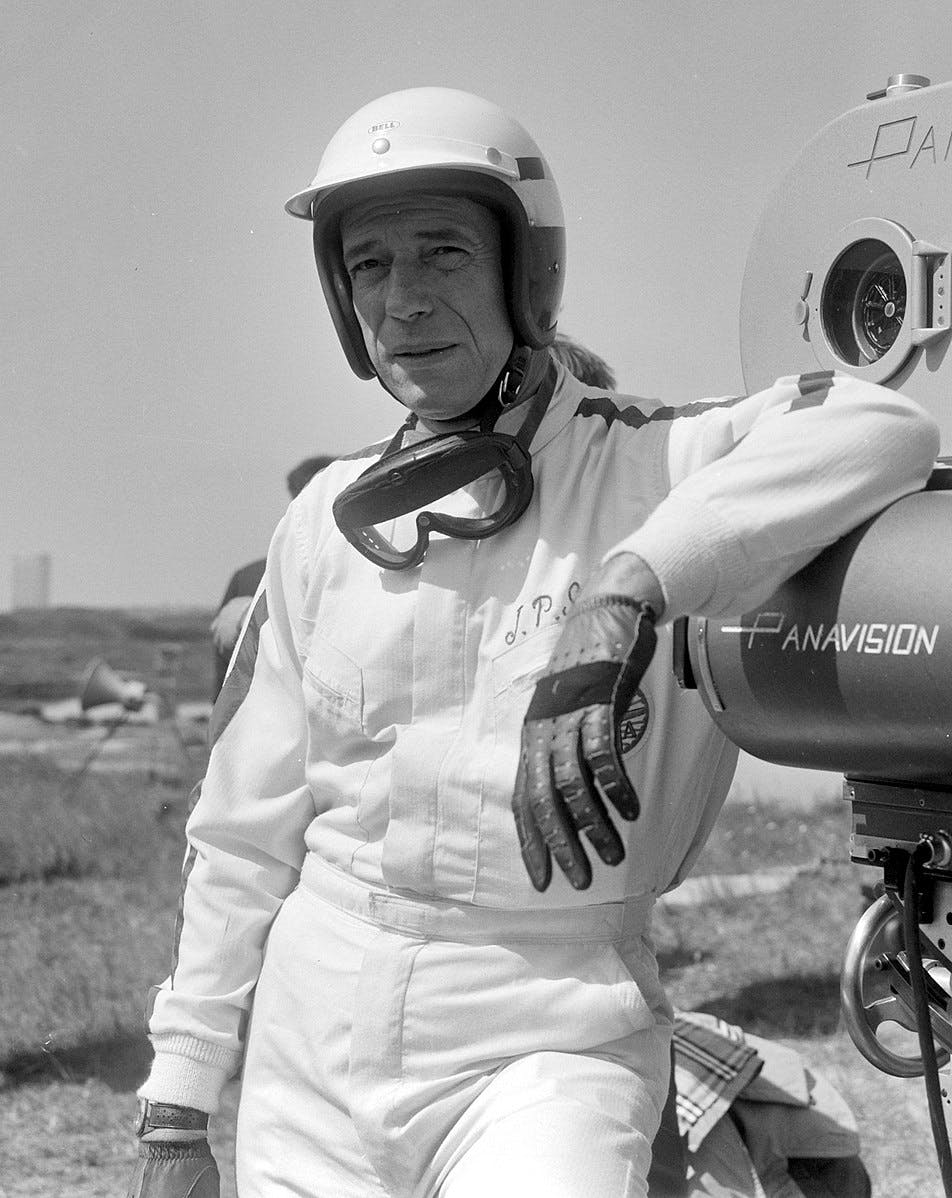 Italian-French actor Yves Montand who played fictional racing driver Jean Paul Sarti on the set of Grand Prix 1966. Public domain.
Garner, on the other hand, proved competent enough that he trained exclusively with iconic Shelby Cobra driver Bob Bondurant, with the actor's interest in cars growing greatly as filming progressed. 
Reflecting on the film in his 2011 memoir, James Garner said: 'Making Grand Prix was the most fun I've ever had. Six months with the best cars and the best drivers on the best circuits in the world… it was a fantasy come true.'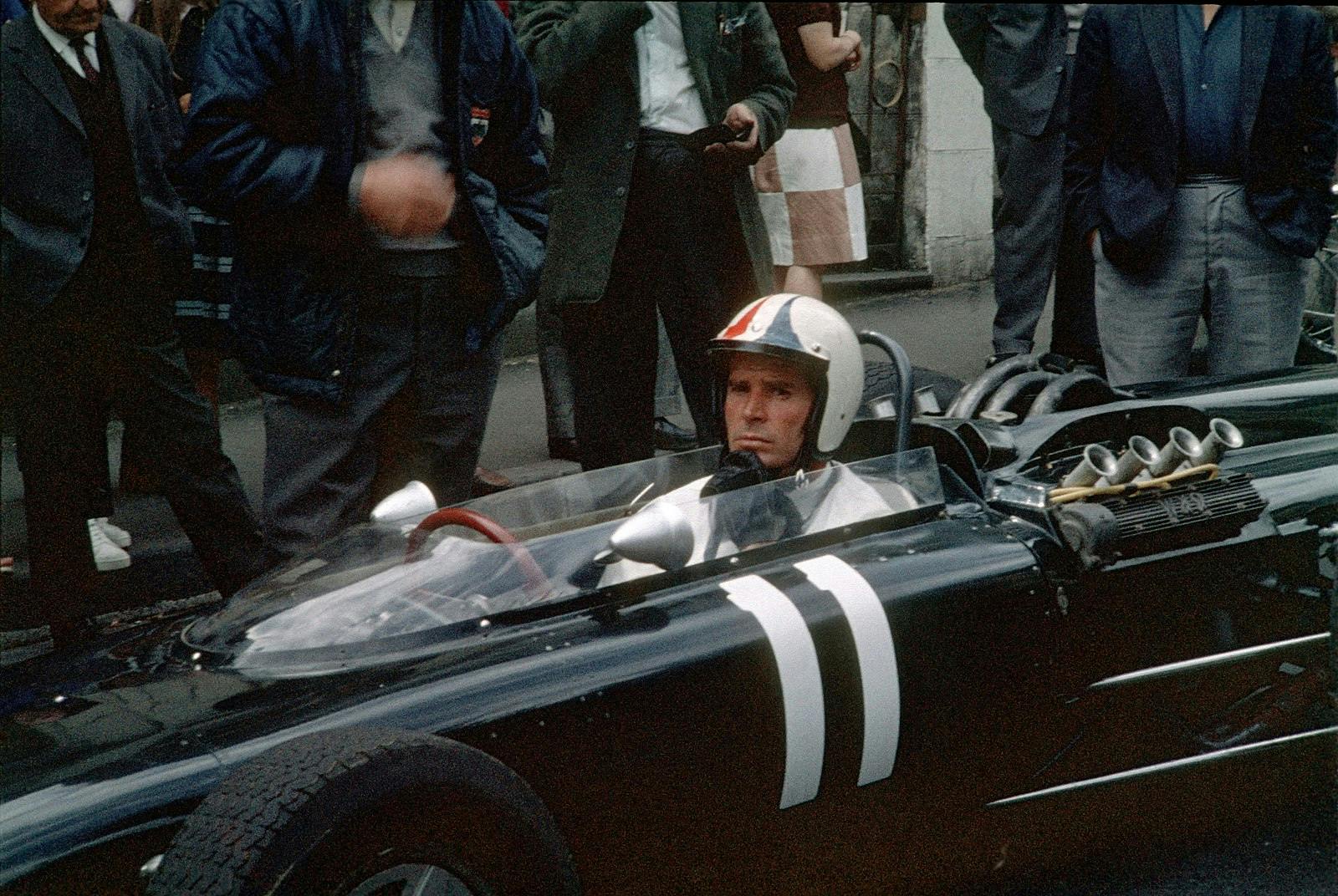 American Public dom actor James Garner during filming of Grand Prix 1966 in Royat near the Charade circuit. Public domain.
Garner's devotion to the part even saw him do his own stunt involving a dramatic fuel leak and his vehicle setting on fire. He escaped unscathed but, in other scenes filmed in wet conditions, several cars lost control and drivers ended up with broken bones. Another nearly catapulted a driver into the upstairs window of a house. 
Luckily, in light of safety precautions, major accidents in the story line were filmed using a make-shift cannon-like device that was capable of firing driverless, gutted cars considerable distances. 
Unsurprisingly, critics lapped the speedy spectacles. Veteran American journalist Brendan Gill of The New Yorker described the film as 'big, brave, eye-bedazzling, earsplitting, and sometimes almost heart-stopping.' 
Grand Prix won Oscars for Best Sound Effects, Best Film Editing and Best Sound, and went on to become one of the ten highest-grossing films of 1966.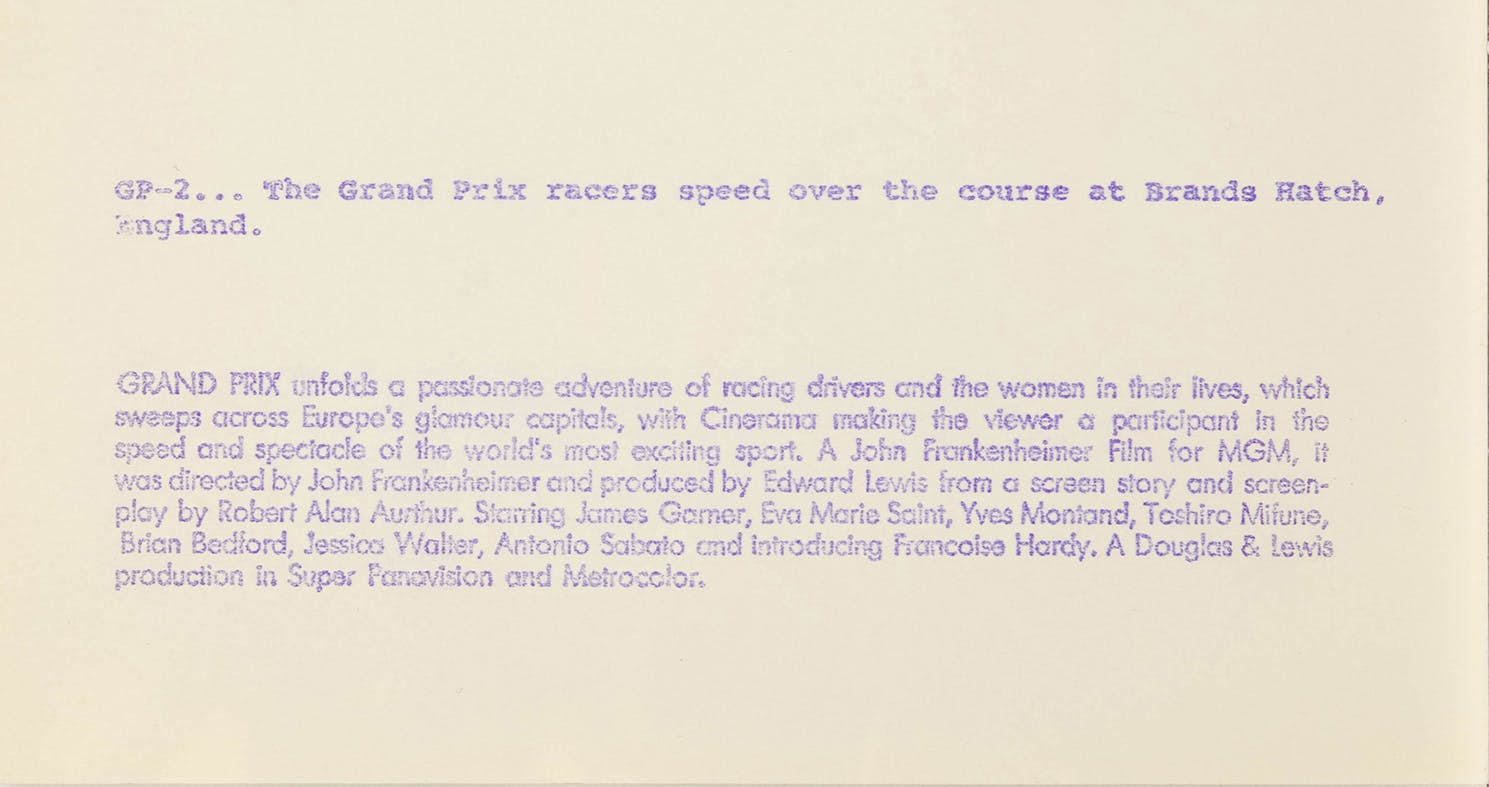 The film's plot and cinematography highlights printed on the back Grand Prix 1966.
This photograph from our Original Film Stills collection was shot in Super Panavision 70 by American film cinematographer Lionel Lindon. On the back of the photo, the film's thrilling storyline is relayed in purple type.
Stored in our historic archive, Lindon's photo is in very good condition for its age. To preserve it for posterity, our specialist framer has presented it behind 90% UV protected cast acrylic glazing. Float-mounted on mount board in an archival, satin box frame, it''s a truly unique collectors' piece.