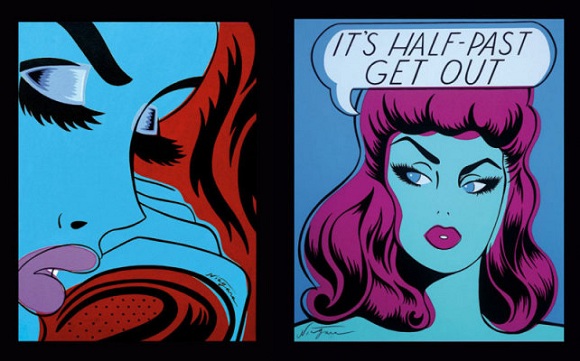 Left: Toll Call Art Print; Right: It's Half Past Get Out Art Print, both by Niagara Detroit
Niagara Detroit has sung with punk bands such as Destroy All Monsters (D.A.M.) and Dark Carnival since 1974 and used her art-school background to create album artwork for the bands she's performed with.
In 1996, the artist teamed up with a local Detroit gallery, CPop, and started work on the 'Niagara Girls' series. Just as the popularity of Burlesque star Dita Von Teese exploded, these art prints took off, channelling an exaggerated 1940s look based on pin-ups such as Bettie Page and the moody pout of iconic star Lauren Bacall.