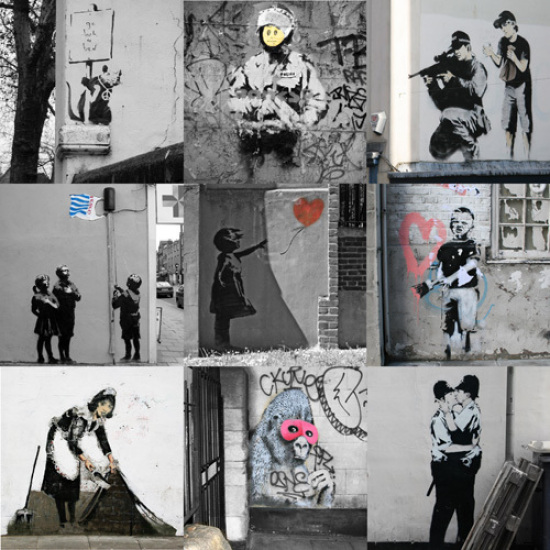 Banksy Collage I Art Print: A compilation of his most controversial images
Banksy, supposedly born in 1974, produces street art that captures the spirit of the times so well. As the world slides further into turmoil, images like this are poignant in light of the recent London riots of August 2011. Despite the gritty urban landscape forming the backdrop to the majority of his work, Banksy also produces playful beauties such as Heart Balloon Girl , reflecting a desire to escape the sometimes maddening city.
In his 2005 coffee table book (though he'd hate that description) 'Wall and Piece' Banksy makes his aspirations to be a 'culture jammer' crystal clear when he attacks corporate advertising culture by stating:
"The people who run our cities don't understand graffiti because they think nothing has the right to exist unless it makes a profit. But if you just value money then your opinion is worthless."
Culture jamming, coined in 1984 when brand-mania was starting to take off globally, is a anti-consumerist social movement that seeks to subvert mainstream cultural institutions, and you see this when Banksy mocks brands such as Tesco or authority figures like the Queen's Guards and even Queen Victoria herself.
Since starting out in 1992, his work has proved influential on others with this portrait that seeks to destroy the iconic image of Audrey Hepburn, but also furniture that imitates (and perhaps hopes to profit from) the artist's style.