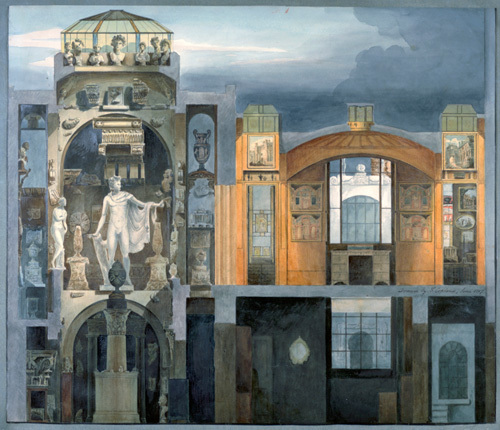 Sectional Perspective of 13 Lincoln's Inn Fields by Frank Copland
Architect and collector Sir John Soane amassed an unprecedented collection of books, antiquities, architectural artefacts and works of art in his lifetime – estimated to be 45,000 strong.
Housed in 13 Lincoln's Inn Fields, one of three houses that Soane demolished and rebuilt to his own designs, his collection includes significant works from antiquity to the early 19th century, most notably Hogarth's series of A Rake's Progress, Canaletto's Riva degli Schiavoni Looking West and the alabaster sarcophagus of Seti I.
As Professor of Architecture at the Royal Academy, Soane invited students to his home to view the collection both the day before and the day after his lectures. Prior to his death in 1837, Soane negotiated an Act of Parliament to take effect from his death that stated the Museum be preserved as close to its original state and remain free to students and the public, as it still does to this day. A unique place to visit and an exceptional collection to see, Easyart is proud to support the institution in order to protect it for future generations. Shop the full collection here.
Our top picks from the Sir John Soane's Museum collection