With London Fashion Week approaching it's the perfect time to catch up with the internationally awarded fashion artist, Anne Zielinski-Old. Born in Queens, New York, Anne stormed onto the arts scene during the eighties. It was a time when the ambitious, beautiful and talented competed to be noticed by uptown agents and the Danceteria nightclub was the place to be seen. While Anne exhibited on one floor, Madonna danced downstairs. It was electric. We talk about the frill of the eighties, the music, her endless inspiration and the changing role of fashion illustration over the years.
1. Anne, you've had a dynamic and brilliant career, where to start! What first attracted you to fashion illustration? 
It was quite simply there in my DNA. I loved to draw and was fascinated by Old Masters from a very young age. Just look at Gainsborough's rendering of fabrics and lace, it fills me with wonder to this day. I equally loved fabrics, clothing seemed to have a sound and was perfumed – it was all rather beautiful to me.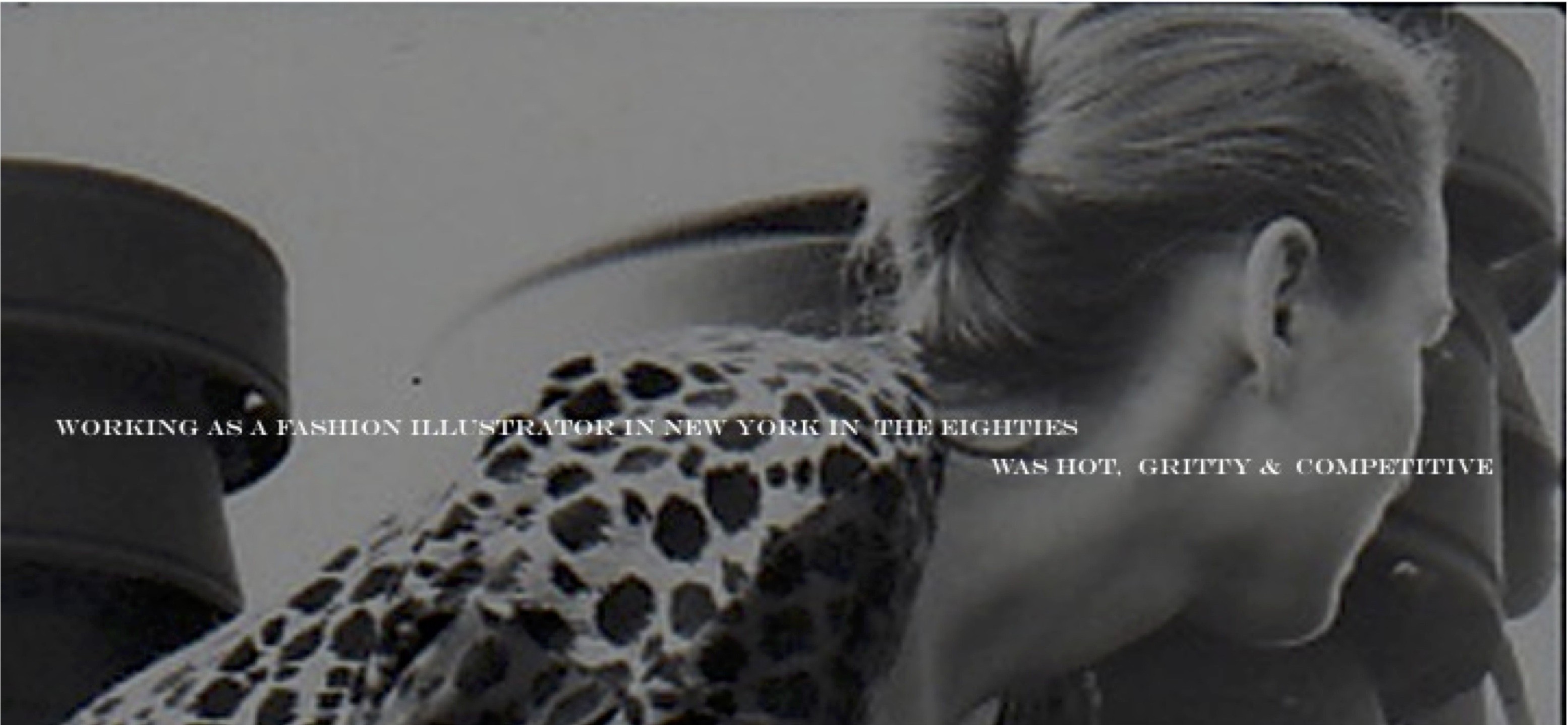 Anne Zielinski-Old, Roof, Alphabet City, NYC | Estate of Patric Old, 1983
2. You've exhibited everywhere from London's Proud Gallery to the Hollywood Entertainment Museum. Tell us about your most memorable exhibits.
I started exhibiting in New York in the eighties. I connected with the infamous fashion publicist, Yvon Dihe, and found myself involved in the special Lower East Danceteria Art Party scene, which was gathering attention – not least because Madonna started out there. Most memorably I exhibited at the Summer in the City Illustrators '82 exhibition at the Zippers Art bar on Union Square. It was fantastic – it was on Andy Warhol's patch, we were young and hot, and the suits came with cheque books. Then there was Fortnum and Mason's window displays. I was literally getting in the windows and creating larger than life images on the walls and on screens – my hands blackened with charcoal. Garrard & Co window displays too when they were on Regent Street, 12 windows followed up at the Mandarin Oriental, Hong Kong.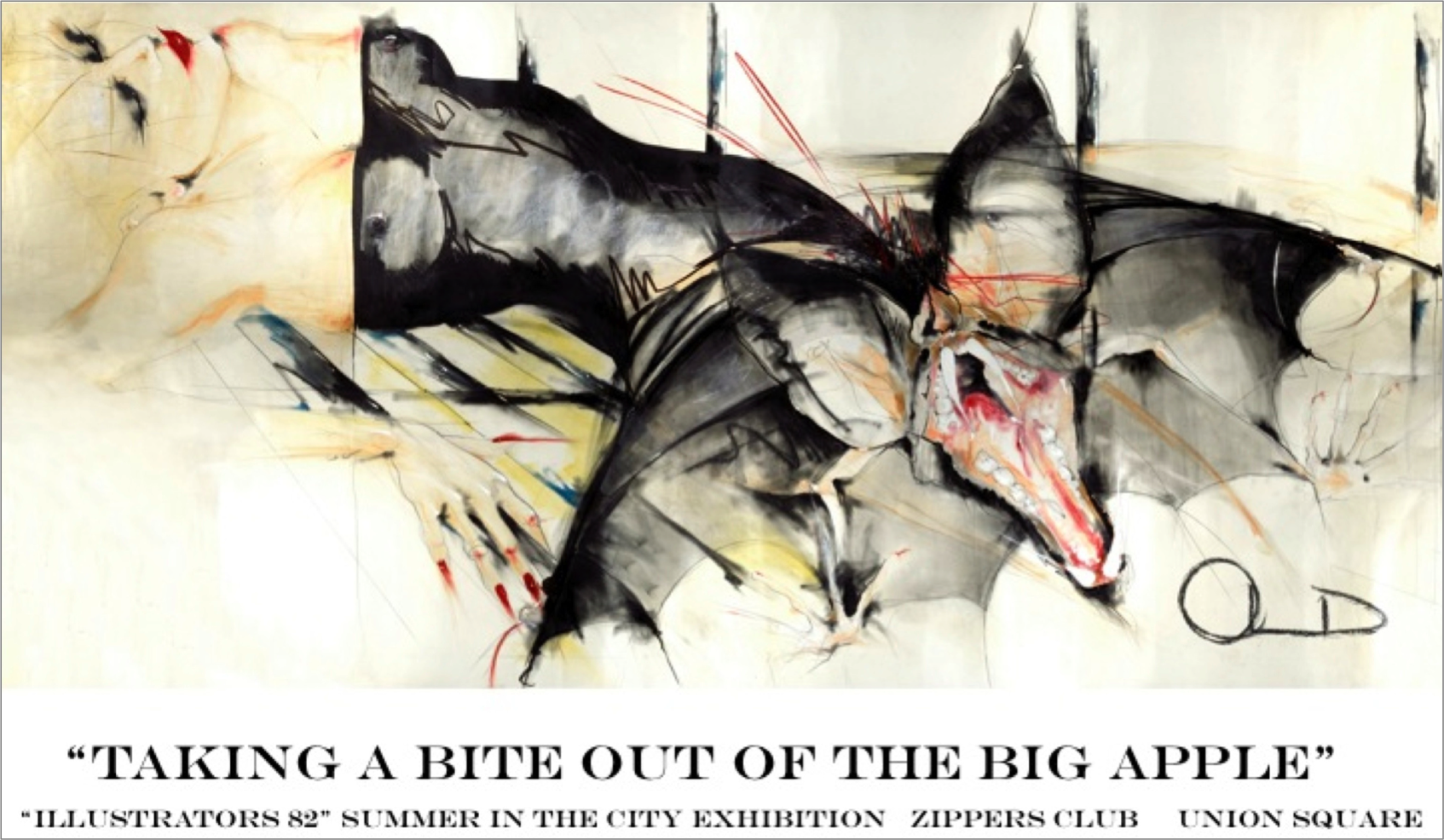 illustrators 82′ exhibition piece – Anne Zielinski-Old  © 2015
3. Where do you go for inspiration and ideas?
Like Santa Claus, my eyes are everywhere. All the time. All around. The Forest, the Mexican/US Border, the shadow of a crow and life itself.
4. What's on your work playlist?
In line with opening my eighties archive, I'm into Alex Ebert's brilliant soundtrack for A Most Violent Year. The elegance of that time, Abel's look in the film – the camel coat, black turtleneck and leather gloves, that was elegance, those were my eighties. I'm rediscovering David Lynch's "Ghosts of Love" and "I know". And sometimes I just stop, stare at the ceiling and recapture sounds of the breeze blowing through the Spanish moss in South Carolina, the street in Alphabet City, or my late husband's brown velvet voice reminding me of the dynamism of perspective.
5. How have your travels and experiences influenced your work?
My responses to a project – both unexpected but tuned into trends – come from the life long mental database I've built up. Take the project I did for Fortnum's, I was able to implement some of the richest images from Mexico, Georgia and Texas. Real life incidents just happen, get stored away and rolled out when the time is right.
6. In your view, how has the role of illustration in fashion changed over the years?
When I entered the industry in 1977, Fashion Illustration represented an important conceptual option for image building in advertising and an indispensable tool for fashion reporting where photography wasn't permitted. But it's changed substantially since then – in the early eighties corporate retailers began to use photography for entire advertising campaigns; displacing illustration. Fashion illustration became part of the process rather than the end in itself, so I moved on to storyboarding for Photographers. Early nineties and MAC computers were adopted by agencies who declared the computer could do it without involving an illustrator!
What hasn't changed is that people love fashion illustration. Done well, the delicious combination of high and low art and accessibility renders it a unique art form.
The best of fashion illustration pleasures the eye, is powerful and engaging; it stands alone.
7. What art tool/ medium could you not live without?
My graphite stick.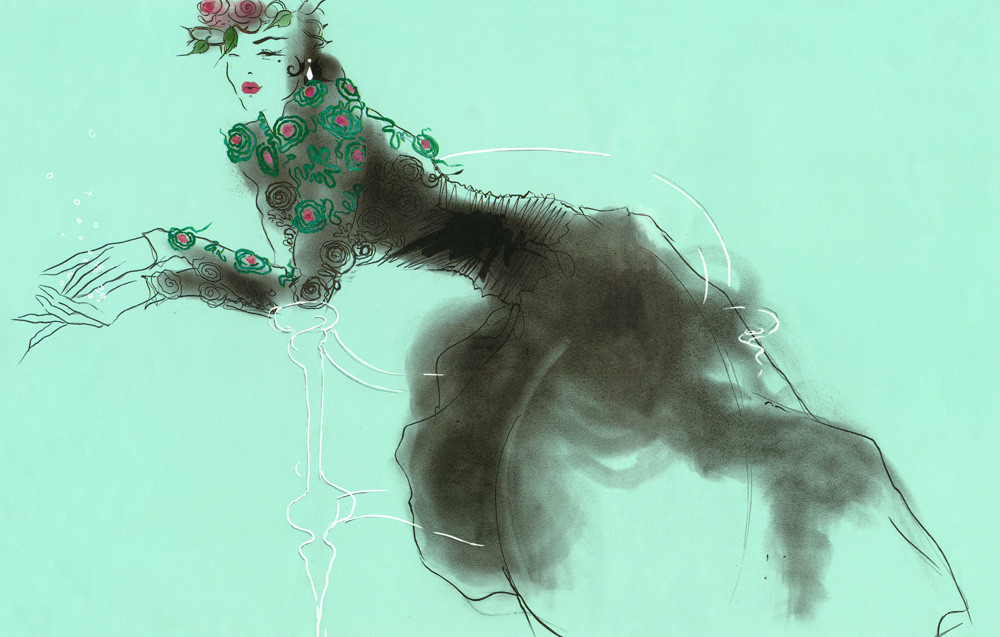 Wim, Your Appointment with a Dream by Anne Zielinski-Old
8. What has been your most memorable project to work on?
I have a number!  I think the openness, freedom and opportunity granted by the board at Fortnum & Mason on the Your Appointment with a Dream scheme is the most memorable. At the time the role of a fashion illustrator was more of a creative director – I played an important role in re-branding a historic institution. Wim is an illustration from the first campaign catalogue, the gown by is by Wim Hemmink Couture. The designer loved the image so much he commissioned me to create three larger than life illustrations for his stand at London Fashion Week.
9. Which is your favourite piece from your collection on King & McGaw?
My personal favourite piece is Wicked, but the important and highly collectible piece is 1983. This was the cover of the first Harrods Magazine, Spring 1983. I wasn't in London when this image hit the newsstands but now know it was THE image of the era, posters used to promote the magazine found their way onto fashionista's walls. The original artwork is remarkably fresh and probably much bigger than expected.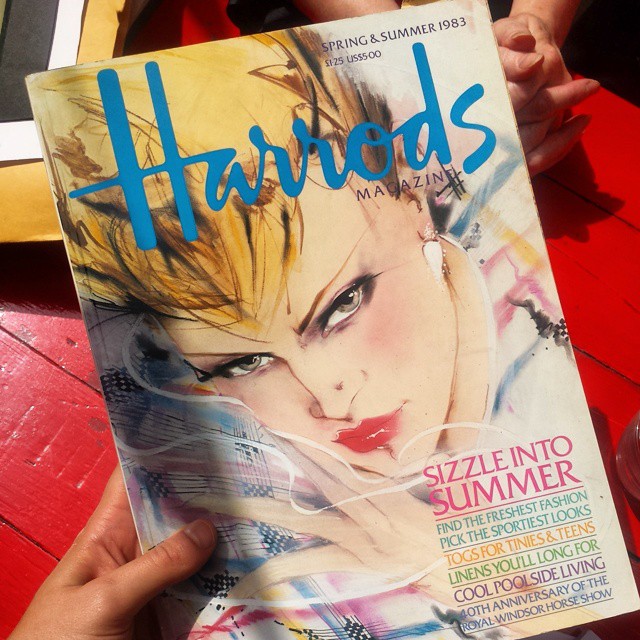 Harrods Magazine Cover, 1983 by Anne Zielinski-Old
10. Do you have any advice for aspiring fashion designers/ illustrators?
To both, learn to draw, draw the human figure until you drop. Take control of your vision, learn to construct garments yourself. Don't go out into industry until you are formed and confident you are able to demonstrate your talent. My students will likely remember me for instructing "drink coffee, eat chocolate before you come to class and NEVER make excuses while opening your portfolio."
Browse Anne Zielinski-Old Prints