Sunday, 9th November marks 25 years since the fall of the Berlin Wall. First erected in 1961 by the East German government and extended to a 14 foot concrete wall in 1980, it symbolised Soviet oppression but also came to be the largest canvas in the world for artistic expression. As the graffiti art movement grew rapidly in the 1970s, artists and graffitists from across the world came to the wall in visual protest, covering every surface of the western side in expressive defiance, while the eastern side remained blank.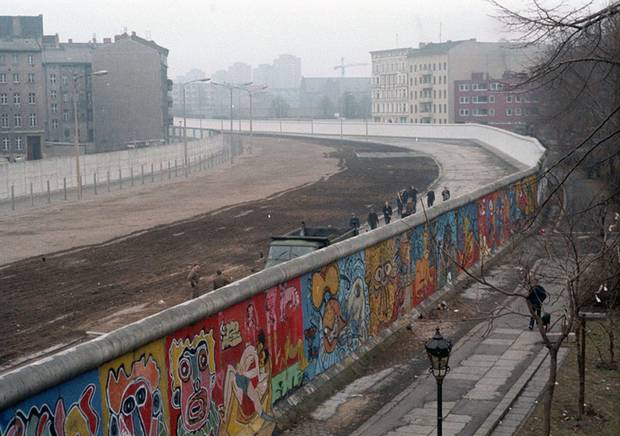 Western side of Berlin Wall covered in graffiti art. Photo taken by Thierry Noir in 1986 at Bethaniendamm in Berlin-Kreuzberg
In 1986, the Director of The Checkpoint Charlie Museum invited New York-based street artist Keith Haring to paint on the western side of the wall. On 23rd October Haring began work on his 350-foot mural, which depicted an interlocking chain of black and red figures against a yellow background.  A powerful symbol for the unity of both sides, the figures were created in the colours of the East and West German flags.  The entwined hands and feet connected each figure to the next. Haring remarked that his intention was to 'destroy the wall through painting it' – foreshadowing the monumental moment when the wall fell on 9th November, 1989.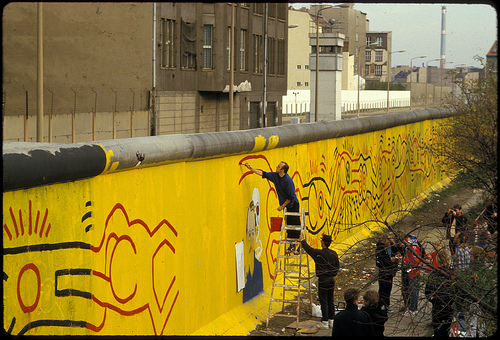 Keith Haring painting the Berlin Wall, photo by Tseng Kwong Chi, 1986 Copyright Muna Tseng Dance Projects Inc.
Now Haring's work only survives through photographs as the mural came down with the destruction of the wall but this didn't matter to Haring:
"It is temporary and its permanency is unimportant. Its existence is already established. It can be made permanent by the camera" – Keith Haring
Haring and fellow street artists, including Thierry Noir, brought international attention to the wall with their artistic acts of defiance against the Soviet Union, ultimately leading to its downfall.