A child of the 1960s, Keith Haring was influenced by his amateur illustrator father, and the cartoons he saw on television by Walt Disney and the Looney Tunes characters. When he finished school in 1976, he went on to study commercial art in the Ivy School of Professional Art in Pittsburgh. The experience was short-lived. Haring read Robert Henri's The Art Spirit (1923) and it had a profound effect upon him. The book encourages artists to engage in an interactive artistic practice, and it dawned on the aspiring artist that he wasn't interested in commercial advertising.
Instead, he wanted to make art that was accessible and socially relevant. Describing his school experience in an interview, Haring reflected that 'The people I met seemed really unhappy; they said that they were only doing it for a job while they did their own art on the side. But, in reality, that was never the case: their own art was lost. So, I quit the school.'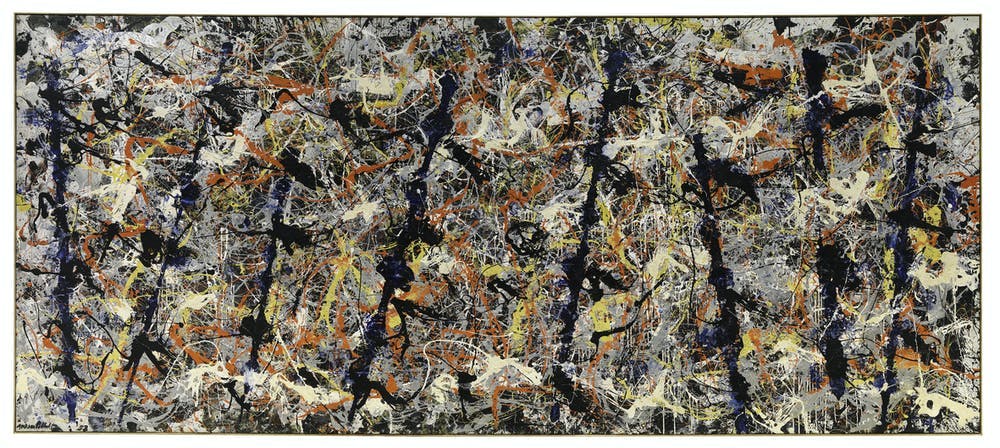 'Blue Poles, 1952', (CC King & McGaw) Abstract expressionist painter Jackson Pollock's action paintings influenced Keith Haring
Dropping out after just two terms, Haring took the leap and studied art independently; borrowing books from The University of Pittsburgh Library. He managed to support himself by landing a job at the Pittsburgh Center for the Arts, and it was there that he first encountered artistic giants that would influence him for years to come. He discovered the illustrative directness of Jean Dubuffet's 'raw art', the seemingly spontaneous execution of Jackson Pollock's action paintings, and the dense compositions produced by Mark Tobey. 
Increasingly seduced by the concept of scale, Haring's work grew bigger and more impactful. Influenced by a lecture he attended by the Bulgarian sculptor Christo – who enlightened him to the potential of large-scale works like Running Fence and Pont Neuf wrapped (below) – Haring endorsed the belief that 'art could reach all kinds of people, as opposed to the traditional view, which has art as this elitist thing.' Such views gave Haring the confidence to transform his small abstract drawings into monumental works. 

French artist Jean Dubuffet and Bulgarian sculptor Christo were major influences on Keith Haring. Photos: Creative Commons