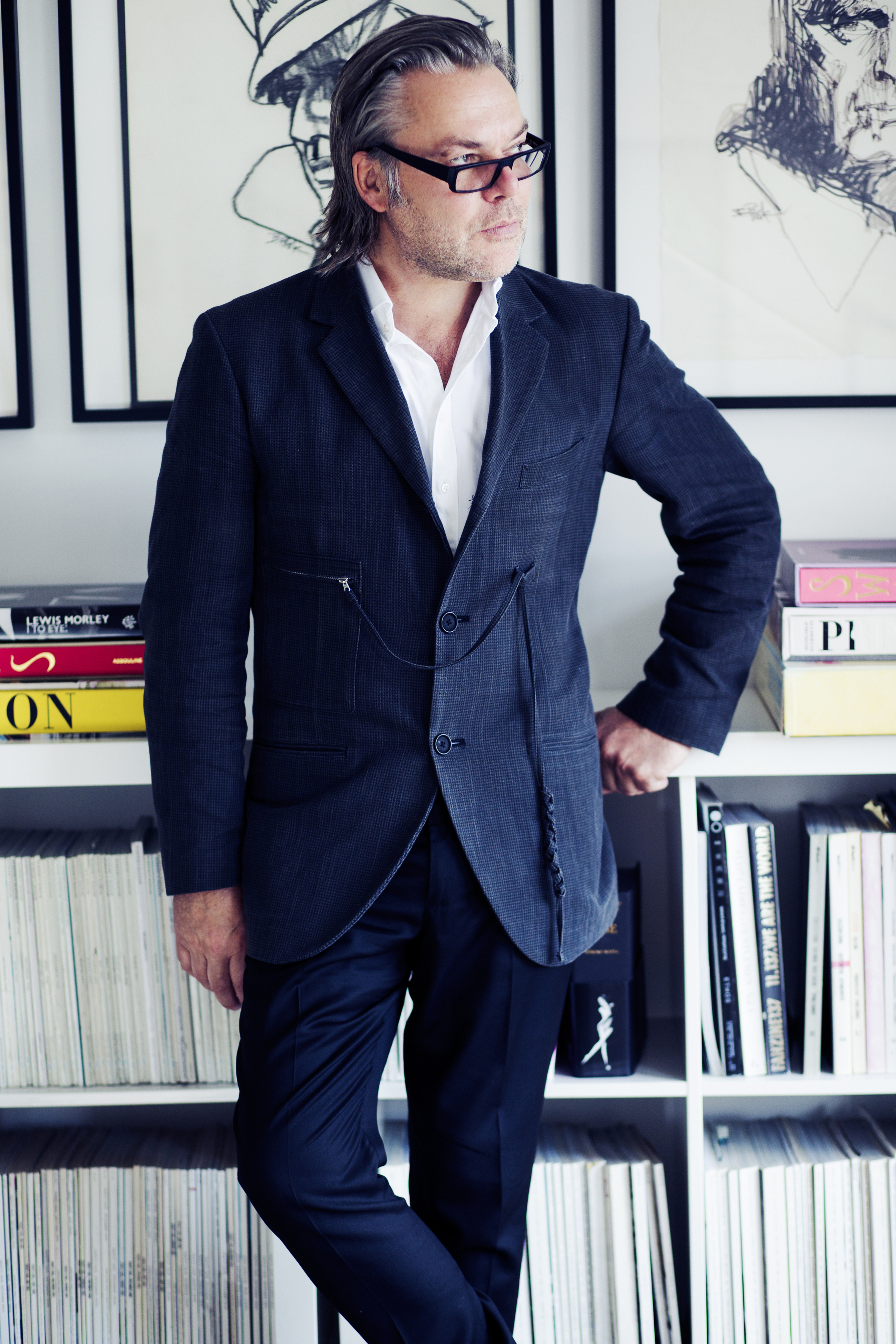 David Downton @daviddowton daviddownton.com. Photograph by Jacobus Snyman.
Over the past decade, David Downton has established himself as one of the most recognised illustrators in the fashion industry. Friend to the stars, Downton has drawn everyone from Erin O'Connor to Carmen dell'Orefice. Drawn directly from the front row at Paris Haute Couture shows, his illustrations have appeared on the pages of the world's most iconic fashion publications, including Vogue, Harper's Bazaar, The Times and Vanity Fair. So when it comes to choosing the best Vogue covers of all time, who better to ask? Here are David Downton's top picks.
"I love any drawing by Eric (Carl Erickson), Vogue's longest serving contributing artist. What confidence he had and what ease. After decades of overt stylisation his work must have looked as fresh as newly squeezed paint. He was a master of line and, according to his friend Norman Parkinson, only able to work to his own exacting standards when quietly drunk.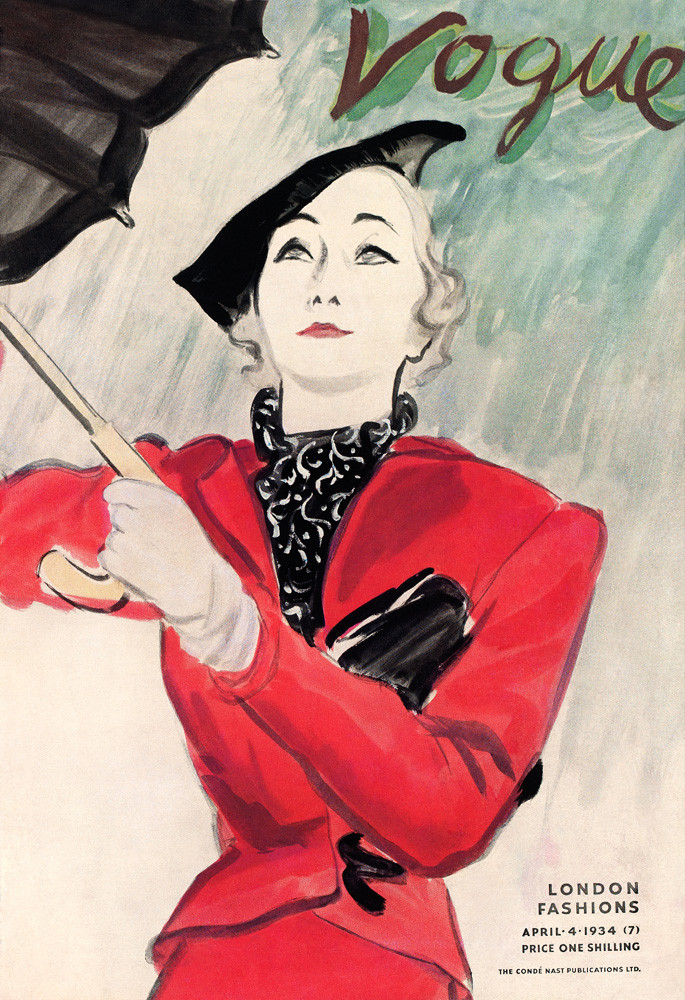 Vogue, April 4th 1934 by (Eric) Carl Erickson
Eduardo Benito's models with their Brancusi faces and Kabuki painted lips were the sirens of the Jazz Age. As shiny as shellac, they epitomised cocktail shaker chic. Note the soaring diagonals. A fan? A screen? Or just a ruse to bring cubism into Vogue's glamorous embrace.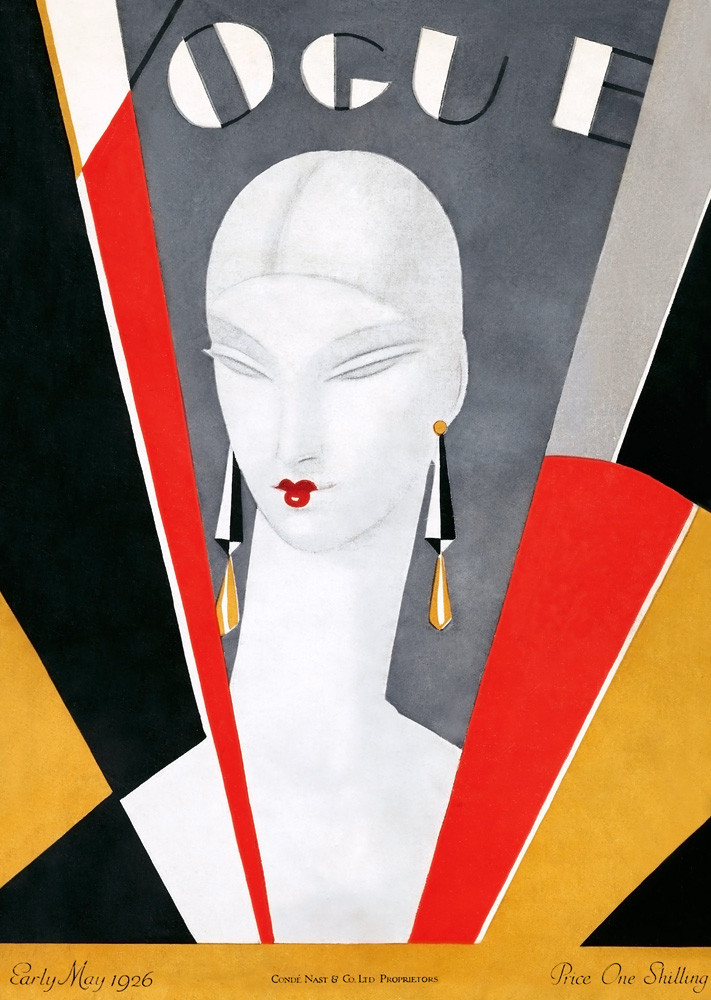 Vogue Early May 1926, illustration by Eduardo Benito
Let's step into the perfect world of André Marty, where mother and daughter, in matching scarlet, are enjoying an early evening stroll. Marty was an inveterate scene setter, he models characters in a narrative. But don't be fooled, the subtlety and quiet sophistication are underscored by a daring sense of composition (look at the way the balustrade divides this picture) and pitch-perfect control.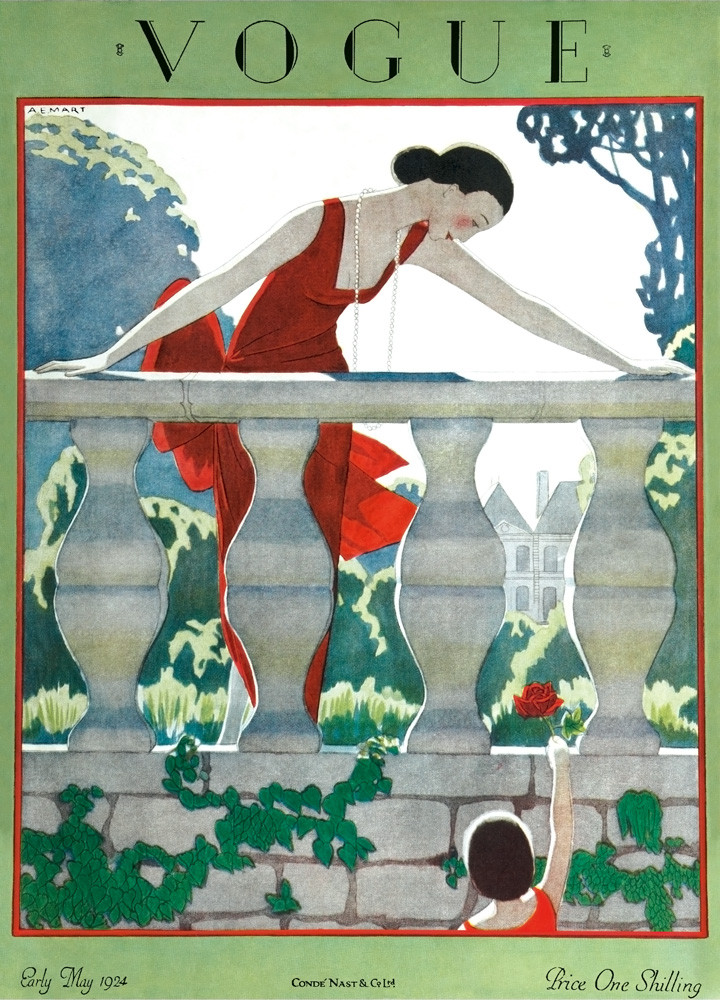 Vogue Early May 1924, illustration by André Marty
Count René Bouët -Willaumez, or RBW as he signed himself, was a Breton aristocrat who, like his great rival, Eric, had seemingly limitless facility and flair. He detailed the world of high style and high society even as he lived it, taking fashion illustration into the realms of reportage.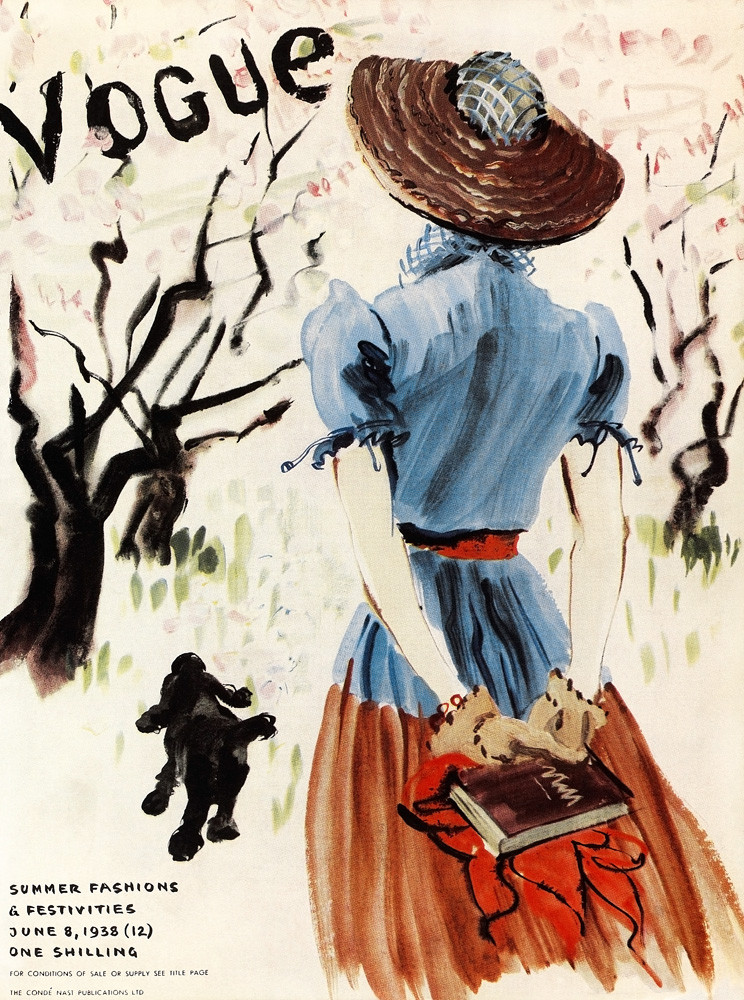 Vogue June 8th 1938 by René Bouët-Willaumez
Before photography became the dominant medium through which we understood fashion and before supermodels colonised Vogue's covers, it was up to artists to convey the mood and pre-occupations of the magazine. In this case Guillermo Bolin, has the job. How daring this looks today. Telling you nothing, saying everything.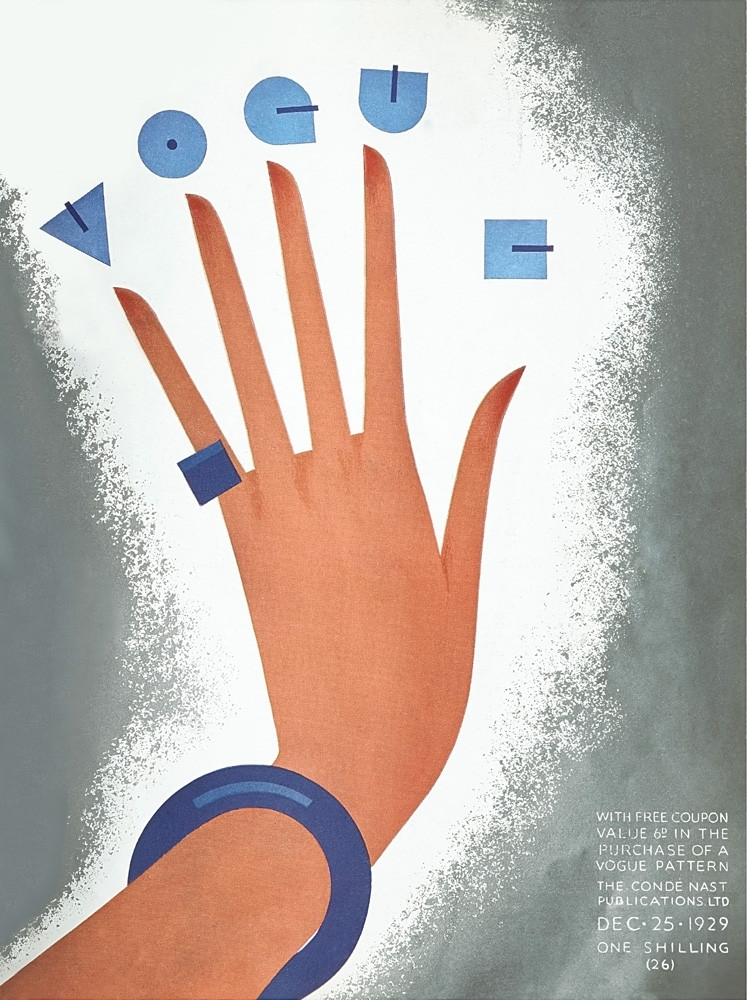 Vogue December 25th 1929 by Guillermo Bolin
Another Benito. An underwater beauty, a stylised Venus on her shell with the joyful colouration of a Matisse or a Dufy.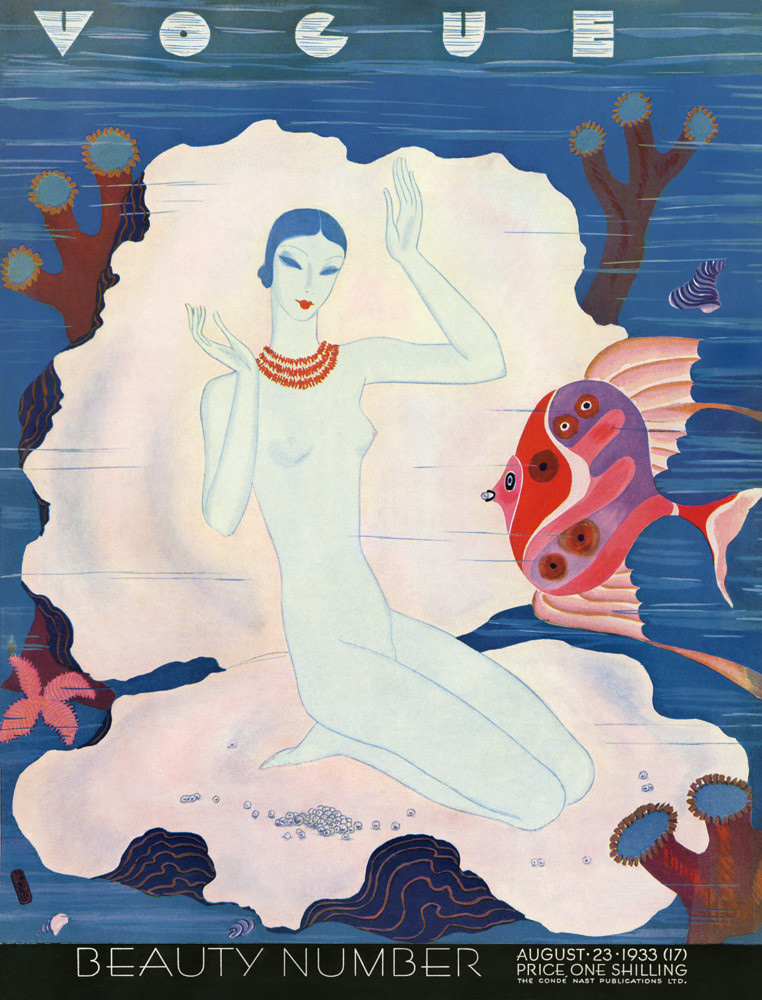 Vogue 23 August 1933 by Eduardo Benito
Georges Lepape was one of the founding fathers of fashion illustration. His work with Paul Poiret pre WW1 came to define artistry and modernism in the medium. Here is a favourite Vogue cover combining observation, stylisation and design, in which a liberated beauty poses next to her roadster, dressed for speed."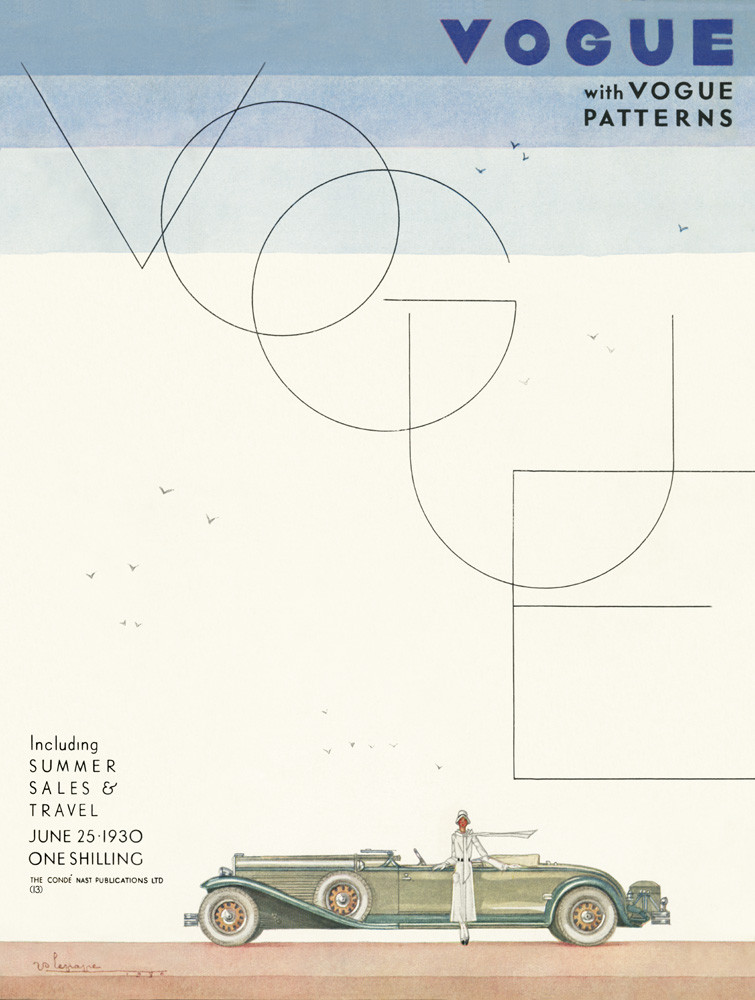 Vogue 25 June 1930 by Georges Lepape
Shop the collection