Burn's decoration of Crawford's tea rooms in Edinburgh, which contained several different restaurants, grill rooms and cafes, took four years to complete. Owing to his patron's desire for 'unity and coherence', Burns also designed menu cards, cake-stands, music programmes for the resident orchestra as well as labels and wrappers for items sold at the bakery. With the help of some of his students (most notably his protégé Phyllis Bone who went on to become the first female Royal Scottish Academician), he designed every inch of Crawford's tea rooms. Younger artists were responsible for working up his sketches into finished works of art or into measured drawings to give to manufacturers. Whilst Burns himself executed opulent panel paintings for banqueting rooms. 
In the Chinese room on the first floor, Burns based the interior design scheme around a series of panels inspired by Japanese screens of the Edo period. Using a colour palette dominated by red and black as well as gold leaf over modelled plaster, he produced an imaginative reinvention of the Spanish Armada off the coast of Scotland (photos of which can be seen here). The remaining walls were hung with oriental textiles that set off two elaborate lacquered and veneered cabinets (also designed by Burns) made by the Edinburgh firm Whytock and Reid. Travel writer Edwin Muirs visited in 1935 and described the space as 'more strange than a dream'.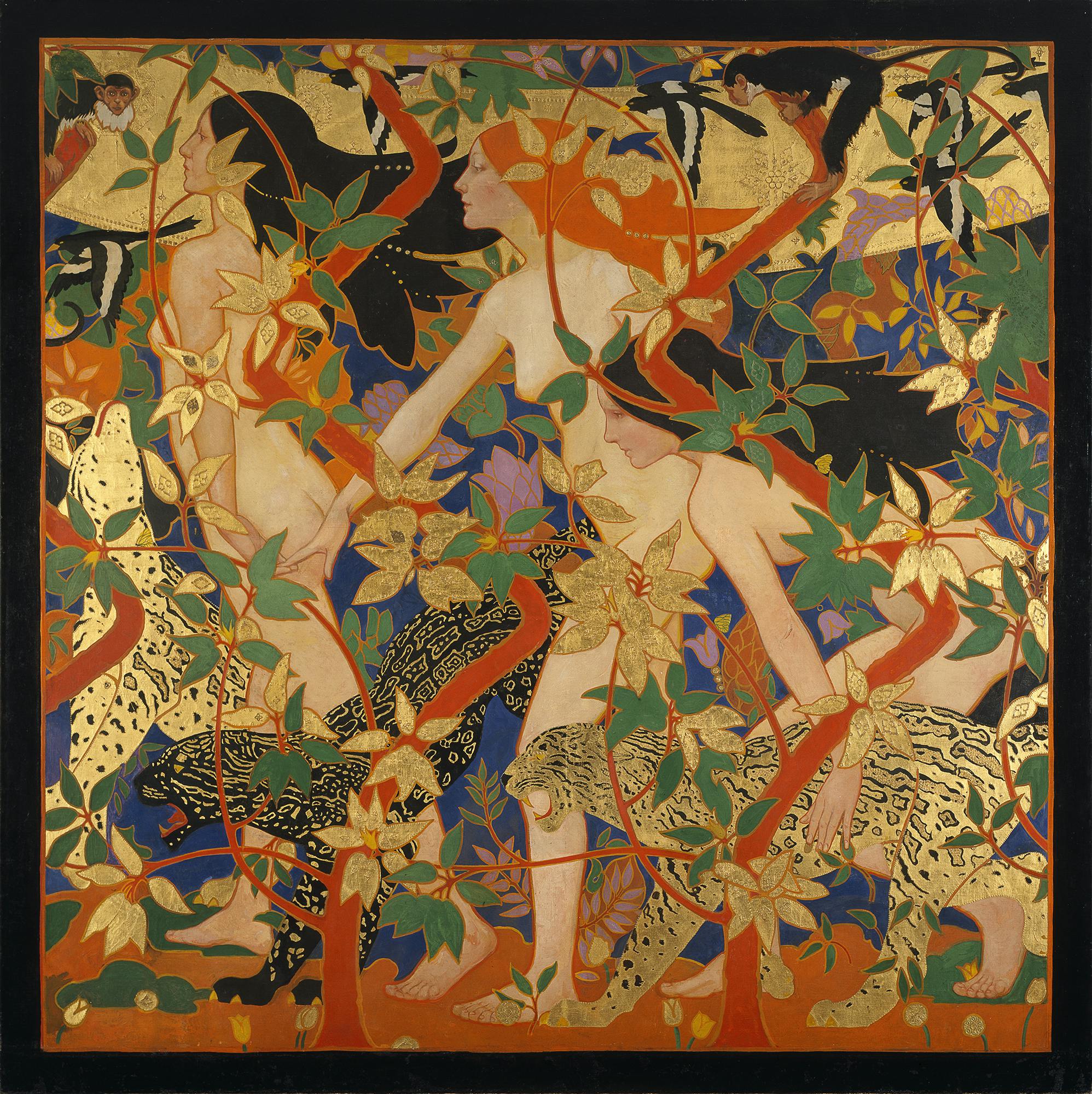 The allure of antiquity 
Often characterised by its sinuous flowing lines, Art Nouveau is widely considered a metaphor for artistic freedom – drawing on nature, dreams, and classical mythology for inspiration. Just as Renaissance, Baroque, Rococo, Romanticist, and neoclassical artists had been seduced by the allure of ancient antiquity, Art nouveau artists like Burns also revered – and reinterpreted – classical subjects. The Hunt (previously known as Diana and Her Nymphs) was located at the top of the staircase leading to the Ladies' Dining Room. The space, which also featured a Madonna and Child over the mantelpiece and watercolours depicting four Greek goddesses – Athena, Aphrodite, Hera and Artemis, representing strength, love, wisdom and purity respectively – was believed to have been designed with a theme of the worship of women. 
Ancient mythology was attractive to Burns because it was associated with inspiring heroic deeds. As the impossibly beautiful, immortal goddess of the hunt, wild animals, fertility, and the moon, Diana made an interesting subject; an ideal mythological mascot for the artistic ideals of Art Nouveau.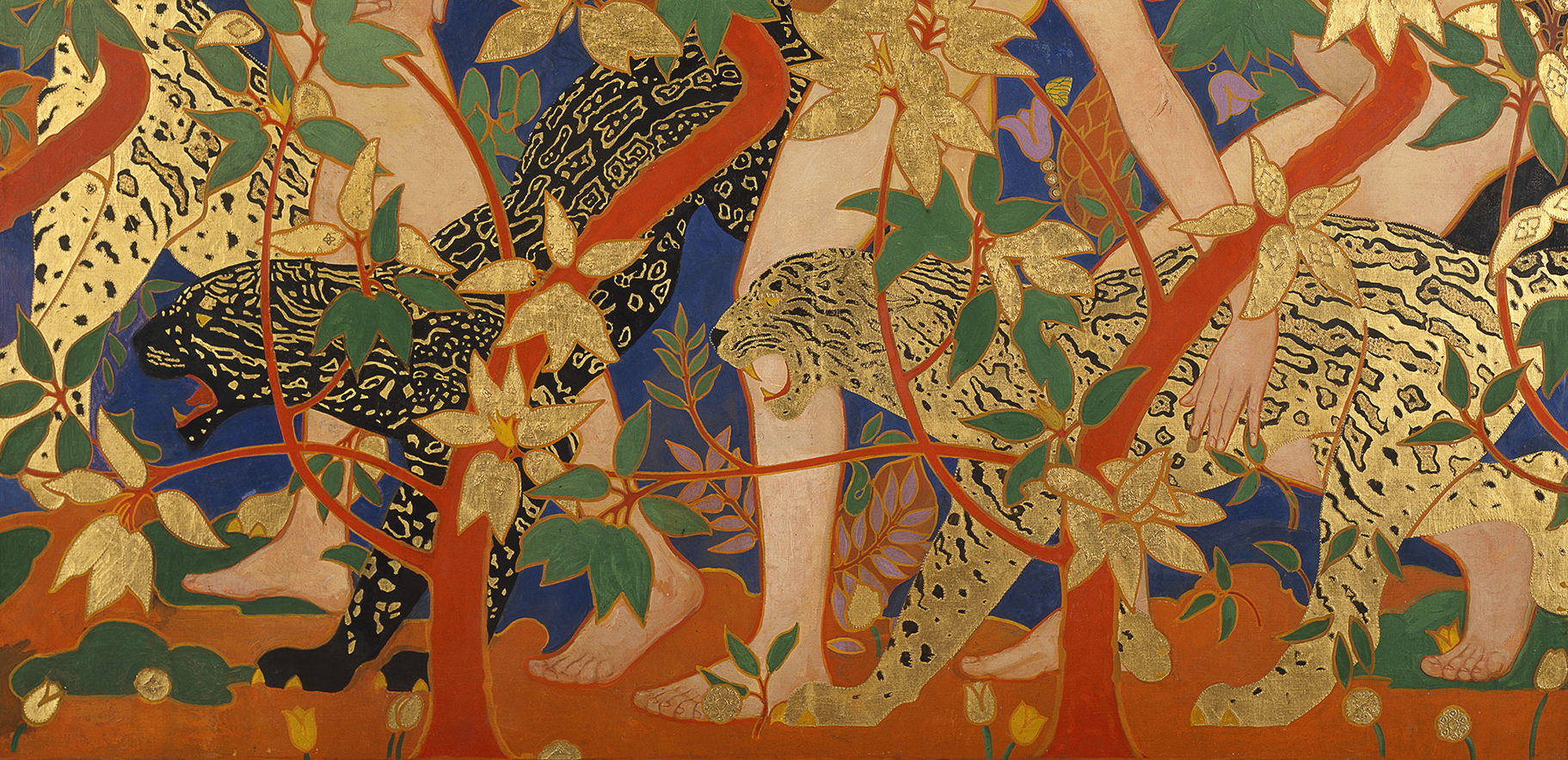 Yet, unlike his Renaissance predecessors – whose depictions of Diana often overwhelm with a sense of solemnity (see Johannes Vermeer's Diana and her Companions, 1655), Burn's Diana is graceful, yet focussed and fuelled for a fight. Accompanied by gilded gold leopards, jaguars, and white-bearded monkeys, Diana and her nymphs glide through tropical red and gold creepers, their long flowing tresses billowing behind them as magpies swoop high above their heads. An idealised scene, it is typical of many opulent Art Nouveau artworks. Fearless narratives reinterpreted for the modern day tea room visitor attempted to recall an idyllic, distant Arcadia – something so brutally lost after the bloodshed of World War I. Burn's work was optimistic, little lighthearted even with the inclusion of a tiny green car in the left hand corner, supposedly a playful nod to his own love for the exciting new world of motor travel.
A lost legacy
With his success in commercial art, Burns bought 49 Northumberland Street in Edinburgh, and converted the attic into a large studio space. However, sadly, Crawford's tea rooms was to be his last interior design commission. Though he continued to design advertisements for the Crawfords, in 1929, he suffered from a stroke which confined him to bed for six months. Today, Crawford's tea rooms look very different. In the 1960s, they were refurbished in a Scandinavian style and broken up into separate shops. The Hunt is one of just a handful of panels to have survived. The original now resides in the safe hands of The National Galleries Scotland.