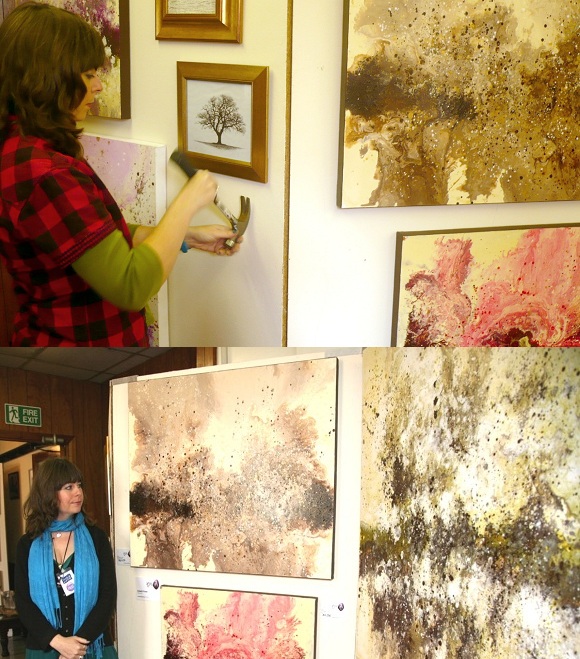 Top: Elizabeth preparing her artwork for display Bottom: Beaming with pride, photograph courtesy of Mr Clough at Melbourne Village Voice
Queen of comic tweets and Easyart Academy artist, Elizabeth O'Connor studied across a range of art disciplines in Nottingham. Her work with ceramics and admiration for the forces of nature inform her canvases. Personally, they remind me of explosions, molten lava and the marbling that you find in the inside covers of 19th Century novels. Elizabeth was also lucky enough to have her work featured in the Gurinder Chadha film 'Angus, Thongs and Snogging' in 2008.
Here she recounts, in hilarious detail, her experience of The Melbourne Arts Fair in September 2011:
A feature of the Melbourne Arts Festival is that residents and businesses open up their properties to the viewing public. Every year some of the stylish properties really lend themselves to the artists' work on display. Other artists, however, might not be so lucky and run the risk of being placed somewhere like a funeral parlour.
So, here I am setting up in the funeral parlour. It's a dazzling pine clad homage to the 70s. It's also slightly reminsicent of Twin Peaks, but with somebody putting out tea-light holders. I do my best setting up with the little natural light available, combined with flourescent tube lighting, thankful I'm not setting up in the next room with a large freezer humming, like another artist that's sharing the parlour with me…

Truffle Art Print by Elizabeth O'Connor
I then spy something that puts it all in perspective. A big squashy sofa! Joy of joys! The importance of this can't be understated when I'll be spending seventeen hours in one place over a weekend. At least my backside is winning.
And now it begins. The amount of old people entering the building is mildly alarming and I'm uncertain whether they're checking out my paintings or the funeral parlour. I also can't help wishing I was offering a walking stick decorating service. An old lady comes up to me, showing interest in my pen drawings of local scenes which she had seen at another exhibition. She's very relieved I am not in the other room with the freezer hum, as that is where she last saw her husband.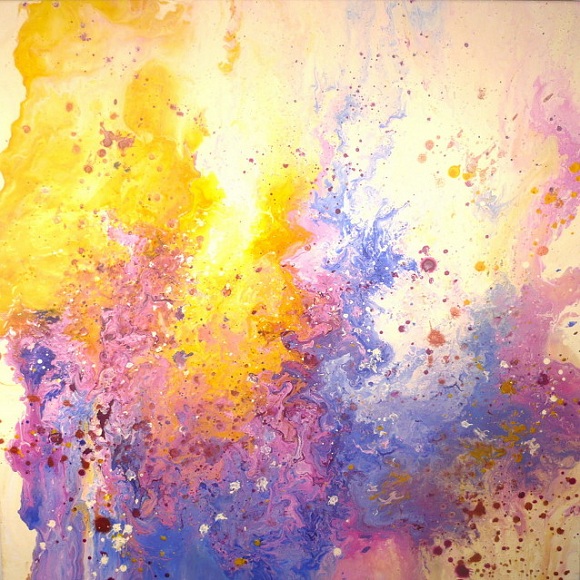 Acid Pop Art Print by Elizabeth O'Connor
Meanwhile, my card stand is being steadily ignored at its current location in the windowsill. My daughter suggests mounting it on the display board in front of us. We move it and promptly sell two. She is swiftly promoted to 'Head of Card Sales'. A man who commissioned a painting from a previous festival popped in to tell me that he absolutely adores it and is currently trying to find nicer spot lighting to show it off – his praise is the sort of thing that makes events like this worthwhile.
The day lengthens, indeed at a funeral pace. Then younger people start to come in. I nearly sold my largest painting to a lady who loved the pale green and cream colours in it. She really wanted to buy it, but her partner put her off by saying it was too big (thanks!). I resisted the temptation to say that large paintings can actually make a small space look larger, but I think it's true.
Overall, it was a lovely weekend and the sun eventually came out. I gained some commissions and sold a piece in the last five minutes before packing up. I've met some lovely people and look forward to what location I'll get next. Thankfully I make a much better income out of selling my work online and through personal contacts.