In a world dominated by disposable clothes and fast trends, upcycling and re-fashioning garments are having a hip revival. Whether swishing, stitching n' bitching, or tuning into the Great British Sewing Bee, slow fashion has become à la mode. But, what is now a conscious fashion decision was, during the Second World War, a necessary way of life. In an inspiring exhibition at the Imperial War Museum, 'Fashion on the Ration: 1940s Street Style', looks at what it took to stay chic on the home front in wartime Britain. To celebrate the exhibition, we're running a competition to give you the chance to win two tickets plus a hand-finished print of the famous 'Make Do and Mend' poster. See competition details here.
With resources and raw materials needed for the war effort, clothes rationing quickly came into play in 1941, limiting the options for buying new clothes. Newspaper columnist Molly Panter-Downes wrote at the time: "This morning the President of the Board of Trade came on air to announce the imminent rationing of clothes, thereby ruining the Sunday breakfast of millions of women who regretted not having bought that little outfit they had dithered about the other day."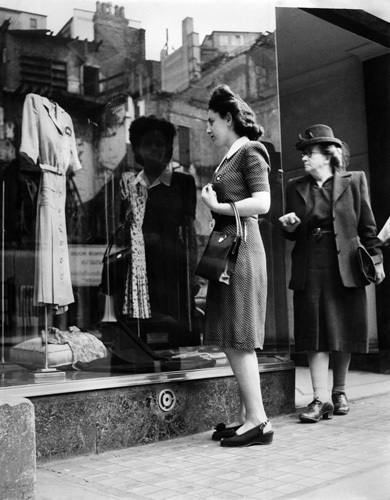 Clothes Rationing Birmingham, 1946 – Mirrorpix
Everyone was encouraged to 'make do and mend', to be inventive and alter, recycle, as well as make new clothes. But it wasn't all drab overalls and identical clothing, in fact, it was quite the opposite; out of limitation, creativity was born. While people found new ways to reinvent their clothes and adapt what they had, individual style didn't just survive, it flourished. Amongst the exhibits is a bridesmaid dress made out of parachute silk, a set of underwear made for Countess Mountbatten from an out-of-date RAF silk map, and a bracelet re-fashioned from aircraft components.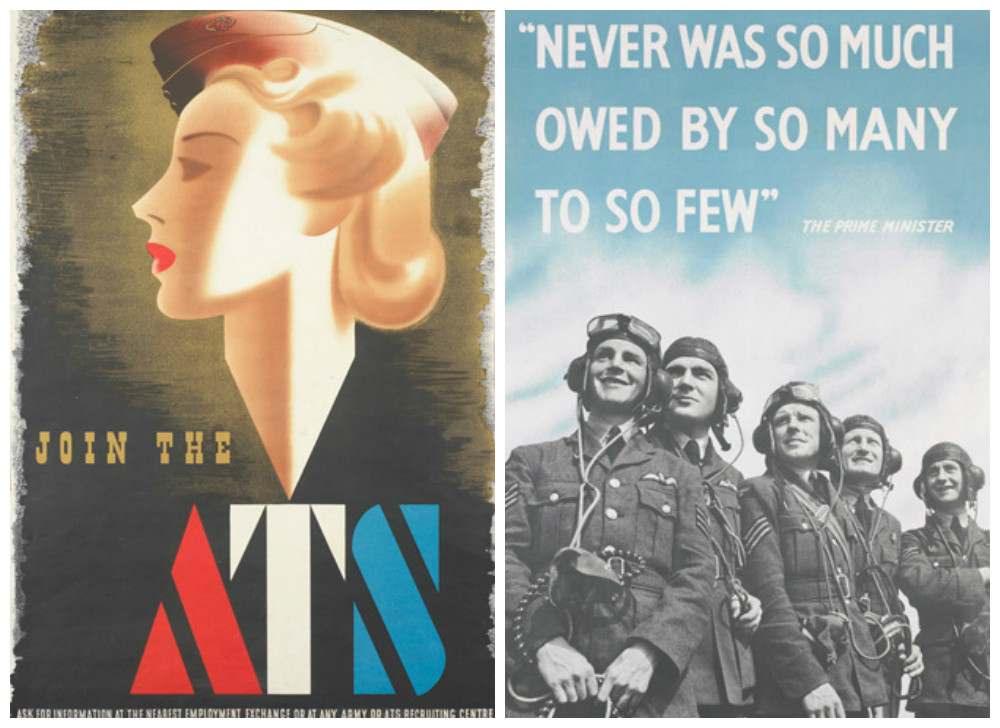 Join the ATS – IWM | Never Was So Much Owned by So Few – IWM
Split into six sections – Into Uniform, Functional Fashion, Rationing and Make Do and Mend, Utility Clothing, Beauty as Duty and lastly, Peace and the New Look, the exhibition is small but perfectly formed. But, it's not just an exhibition about fashion, far from it; it's about strength, humour, hope prevailing in times of adversity and the collective spirit; clothes brought women together – whether through wearing uniforms, sharing wedding veils or joining make do and mend classes.
It's also an exhibition about advertising and the power of editorial in pushing new trends and developing new ideals.
"During these rather difficult days it is not only a woman's pleasure to look her best – it's her downright duty as well," read one advert by Bear Brand Stockings. While Vogue's pithy comments revealed an attitude that nothing, not even war shall get in the way of style: "Wardrobes are shrinking fast, and the smaller they become the more perfect they have to be."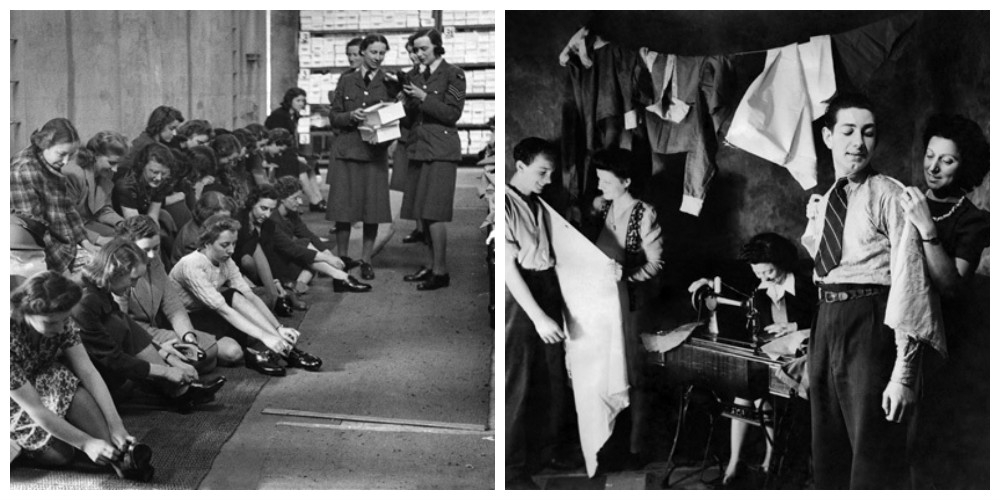 WAAF Shoe Shop, 1941| Burns Utility Club, 1944
And finally, it's a lesson in consumerism. Tired of being functional and having to ration clothes, Dior launched its bold 'New Look' in 1947, which offered women the chance to play around with luxury fabric and high-end fashion once again. Conspicuous consumption came back into style, and we haven't really stopped since. The exhibition ends with a video installation featuring leading fashion commentators, such as Great British Sewing Bee's Patrick Grant and fashion historian Amber Butchart, who discuss the legacy the Second World War has had on fashion – yes, we have far more choice, and far fewer restrictions, but have we lost individual style and the creativity that was born out of restraint?
Perhaps it's time to reflect on the fast-fashion culture we've built, and embrace a return to slow fashion and creativity.
Fashion on the Ration is at the Imperial War Museum, London until 31 August
Competition Time!
Want to see the exhibition for yourself? We've teamed up with the Imperial War Museum to offer one lucky person a chance to win two tickets to the exhibition plus a hand-framed Make Do and Mend print. To enter, head to our Facebook.