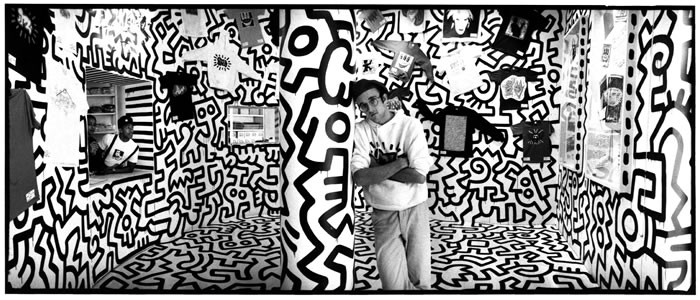 Keith Haring in his New York Pop Shop. Photographed by Charles Dolfi-Michels, image courtesy of the Keith Haring Foundation.
In the 1980s, Keith Haring was quickly accepted into the art establishment but as his fame rose, so did his prices. Disillusioned at the thought that his art would no longer be affordable to the majority, the street artist created his Pop Shops (one in New York and one in Tokyo) to let his art become part of the mass culture instead of being confined to the elitist art world.
"My work was starting to become more expensive and more popular within the art market. Those prices meant that only people who could afford big art prices could have access to the work. The Pop Shop makes it accessible." – Keith Haring
Visiting the stores was an immersive experience – Haring had painted the shops' walls, floors and ceilings with one continuous mural and filled them with products emblazoned with his designs, from T-shirts to magnets – the shops were literally an extension of his work.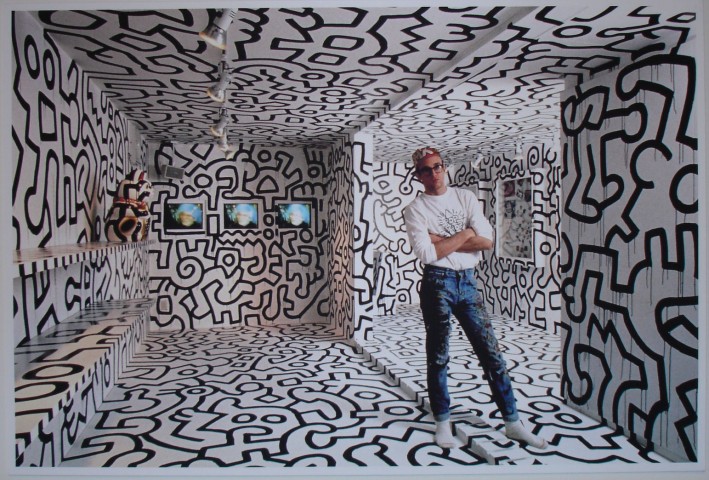 Keith Haring in his Tokyo Pop Shop, photographed by Tseng Kwong Chi. Estate of Tseng Kwong. Chi
The New York store opened in downtown Manhattan in 1986 and was run by a larger than life character called Bipo, and became the place to be – with some of the most famous faces of the day visiting, from Madonna to Warhol. While the Tokyo shop closed in 1988, the Manhattan store only stopped trading in 2005, after almost 20 years of business. Recently, the Pop Shop was reconstructed for Tate's 2009 exhibition Pop Life: Art in a Material World.
In partnership with The Keith Haring Foundation, we've put together a collection of the artist's most iconic works, including some of his early Subway drawings, which are faithfully reproduced with the approval of the Foundation. Proceeds from sales of the prints go into supporting the brilliant work the Foundation does to protect the artist's legacy as well as support AIDS charities and educational organisations for underprivileged children, as was Haring's wish.
Shop Keith Haring's art