Where did you grow up and did it have a bearing on your work?
I grew up in Scotland in the city of Glasgow.  Most weekends we went as a family to Inchmurrin Island on Loch Lomond, only a 40 minute drive away. Dad had an old diesel engine boat and we'd chug across the wide open loch with Ben Lomond right in front of our eyes. I think these memories just stay with you.  
Describe a working day …
I start around 9.30am with pancakes and coffee assessing previous work.  I find I have to be looking and looking before deciding upon the next move and I always have a lot of pieces on the go.  My sketchbooks are numerous – hundreds of them - and so I am never short of ideas and memories.  I paint and draw every day.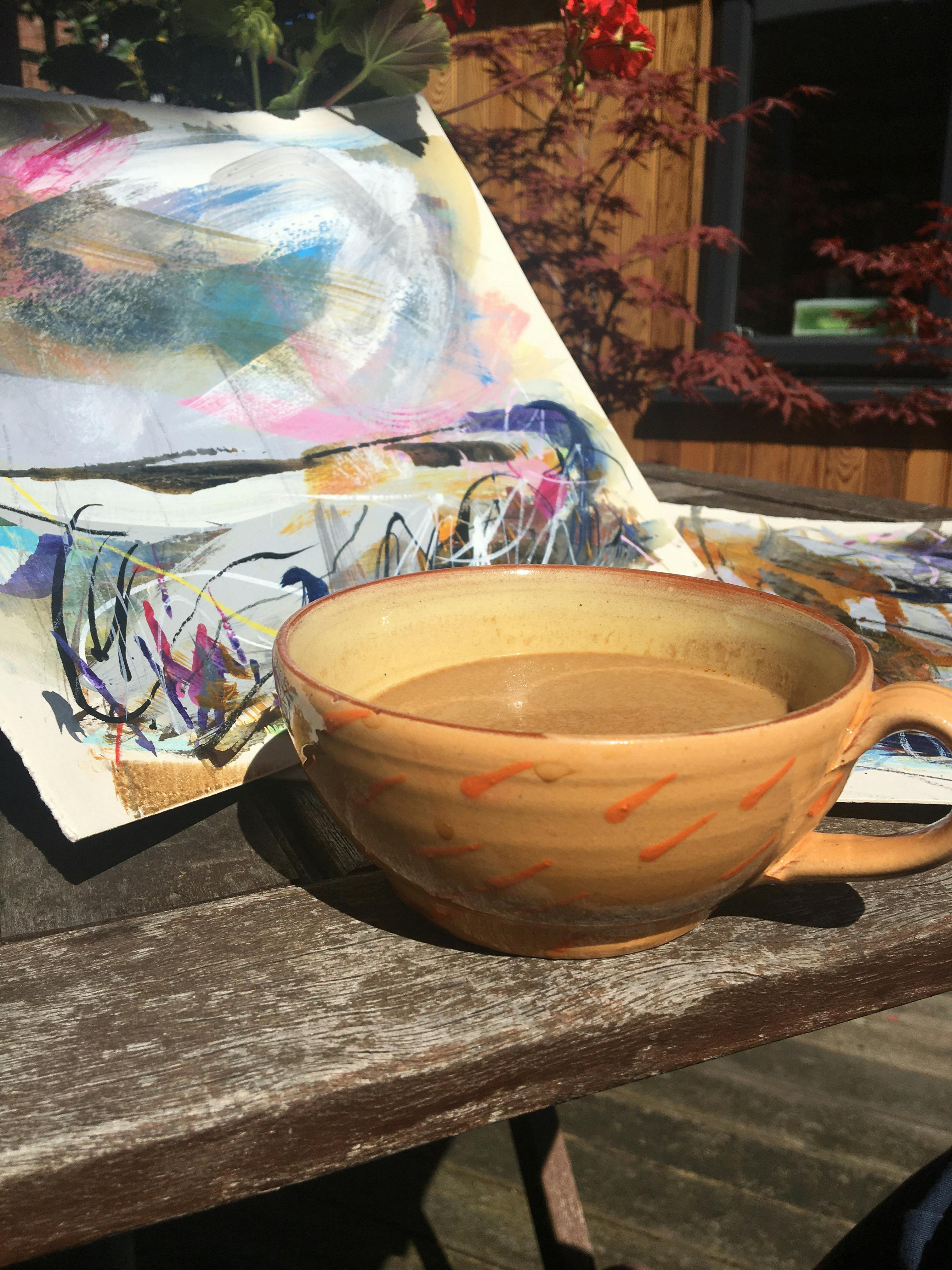 Where do you work? 
Two studios. My garden studio is a lovely purpose built cedar-clad room. My York town studio is a shared space in an 18th Century printworks building.  Art can be a lonely business, so I relish the chit-chat and feedback from my colleagues.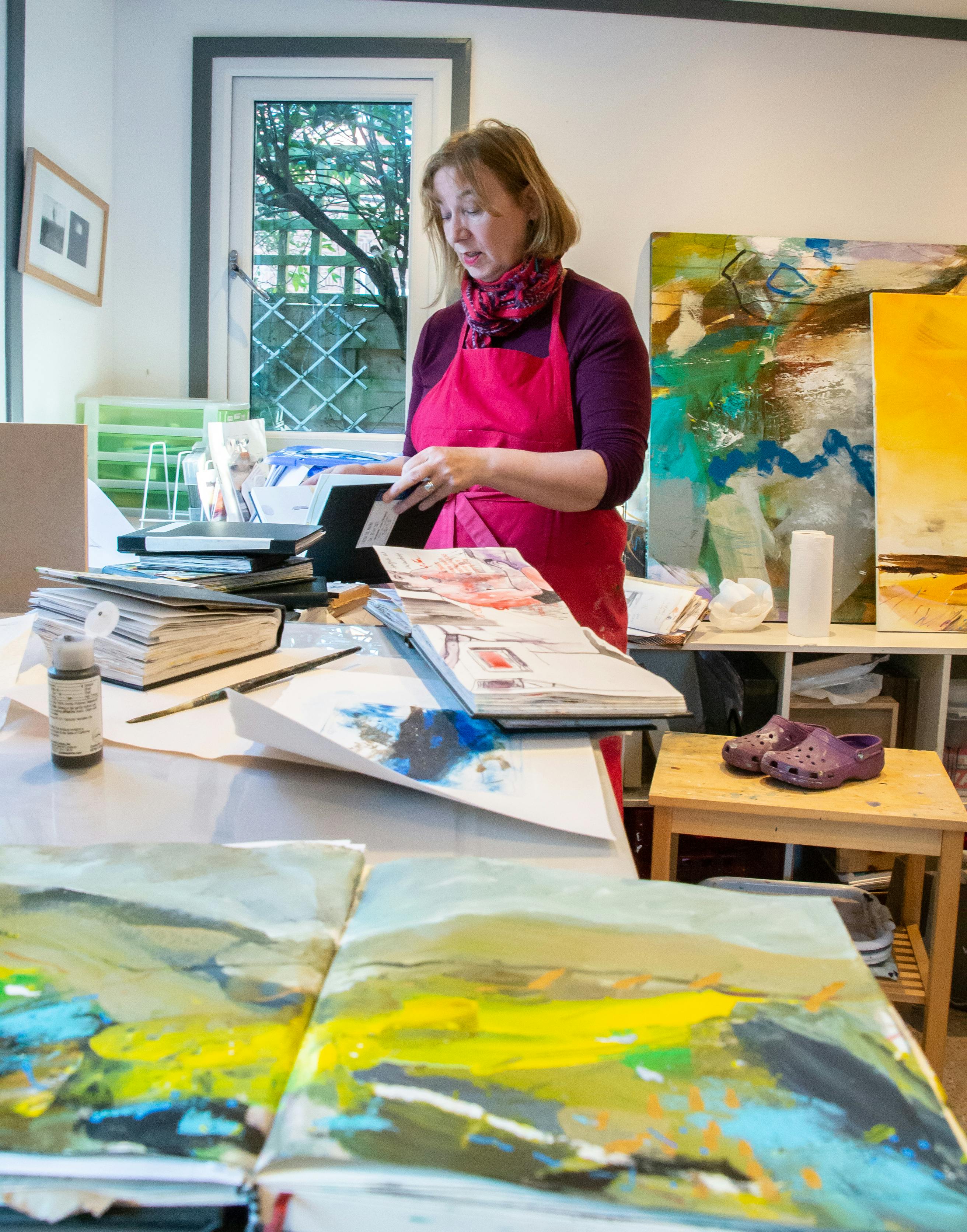 Have you had any previous jobs? 
Musician, Teacher.
What music do you listen to when you are working?
William Fitzsimmons and Foy Vance.
Do you have a favourite painting outfit? 
I'm often slagged off for wearing crocs!  And I love a hat.
What piece of equipment can't you do without?
A lovely wide brush.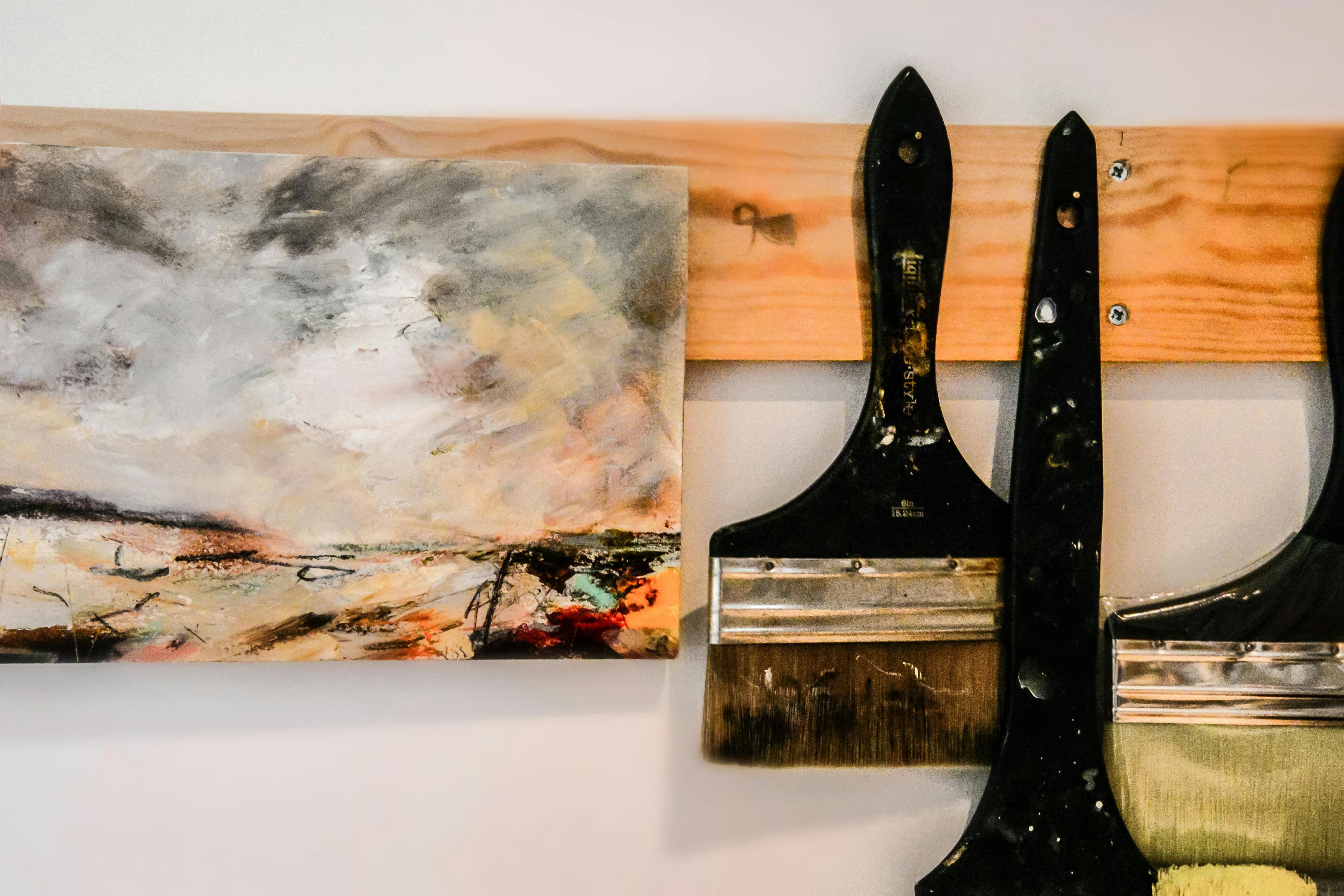 What is your main theme and inspiration?
Nostalgia is a major theme for me.  The paintings are more about my feelings looking back and my emotional connection.  I'm very inspired by colour, sounds and the feel of the air around me. I particularly love an empty beach with the roar of the sea.  But woodlands have featured in my work too, after an art residency in the Welsh forests of Corris and trips to Ireland and Cornwall too.  At these times, I create on-site sketches in watercolour, gouache and crayon.  These act as an aide-memoire for later in the studio.  I have this theory that the landscape of your childhood is embedded somehow in your being and certainly, for me, it feels a bit like that.  So I'm really attracted to wild, empty places. But I don't like to present a literal impression - just the feelings of my personal experience of a place.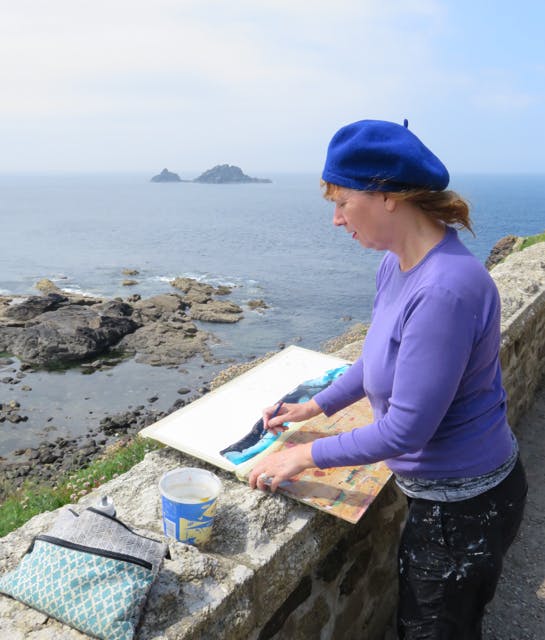 What do you enjoy most about being an artist?
My main joy is in the expressive brush mark, painting what I feel through the flow of paint, soft or textured, opaque or transparent.  I'm amazed by the fact that certain colour-combinations, marks and movements can convey an atmosphere - that is the joy of painting for me - that exciting moment when materiality and emotion meet, the same moment as the resolution of a hanging chord.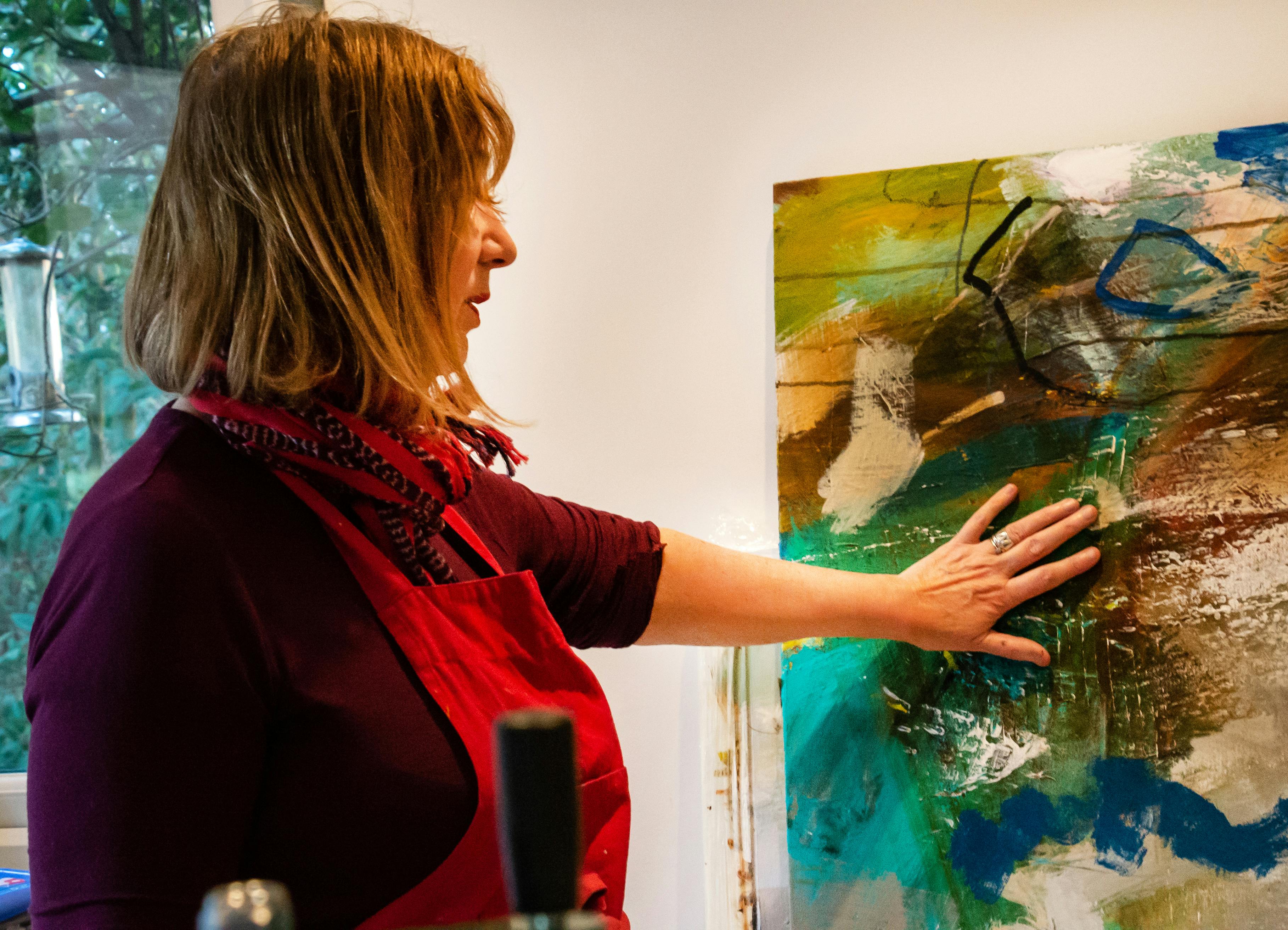 What art do you hang on your walls at home?
I have a couple of John Bellany's drypoints, printmaking by David Parfitt and Rosemary Vanns and I was lucky enough to pick up a small collage by Daisy Cook recently.  My own work is all over my home plus beautiful lino work and a ceramic plate by my studio mate Mark Hearld.  
What was the last art exhibition you went to see? 
At The Royal Academy Finnish painter Helene Schjerfbeck just blew me away – It was her portraits – so full of feeling.  You can be so moved and inspired and learn so much from visiting shows – I notice the application of paint, the colour-mixing, the space, the line work.
What have been your highlights or biggest achievements so far?
I worked with Dunesforde Vineyard to produce a painting for their first cold-climate wines.  Sketching out in the vineyard was a lovely experience.  And the wine I pretty good too! I have a painting in the Royal Marsden Hospital Collection.  And I'm a founding member of PICA Studios.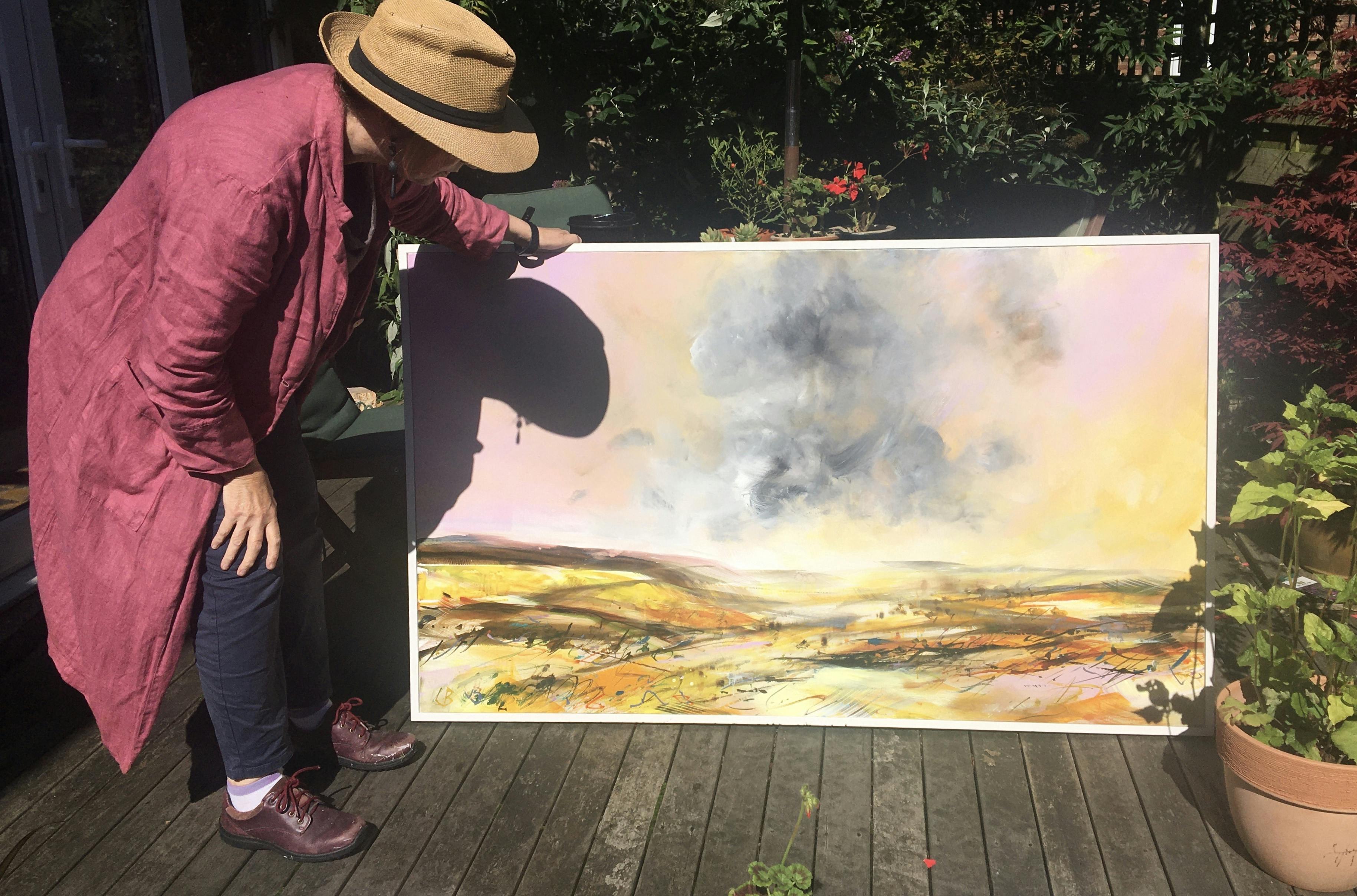 How would you describe the life of an artist in just 3 words. 
Enlightening.  Exhilarating.  Emotional.
What advice would you give to younger artists just starting out?
You have time. Use it. Experiment. Play. Read. Work. Talk to other artists.
What are your thoughts on social media? 
Loving Instagram.  And a wee bit of Twitter too.