Meet Brighton-based, Jessie Ford – the face behind the children's illustrations of Sugar Snap Studio. With a BA from the Bath School of Art & Design, Jessie kick-started her career in London's big smoke, working as an agent at the Central Illustration Agency. Now she illustrates full time from her studio in the seaside town of Brighton, illustrating everything from advertising campaigns for Fairy Liquid bottles, to packaging designs for Mothercare, to her very own children's picture book all about cats. We caught up with Jessie to find out the inspiration behind her fun and quirky illustrations.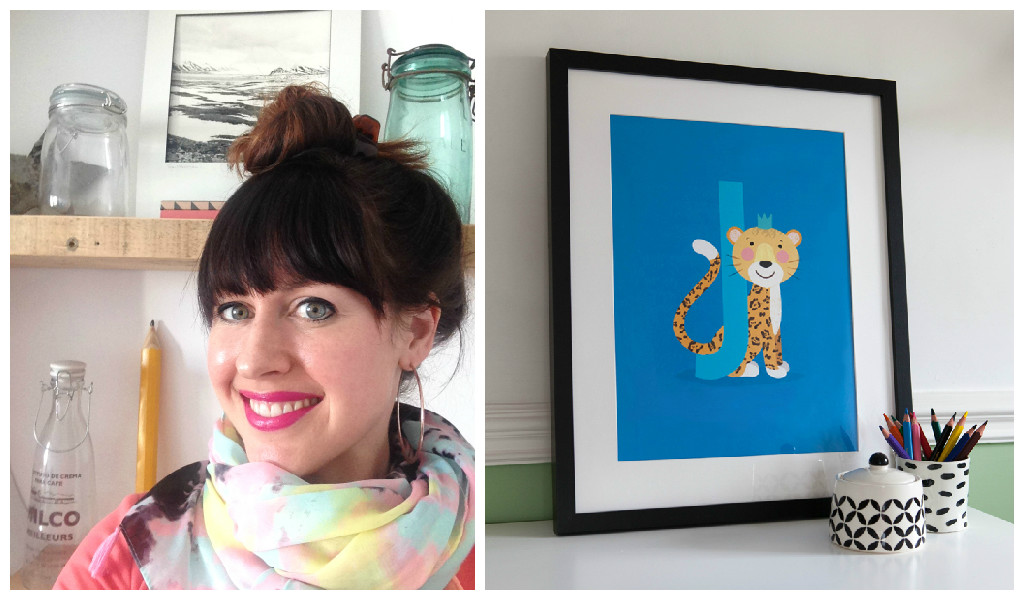 Jessie Ford in her studio | J is for Jaguar print
When people ask what do you do, how do you answer?
I'm very proud to tell them I am an illustrator! Which is usually met with the "so you draw cartoons?" "Er. No, not quite…" I love being an illustrator – being paid to create funny little characters is a pretty fun job!
How do you start your day – are you a morning lark?
I'm a morning lark, without a doubt. These days, I like sunny days rather than late nights. I live in Brighton, so I like to go for a walk along the seafront before work. It never fails to make me feel really happy, and it's good for blowing any drowsiness away. I listen to fun music or call a friend for a catch up whilst I'm walking.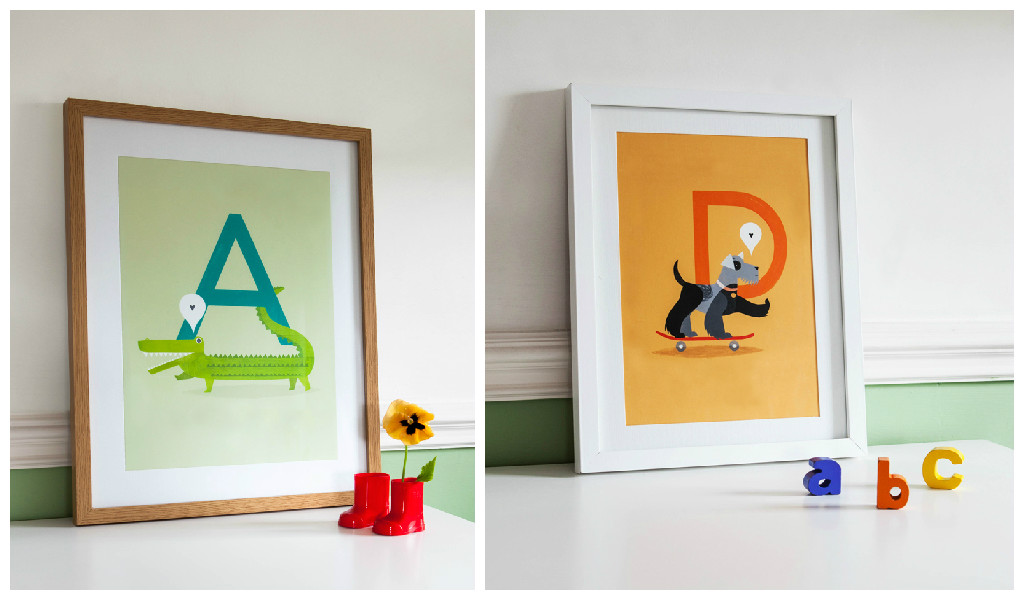 A is for Alligator print | D is for Dog print
Describe your style.
My style has a handmade feel to it – with lots of texture and bright colours. I hand cut and hand draw the elements, before scanning the pieces in and composing it using Photoshop. I spent most of my university days silkscreen printing, which you can see reflected in my illustrations, although nowadays, it's all digital to speed the process along. Occasionally I still create work the old fashioned way, but it's more of a hobby than anything else.
What influences your work?
I love retro themed artists, the work of Mary Blair, Charley Harper, Sara Fanelli and Adrian Johnson, to name a few. I'm obsessed with colour and I'm always on the hunt for new colour combinations. My studio is brimming with nice pictures I've collected, and bits of textured paper or patterns that I think could work well in my work. I am a total magpie.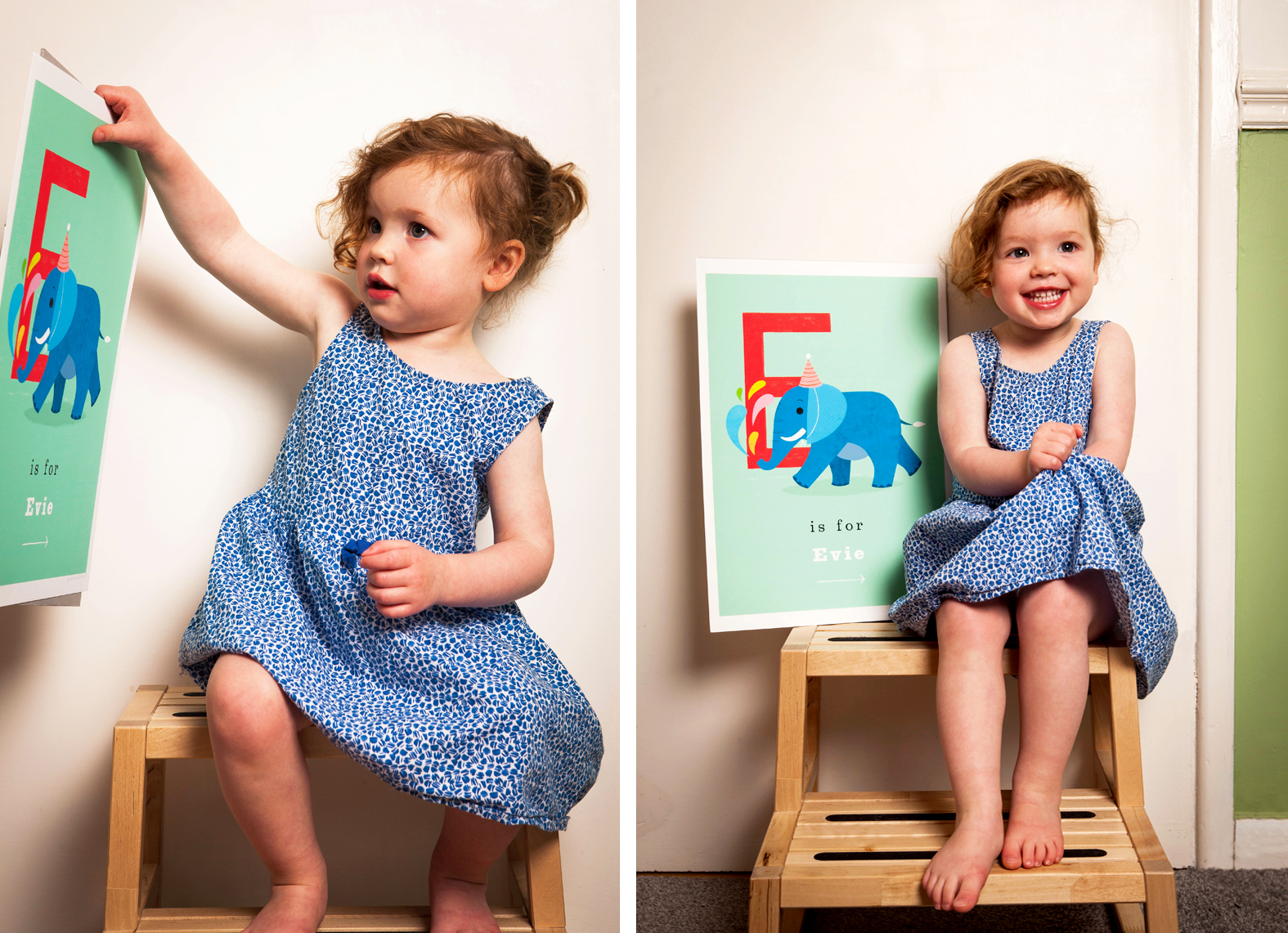 E is for Elephant print – Sugar Snap Studio
How important is it that your illustrations put a smile on people's faces?
Very important! I do lots of markets, selling my prints and gift items, and I love seeing people's reactions to my work. It's really rewarding to see people looking happy whilst they look at my designs. Even better, is watching kids' reactions – it's such a buzz to see them amused at what I've produced.
What's your studio like?
Very colourful and cheery. I share the studio with lots of lovely people, so it's a very happy place. I have my art and inspirations on the wall, and a collection of all my books that I've worked on, all stacked up on the fireplace.
Are you a coffee or tea person?
Tea every time! I actually don't drink caffeine, so I'm a bit of a herbal tea connoisseur.
Where do you escape to?
My favourite place in the world is Mexico – so colourful and vibrant. I've escaped to there a few times and really, really love it – but a bit closer to home my choice would be my parents' home in the beautiful Cotswolds. I am a true country bumpkin at heart.
And finally, what fun projects are you working on?
I've just finished working on a really fun project with Bristol's Colston Hall, for its Hoo Ha Festival programme. It's a dream job – creating lots of characters doing silly things! One of the highlights of 2015, has been illustrating a book for the St John's Ambulance, to educate parents on how to save a choking baby – it ran alongside the animation 'The Chokeables'. It was a really rewarding project to collaborate on.  At the moment I'm working on a fun branding project with Lamb & Bear, and I've just started my new kids book – a book about cats.
Browse More Sugar Snap Studio Prints