All that sparkles
As the economy boomed in Gilded Age, the upper echelons of society reflected their new-found status with extravagant fashion. There was a steep rise in the demand for precious gemstones as socialites sought ever more opulent outfits and accessories.
Jewellery houses, such as Tiffany & Co, founded in 1837, prospered. In 1879, the company purchased one of the world's largest yellow diamonds, now known as the 'Tiffany Diamond'. The one-of-a-kind gemstone has only been worn by four women – one of which was Audrey Hepburn during a series of publicity photographs taken for the 1961 film Breakfast at Tiffany's. 
In previous years, guests have worn all manner of decadent diamonds to the Met Gala. In 2021, Rihanna made an unforgettable entrance (albeit four hours fashionably late!) wearing 267 carats of Bulgari diamonds. In the same year, model Kendall Jenner wore an eye-popping naked-look jewelled Givenchy dress, actress Zoë Kravitz wore a breathtaking netted crystal Saint Laurent dress and, inspired by the Statue of Liberty, poet and activist Amanda Gorman's wore a pair sapphire and diamond drop earrings.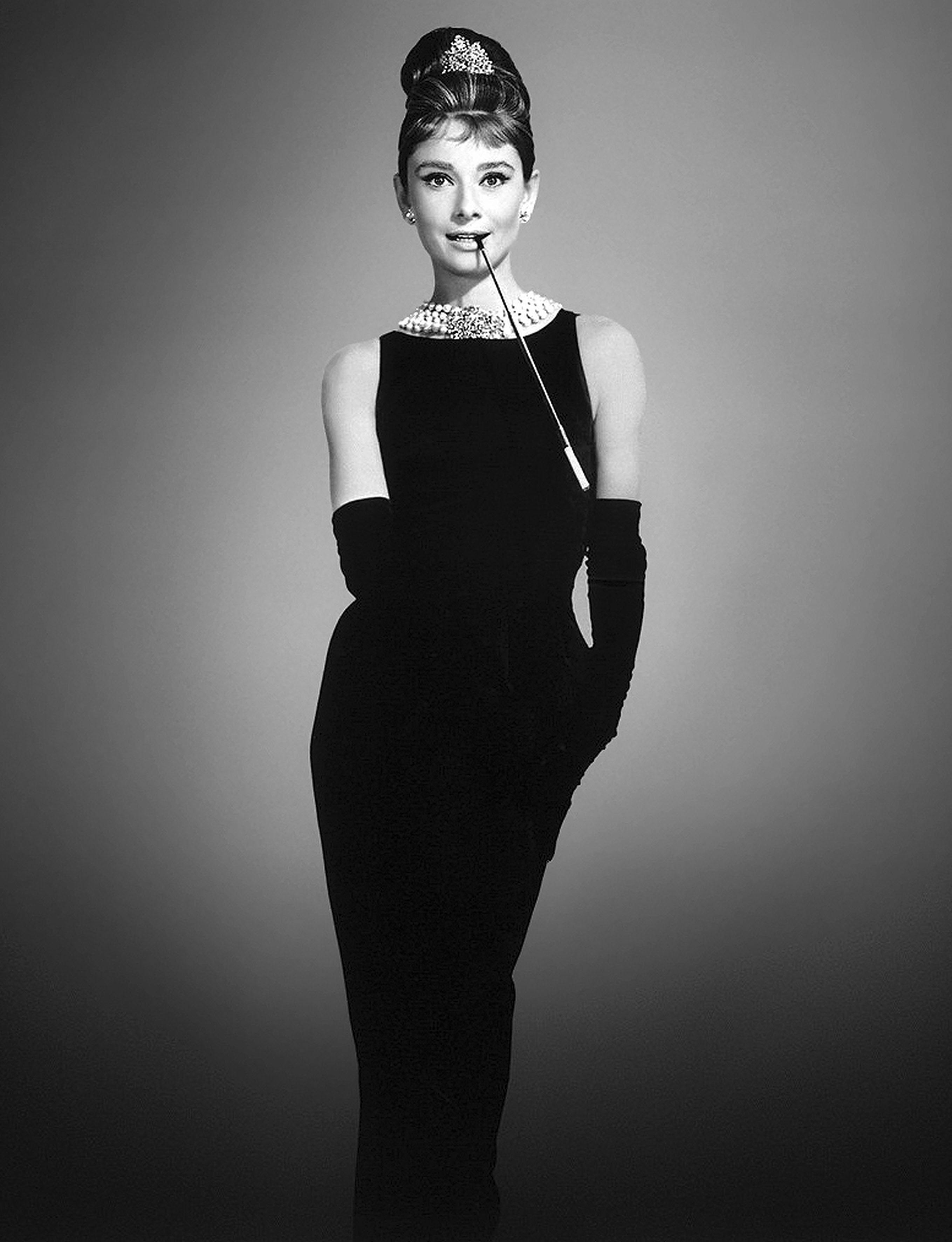 Audrey Hepburn, Breakfast at Tiffany's 1961
Costly couture
As wages sky-rocketed in the Gilded Age, New York socialites draped themselves in luxury textiles like silk, satin, velvet and elaborate lace. Clothing represented status and, back then, inspiration came from fashion illustrations seen in aspirational periodicals.
Designs by the little-known female illustrator for Vogue, Tatler and Vanity Fair, Gordon Conway, epitomised contemporary trends. In A Gown for Winter Festivities, a tall redhead gracefully descends a staircase wearing a green chiffon velvet gown with blue silk net ruffles. An acquaintance below her styles a patterned yellow coat made from brocaded lamé (a woven fabric with thin ribbons of metallic fibre) with a flamboyant, off the shoulder ermine collar. 
The Met Gala's red carpet has a history of creating costly and outlandish outfits including Rihanna's high-fashion Margiela pope headdress, and Katy Perry's six-foot-high Versace angel wings to match her gold lamé minidress and thigh-high boots.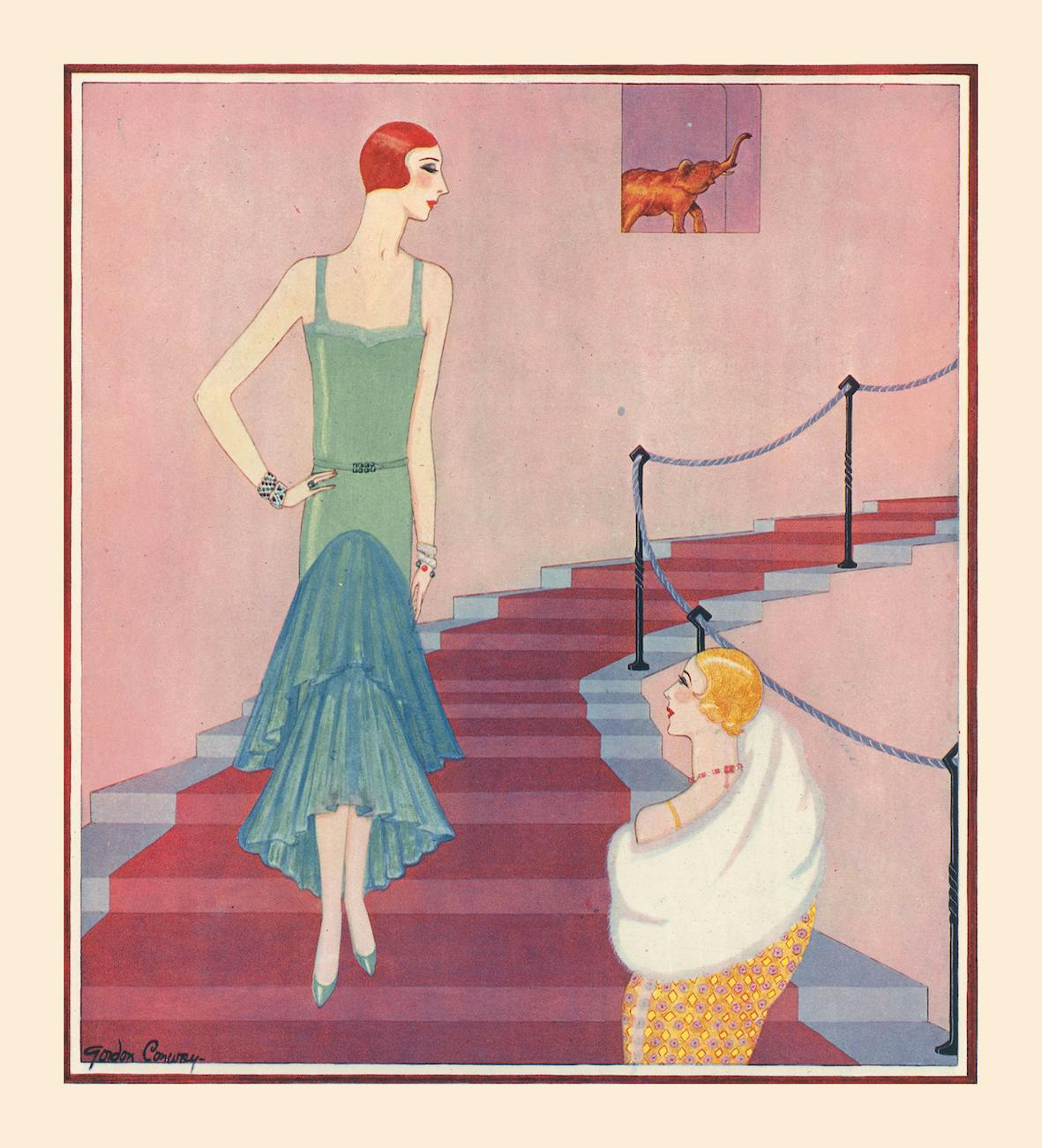 A Gown for Winter Festivities, 1929, Gordon Conway
Feather fanatics 
During the nineteenth century, exotic feathers artfully placed in hats and garments signified the height of elite fashion. As more and more women flocked in their droves to secure the latest headpieces, the ornithologist John James Audubon founded the Audubon society in a bid to protect birds from the millinery trade in 1895. 
Nonetheless, the popularity of feathers endured and birds continued to be hunted for their feathers well into the early twentieth century. The celebrated American illustrator, George Wolfe Plank's art deco illustration for the cover of Vogue, 1922 features a woman eyeing up a parrot as she rests a pair of menacing shears beside her plush feathered gown.
Unsurprisingly, feathers have featured heavily at Met Gala before. In 2018, Serena Williams' wore a show-stopping ombre pink feathered Gucci shawl and, in 2019, Kendall Jenner stunned in a Cher-inspired bright orange feathered naked dress, while her sister, Kylie, opted for a Versace gown with matching larger-than-life lavender feathered sleeves.