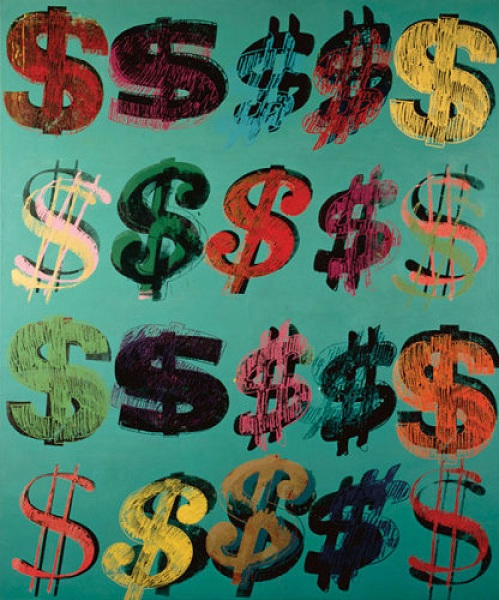 Dollar Signs, 1981 art print by Andy Warhol
Modernist Art favoured purity and simplicity, seen in works by the Bauhaus lecturer Wassily Kandinsky and Dutch artist Piet Mondrian. Postmodernist art, on the other hand, revelled in pattern, bright colours and a madcap sense of humour – all of which can be expected in the new Postmodernism: Style and Subversion 1970-1990 exhibition at the V&A.
You could say that Andy Warhol (who'll be featuring in the exhibition) was the ultimate postmodern artist, from the 1950s onwards. Wit, searing colours and an obsession with celebrity culture are evident in his various reworkings of the Marilyn Monroe art prints.
However, on the cusp of the 80s, Warhol was making 2 statements with his Dollar Signs art prints. They simultaneously showed a growing awareness of capitalist culture in the 'designer decade' and also demonstrated the artist's knowledge of his own market value and a desire to profit from his work in his own lifetime. Warhol paved the way for artists such as Damien Hirst, with his frankly excessive diamond-encrusted skulls. Keith Haring, a native New Yorker and a friend of Andy, paid a cheeky homage with his Andy Mouse prints, transforming Warhol into the famous Disney mouse and plastering his image in $ signs, a perfect symbol for corporate America.