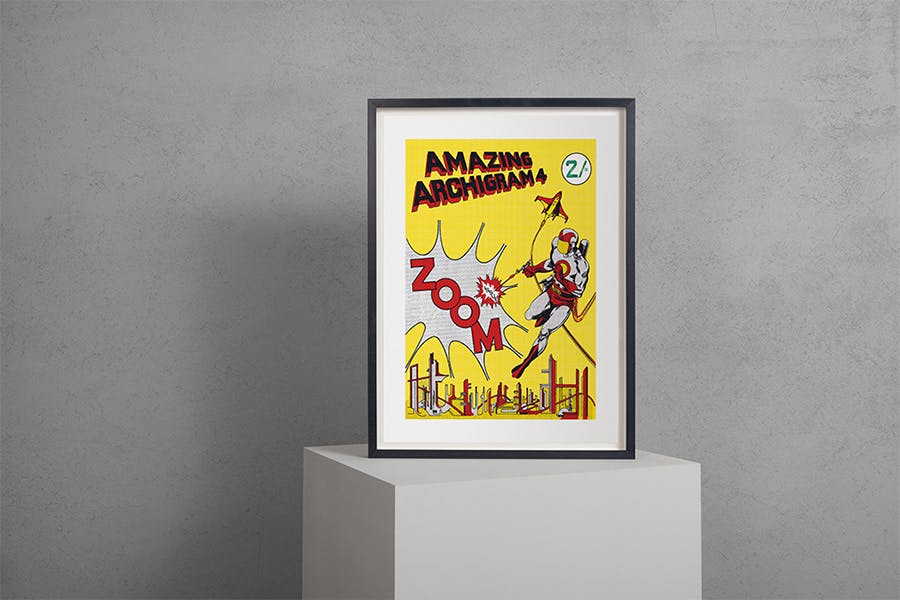 Front cover illustration, Archigram 4, special edition, £220 framed
Archigram reigned over the architectural avant-garde from 1961-1970, creating radical - often shocking - alternatives to cities and buildings. The London-based collective was formed of six members: Warren Chalk, Peter Cook, Dennis Crompton, David Greene, Ron Herron and Michael Webb.
Archigram's designs were mobile and adaptable, rejecting the cool functionality of modernism. The group responded to space travel and the moon landing, subculture and The Beatles, science fiction and the new technologies of the Sixties and Seventies. In the debate about future urban life, they imagined 'Plug-in Cities' and 'Walking Cities' where domestic spaces became 'Capsules'. Their visionary plans of bionic cityscapes and advanced home appliances are charged with collaged imagery from Sixties pop-culture.
Printed on 330gsm Somerset Enhanced Velvet archival paper, each special edition giclée print is hand embossed with the Archigram Archives stamp and complete with a certificate of authenticity.