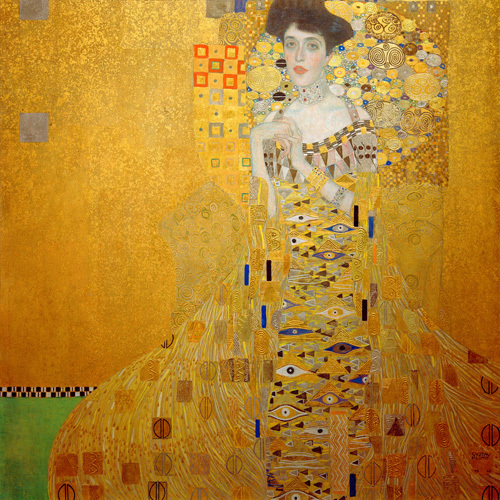 Portrait of Adele Bloch-Bauer I, 1907 – Gustav Klimt
The portrait of Adele Bloch-Bauer – oil, silver and gold leaf on canvas, is Klimt's most famous work of art and the subject of the latest blockbuster, Woman in Gold, starring Helen Mirren and Ryan Reynolds. The film tells the true story of Maria Altmann (Helen Mirren) and her battle to reclaim the portrait of her Aunt, Adele, along with four other Klimt paintings seized by the Nazis during World War II.
The art of attribution
Adele, who died in 1925, requested in her will that the works be donated to the Austrian state museum. Adele's husband, Ferdinand, lived for another 20 years, and instead bequeathed his estate, including the paintings, to the couple's nieces and nephews. However, during Germany's 1938 annexation of Austria, Nazis stole the paintings and the Austrian museum which housed them after the war, refused to return the paintings to the rightful owners, based on the terms of Adele's will.
When Holocaust survivor, Maria Altmann, discovered the truth of her uncle's will in 1988, she set about reclaiming her family's art. And so began an eight-year legal battle with the Austrian government. The dispute made it all the way to the United States Supreme court before justice was finally granted in January 2006, by an arbitration panel in Austria.
A woman worth fighting for
The portrait of Adele Bloch-Bauer, completed in 1907, was commissioned by her husband Ferdinand Bloch-Bauer, a wealthy industrialist who made his money in the sugar industry. It paints a picture of a well-to-do Viennese socialite, but dig beneath the dazzling gold surface, and the painting begins to tell a much more captivating tale.
Measuring 138cm square and with incredibly intricate detailing, the portrait is of grand proportions and took Klimt three years to complete. Adele sits off-centre, snug amongst a dizzying array of patterns – whirls of spirals, eyes, squares, checks and triangles. Her gaze is intimate and seductive, and rumour has it, Adele and Klimt shared more than just a platonic friendship. Klimt spent his life playing homage to beautiful women in his work, yet this is the only woman he painted more than once and he made more studies for it than any other painting in his career.
So who is the woman that captivated Klimt and later art-lovers across the world? Born in 1881 to a large, wealthy Jewish family, Adele has been described as a highly-strung and outspoken young woman. Refused access to university, purely because of her gender, Adele entered into an arranged marriage with Ferdinand at 18 to escape her parent's household and took to studying German, French, English and Classical Literature at home. Her reputation as  bold, fiery, intellectual and arrogant, sits at odds with the delicate woman that serenely looks back at you from the canvas.  Look a little closer and a more complex portrayal emerges of a woman who is both intimate and secret, self-conscious and sure, unruly yet bound. This is the enigma of the most famous painting by Klimt that continues to captivate us today.
The price of gold
The painting was purchased in 2006 by billionaire Ronald Lauder and fetched a record-breaking $135 million (eclipsing the $104.1 million paid for Pablo Picasso's Boy with a Pipe sold two years previously). It has been on display at the Neue Galerie in New York since July 2006, and forms part of its latest exhibition: Gustav Klimt and Adele Bloch-Bauer: The Woman in Gold (April 2 – September 7, 2015).
Explore more from Gustav Klimt