The widespread famine that affected Ethiopia between 1983 to 1985 was seen as one of the worst humanitarian crises of the twentieth century. Appalled by the disaster – which he viewed to be 'nowhere on the political agenda' – singer-songwriter-cum-political activist Bob Geldof decided to raise additional awareness by commissioning 104 artworks that responded to the tragedy.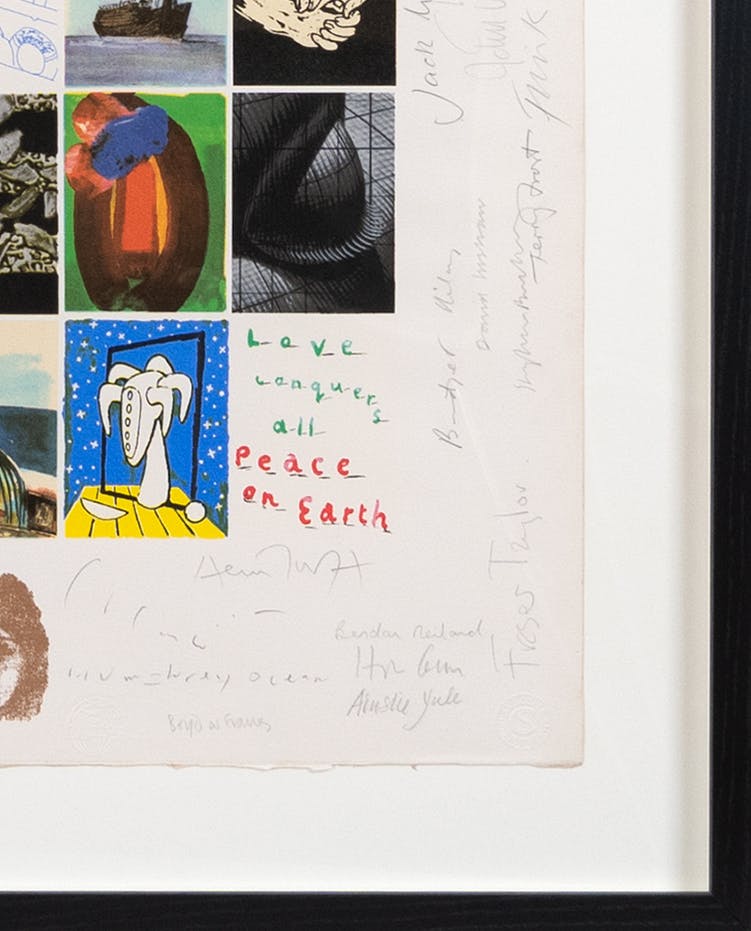 David Hockney's design which reads 'Love Conquers all peace on Earth' is located in the bottom right corner
David Hockney's design (which is situated in the bottom right hand corner) stands out amongst a kaleidoscope of shape and colour. 
Unlike the majority of his contemporaries who chose to fill their tiles completely, the influential British artist shrewdly used his space to deliver a simple statement: 'Love Conquers all Peace on Earth', using only his signature red and green colour palette.
By leaving the majority of the canvas blank, Hockney's draws attention to the peace statement which contrasts with the surrounding, much busier images.
For his interpretation of the brief, Howard Hodgkin (whose design can be found to the left above Hockney's) chose to layer hues of orange, yellow and blue against a green background. 
Some have suggested the oval brown shape that engulfs the vibrant colours symbolises the widespread famine that destroyed millions of peoples' lives.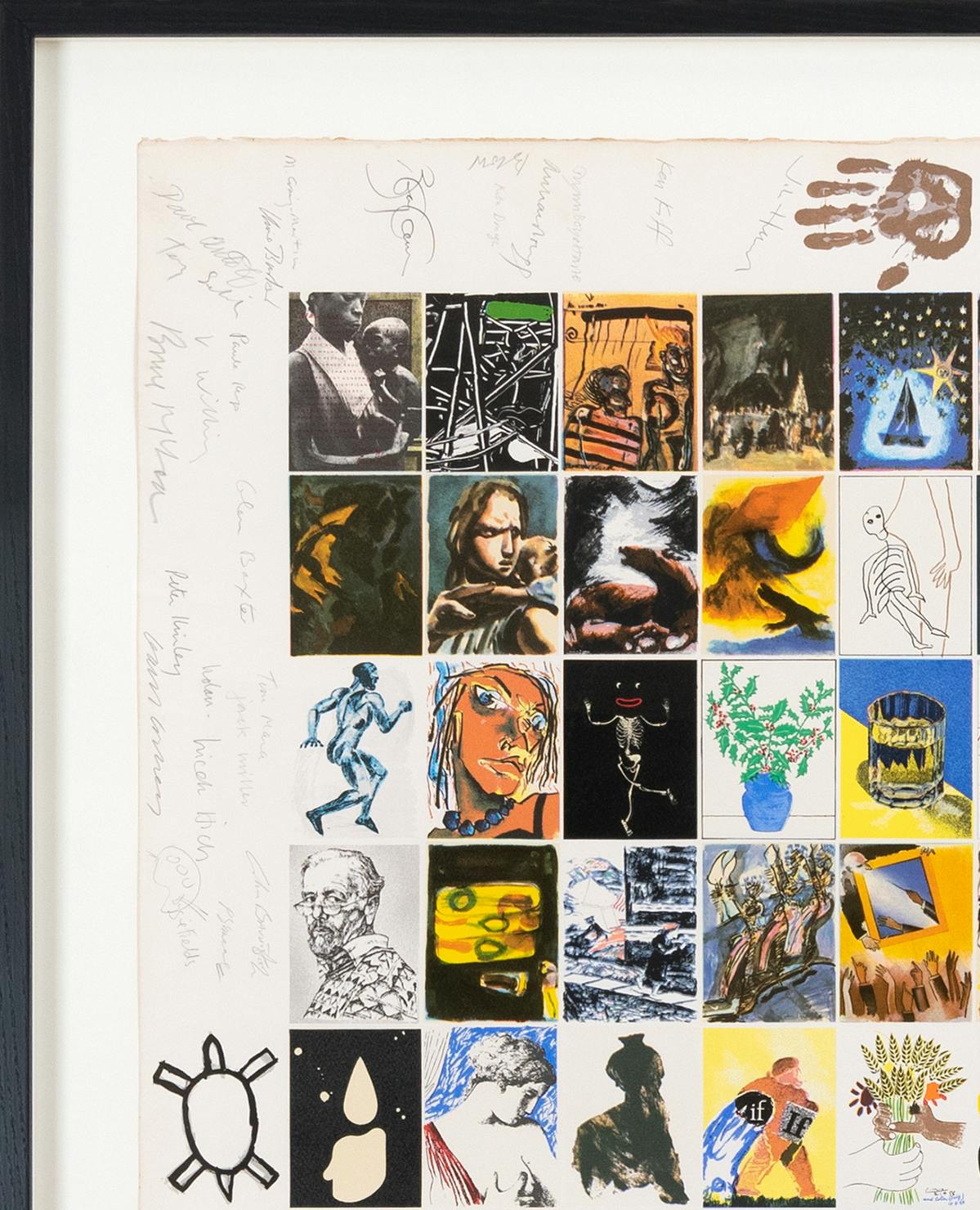 British illusion artists Patrick Hughes added a skeleton on a black background to the design
British illusion artist Patrick Hughes produced a more literal interpretation with an animated skeleton (third row down, third from the left).
Some have suggested the skeleton set against a chilling black background represents the death of over 1 million Ethiopian people. By giving the skeleton exaggerated red lips and white-rimmed eyes similar to the controversial children's toy, Golliwog, Hughes adds an additional warning not to revert to harmful racial stereotypes.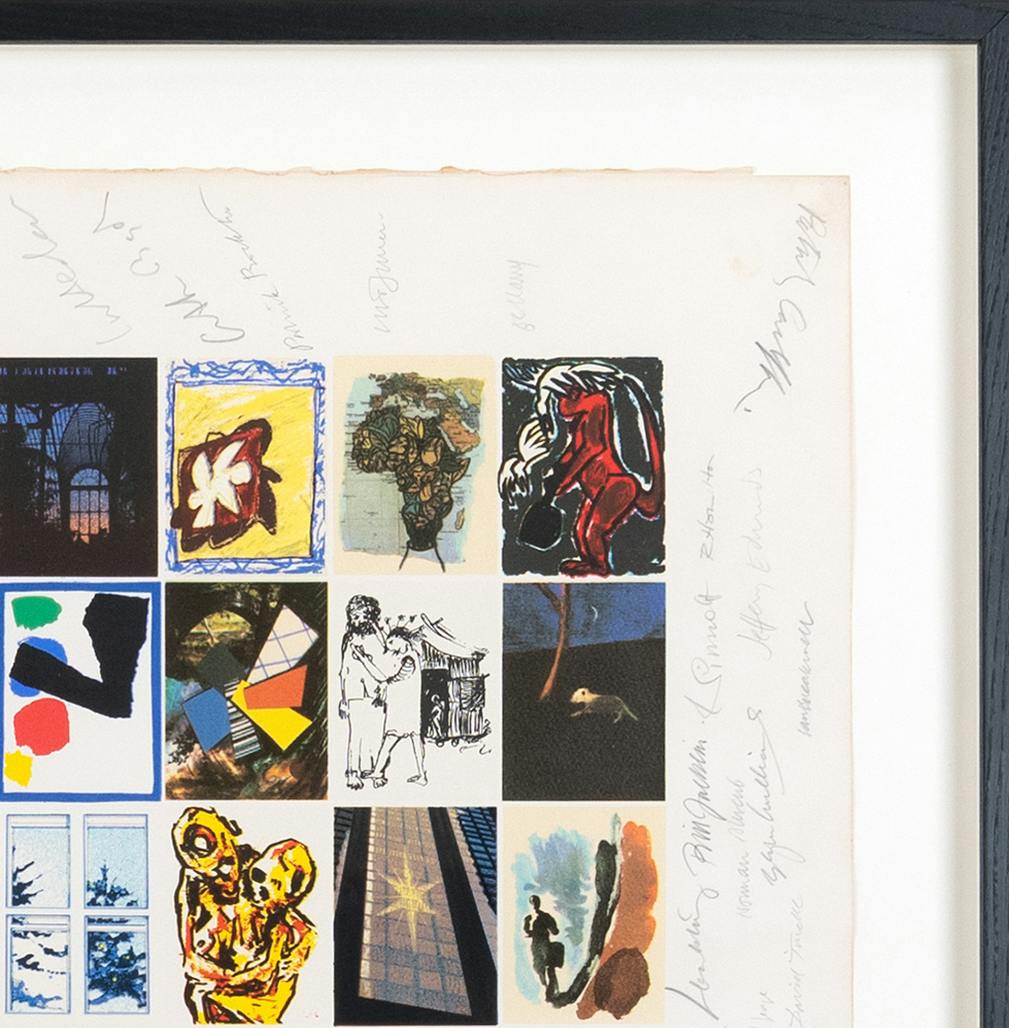 Royal Academian Terry Stetch included two yellow and orange figures embracing, bottom second from the left
Other artists produced figurative designs that spoke to the harsh reality of the crisis. Royal Academician Terry Stetch (bottom, second from the left) produced an unsettling interpretation of two figures embracing. 
Although Stetch uses cheerful marigold yellow and burnt orange tones, the thick black lines of the emaciated forms he depicts serve to reflect the untold hardships of millions of people's daily plight.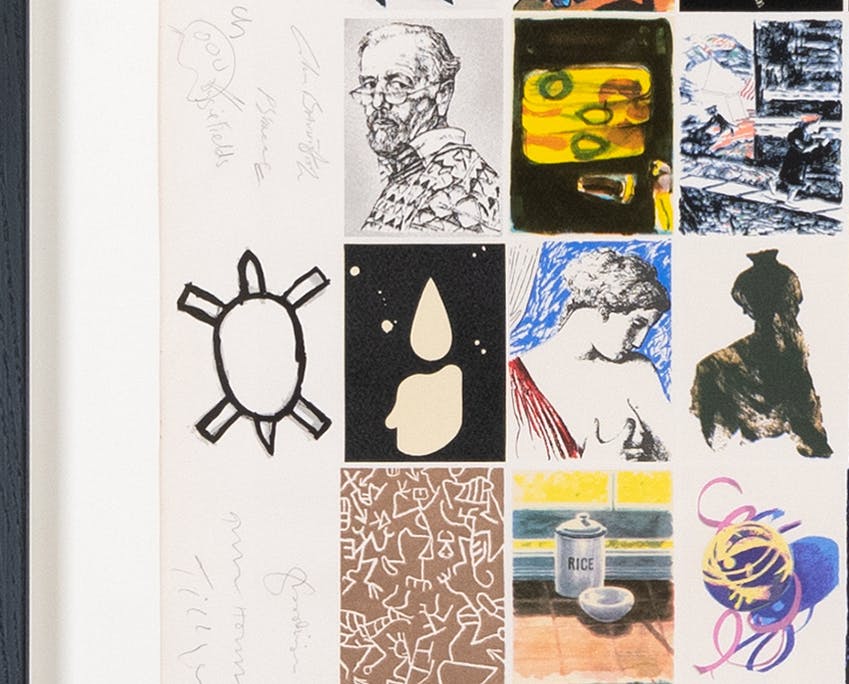 English painter and printmaker Patrick Caulfield added a message of hope with a black and white candle tip
Many artists produced messages of encouragement. English painter and printmaker Patrick Caufield's screen print of the tip of a white burning candle on a black background offers a universal symbol of hope.
Collectively, these artworks, which are each accompanied by the respective artist's signature in the margin, represent an extraordinary piece of political art.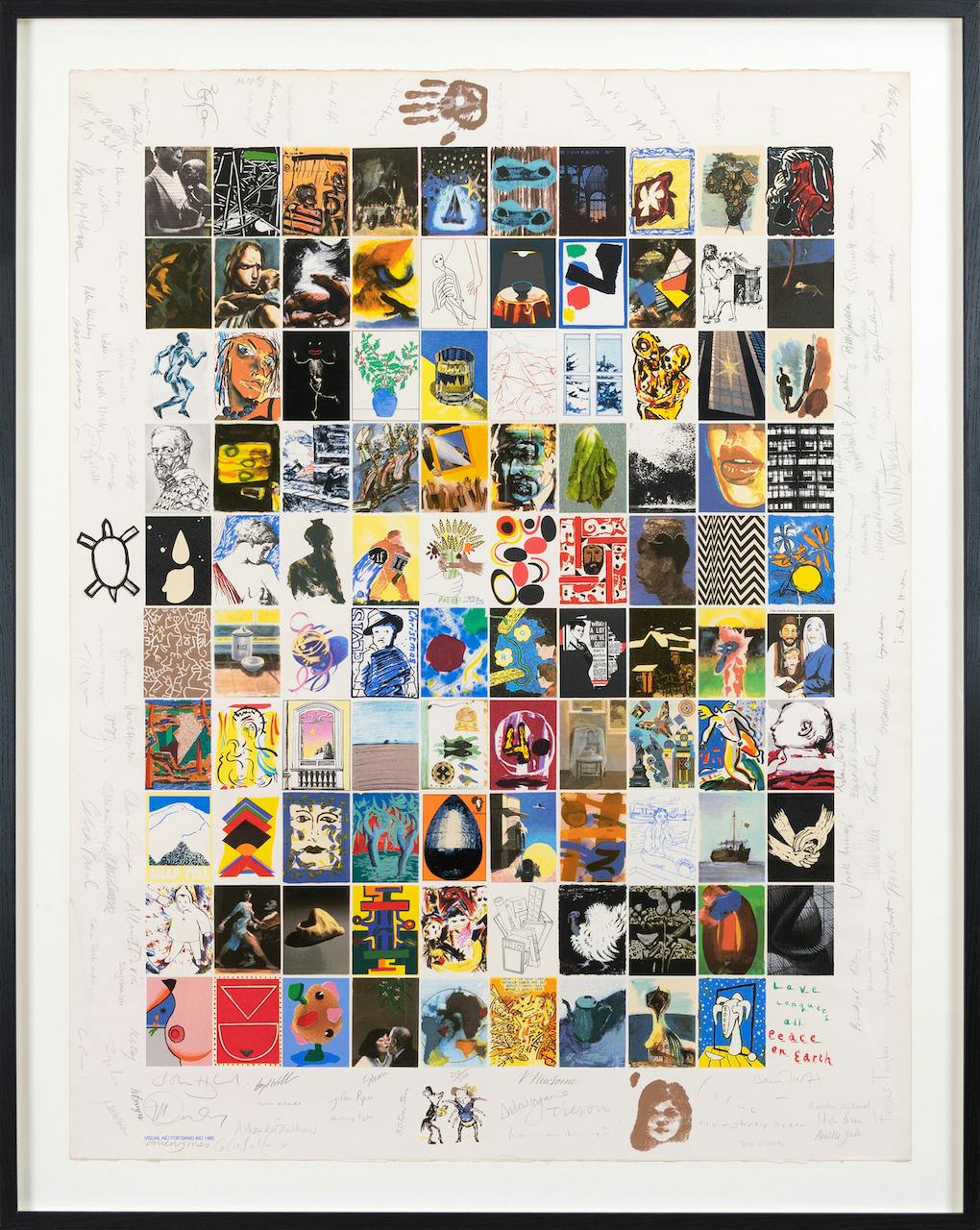 Visual Aid for Band Aid 1985, framed limited edition by Band Aid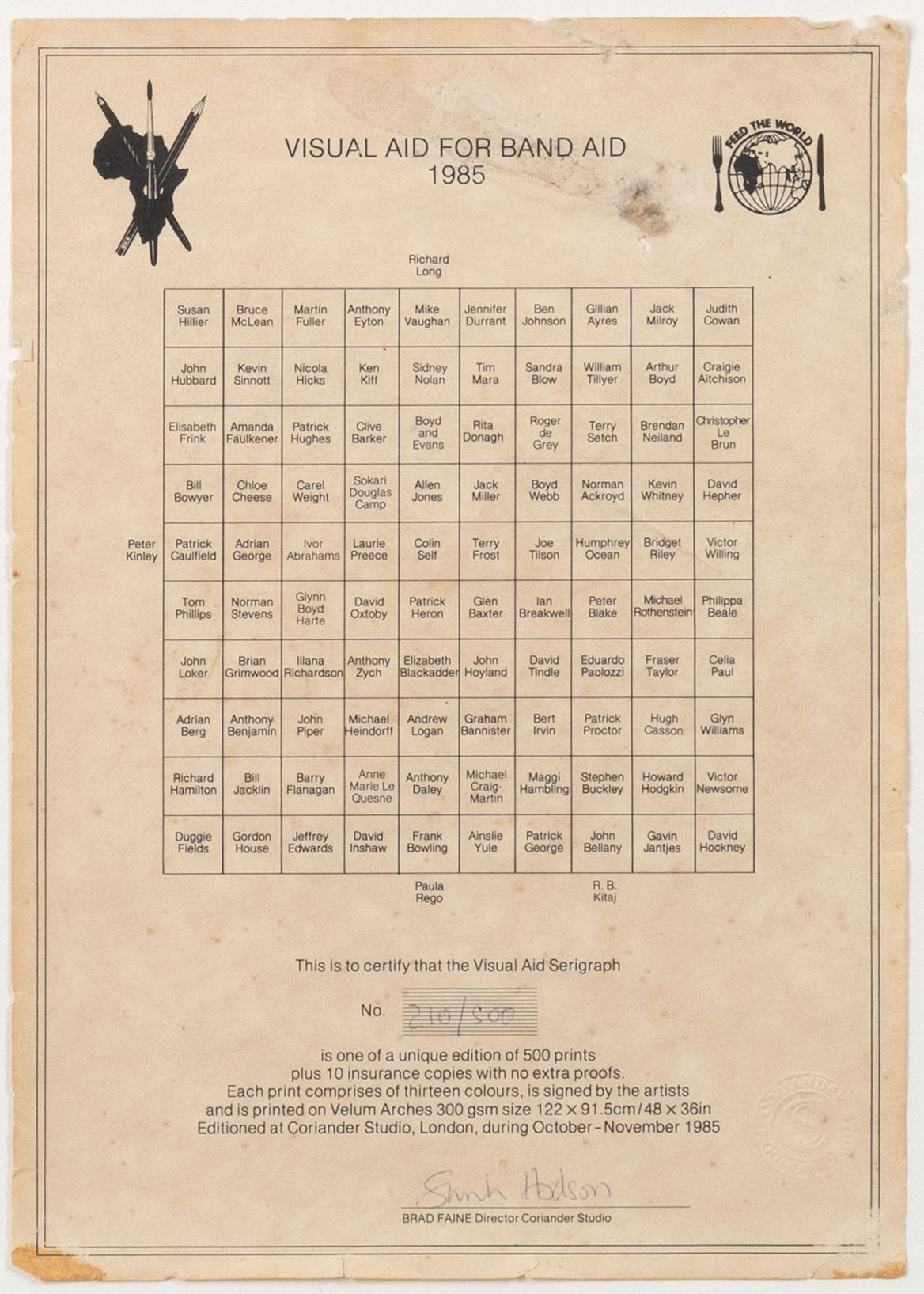 Visual Aid is accompanied by a grid of squares featuring the artists names that can be used a reference for studying the individual artworks
Produced in a run of just 500 in 1985 by printmaker and publisher, Coriander Studio, Visual Aid raised £250,000 to aid famine relief across Africa.
Our rare edition of Visual Aid, which is accompanied by a Certificate of Authenticity, also includes a grid of squares featuring the artists names that can be used as a reference for studying the rest of the artworks on the print.
A truly collectible piece, it is archivally mounted and comes presented in a bespoke wooden frame, hand stained with black paint in our Sussex workshop.